Big Sur is the official codename of Apple's latest macOS operating system and now it is publicly available. If you have upgraded to macOS Big Sure as a registered software developer for Apple, you can install Windows 10 on macOS Big Sur with the stock Boot Camp (A.K.A. Boot Camp Assistant) app. Assuming you are familiar with dual-boot on a Mac, the process should be quite simple to follow. Let's begin with a brief overview of dual-boot and how you can benefit from it.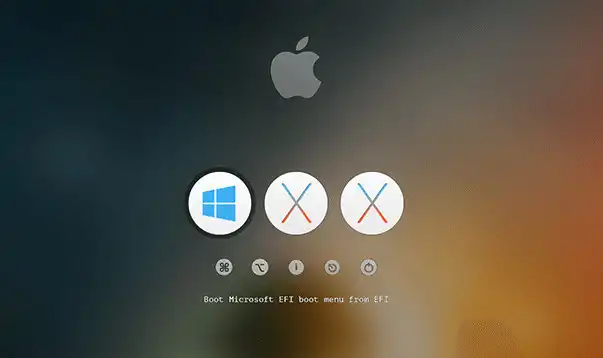 What is Dual Boot?
Dual-boot is a situation where two different operating systems are set up on the same computer. For example, if you install Windows 10 on a Mac computer , this is called dual-booting. It also includes installing two different versions of the same operating system on a single computer, such as macOS Catalina and macOS Big Sur on the same machine. It allows you to switch between the two operating systems when you start up the computer.
Benefits of Dual Boot:
Run native apps of both operating systems.
No need to convert incompatible files for different operating systems.
Use legacy applications that are not compatible with the latest OS.
Enjoy the best features of different operating systems, like Windows for gaming, macOS for programming, etc.
Faster than Virtual Machine (VM) by utilizing the full potential of the same hardware.
Now that we have a clear picture of dual-booting, let's look at the specific case of how to install Windows 10 on a machine running macOS Big Sur using the built-in Boot Camp Assistant app.
How to Install Windows 10 on macOS Big Sur with Boot Camp
Not all Macs running macOS Big Sur are eligible to install Windows 10 as a dual boot option. Please check out the requirements and only to proceed if the requirements are fullfilled.
Requirement:
128GB of free space on your Ma (minimal at 64GB).
A legit copy of Windows 10 file, which you can get from Microsoft website.
A USB flash drive with 16G+ storage.
Once you're ready, please follow the steps shown below to install a copy of Windows 10 on macOS Big Sur with Boot Camp app.
Step 1: Open Launchpad and select Boot Camp Assistant from Other folder. Plug in the USB if prompted; Boot Camp will ask you for the space allocation, which you can provide per the above guideline. This is a permanent setting so make sure you allocate adequate space.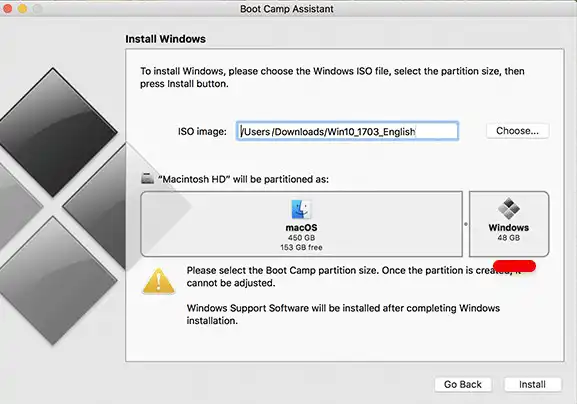 Step 2: The Windows installer will launch when your Mac automatically reboots after the partition is created. The next step is to format this partition for Windows. You only need to choose the partition with the name BOOT CAMP and hit the Format button. The rest of it should happen on its own.
Step 3: Complete the Windows installation by setting the language and other parameters just like in a normal clean install.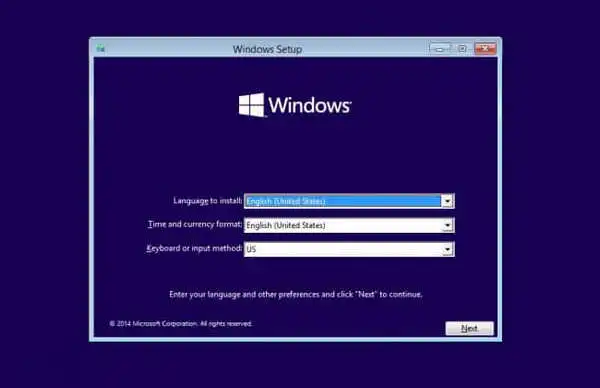 Step 4: The computer will restart again, but this time you'll see that it is running Windows. Next, you can install the Windows drivers and support software for Boot Camp by doing what's shown on the screen.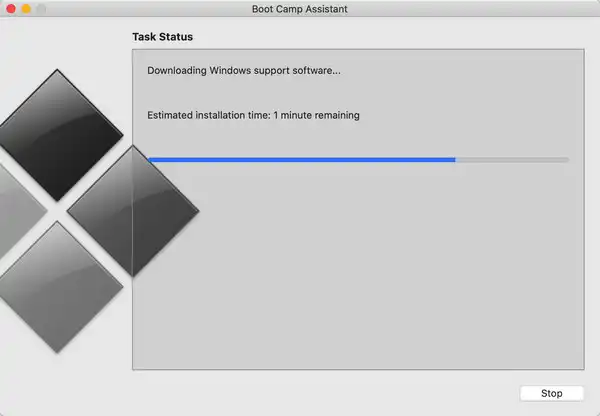 Follow the 4 steps above and you now have Windows 10 on macOS Big Sur Beta. To change from one OS to the other, you can use the Option key or Alt key while booting up. This will take you to the Startup Manager, where you can select the OS you want to use.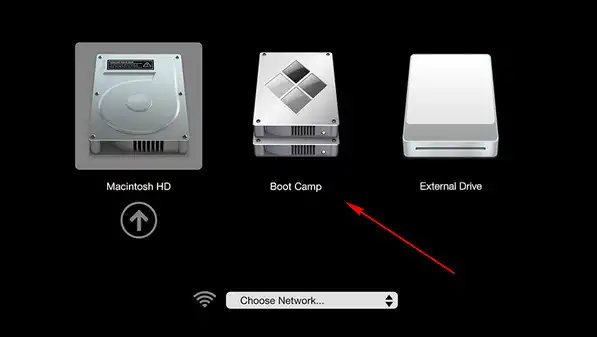 Common Issues of Boot Camp Windows 10 Install
Boot Camp app is not perfect and it is not working as promised even it is developed by Apple. There are several issues you may come across during the process.
The startup disk does not have enough space: The Windows partition takes at least 41 GB free space. So if the disk space on Mac is less than that, this task could not be completed successfully because of insufficient storage. This usually happens on Mac computer with 128 SSD. The solution is to add a new SSD and repeat the process again.

Your disk could not be partitioned: The partition that keeps Windows OS should be formatted to MS-DOS (FAT). The default file system for macOS is either HFS+ or APFS. If you saw this error, please format the Windows partition to MS-DOS (FAT)

An error occurred while copying Windows 10 installtion files. : There are two main reasons for this error. First, the Windows 10 ISO image is corrupted and some of the important files are missing. Second, the ISO image file is larger than 5GB. And FAT file system can only hold single file less than 4GB. To fix this, you need to download an old version of Windows 10 from Microsoft and upgrade the OS later when it is installed.

Alternative Solution: How to Install Windows 10 on Big Sur without Boot Camp
Boot Camp is the recommended tool for installing Windows on Mac devices. However, it is not the only solution. If Boot Camp does not work as expected, you can use UUByte ISO Editor instead, one of the best alternatives to Boot Camp. This reliable tool lets you create error-free Windows 10 installer USB on Mac. It will ensure that your Windows 10 installation on Mac goes without a hitch. Here's what you need to do:
Step 1: Once you have downloaded the ISO file from Microsoft's servers, install and launch UUByte ISO Editor on your Mac.
Step 2: Insert the USB drive and click the Burn module on the welcome page of UUByte ISO Editor.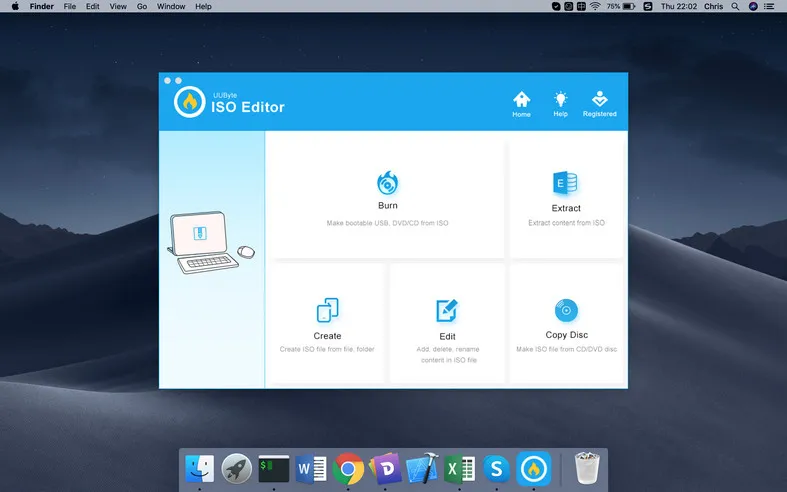 Step 3: Browse and select your ISO file through the application interface and select the USB drive, making sure the correct drive is selected in the dropdown list.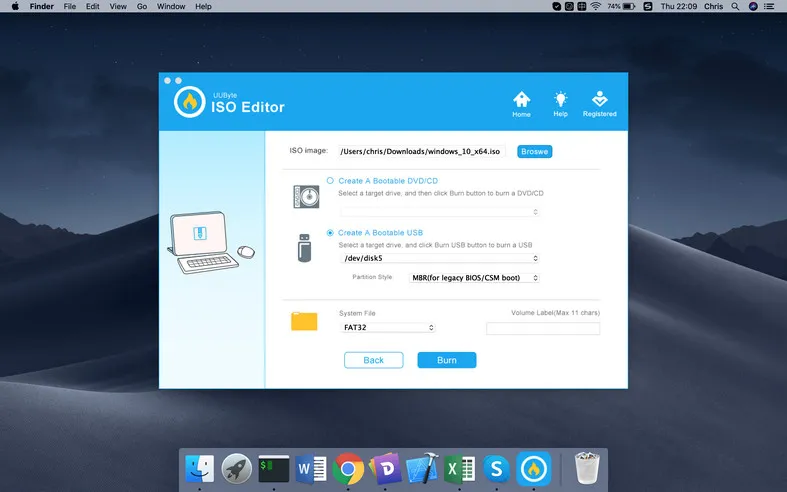 Step 4: After assigning a name to the drive, click the Burn button at the bottom. Your bootable Windows 10 USB installer will be ready in a few moments.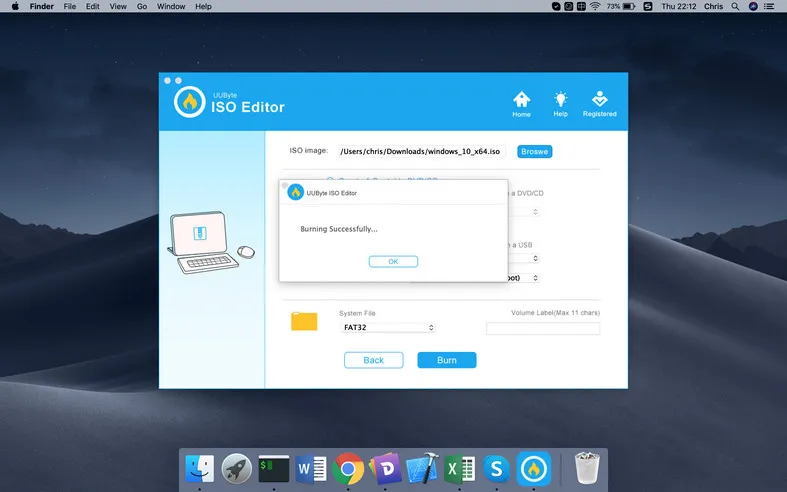 Apart from being able to burn an ISO file to USB, UUByte ISO Editor also allows you to extract ISO files, compile and create ISOs, edit ISOs, and copy to ISO from a DVD or CD.
Conclusion
Installing Windows 10 on Mac with Boot Camp is quite easy if the requirements are met. So it is recommended at first place. However, it may failed for some reasons. At this time, you can install Windows 10 on Mac without Boot Camp app. The process is much more simple and has less issues.
UUByte ISO Editor is a great alternative to Boot Camp. Using this versatile application has several advantages. The tool is highly reliable with a very high burn success rate. It is thoroughly tested with various ISO files, on different computers, and with different media storage brands. It also gives you comprehensive tools to fully manage your ISO files, which is useful if you regularly deal with such disk image files. There is also a DMG Editor that offers the same functionality for Apple's disk image format.