If you don't already have Windows 10 installed on your PC, you're really missing something wonderful. Though there is a large user base of Windows 7 currently, It's better to get on Windows 10 much before that. The extended support for Windows 7 is ending next year, in January 2020.
No matter what's the reason is, you should download a copy of Windows 10 ISO image first before installation. This article shows you three ways to download a Windows 10 ISO file so you can be ready when you need to do an upgrade or a clean install.
Method 1: Download Windows 10 ISO Image Directly without Any Tool
Unless you have purchased an online copy of Windows 10 or upgraded from an earlier version, you will need the ISO file being used to install the operating system. The Windows 10 ISO image, in this case, will contain all the installation files required to create bootable media on a USB flash drive or a DVD.
You can directly download the Windows 10 ISO file from third-party download centers. Some of them, like CNET, point back to Microsoft's website. If you don't want to do that, you can try other sites like Windows101Tricks.com. Here, you will find ISO files for Windows 10 1809 (October Update) as well as older builds like the April 2018 update. However, if you want to do a clean install, you will need the ISO file. You can find both 32-bit and 64-bit versions of Windows 10 ISO image at this page.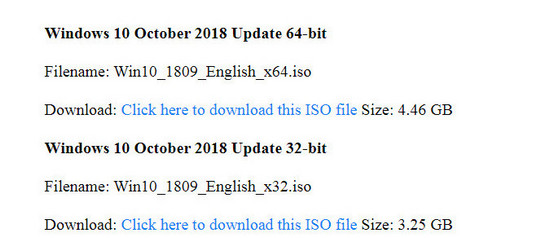 Another way to get it directly from Microsoft's website is to either go to the Microsoft download page on a Mac or use a workaround to avoid the Media Creation Tool. Here's how to do that:
Download Windows 10 ISO on Mac: On a Mac, you can simply go to the Downloads page on Microsoft's website. Instead of showing Media Creation Tool, it will simply ask you to select the edition of Windows 10. Home and Pro versions are now merged into just one option. Select the edition you want and hit Confirm. Now choose the language and hit Next, and you'll be taken to a page where you can choose to download either the 32-bit version or the 64-bit version. Click on one and save the ISO file to your desktop. Once the download is finished, you can burn the ISO to USB on Mac to make it bootable.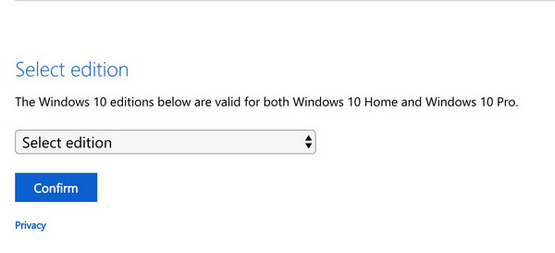 Download Windows 10 ISO by Changing User Agent in Chrome
Step 1: On any machine including a Windows 10 PC, open a Google Chrome tab. Now paste this link into the address bar: https://www.microsoft.com/en-us/software-download/windows10ISO. Don't worry if it redirects you to the Media Creation Tool page. That's normal.
Step 2: Right-click anywhere on the page and select Inspect. Then click on the ellipsis button (three vertical dots) on the top right-hand corner of your browser and select More Tools > Network Conditions. Under the User Agent option, uncheck the Select Automatically option and choose Safari – iPad iOS 9 from the drop-down menu.

Step 3: If the browser tab doesn't refresh itself, do it manually by clicking the circular arrow to the left of the address bar. You should now see a different page.
Step 4: Choose the Windows 10 edition you want, click Confirm. Select the language and hit Next. You will now see the 32-bit and 64-bit download options. Click and save the ISO file.
Method 2: Download Windows 10 ISO via Microsoft Media Creation Tool
The easier way is to use Windows Media Creation tool to download Windows 10 from Microsoft's servers. You don't have to burn Windows 10 ISO to USB after download, but the tool is still needed to execute the download process for the ISO disk image. Microsoft will automatically display the Media Creation Tool when you go to the Windows 10 ISO download page. It does this by detecting your operating system. If you're running Windows, this is where you will be redirected by default.
Step 1: Click on Download Tool Now and save the Media Creation Tool to your desktop.
Step 2: Go to your desktop and right-click on the .exe file. Select Run as Administrator in the contextual menu.
Step 3: In the Windows 10 Setup window of the Media Creation Tool, accept the EULA by clicking Accept.
Step 4: In the next page, select Create installation media (USB flash drive, DVD, or ISO file) for another PC. Click Next.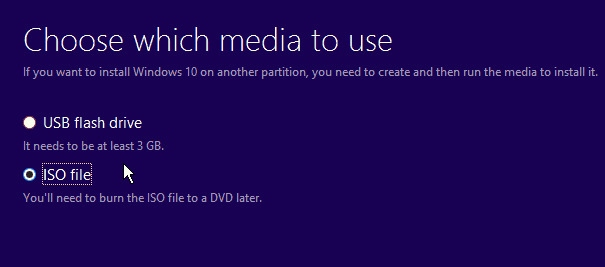 Step 5: Choose the language, edition, and architecture, and click Next and save the ISO file to your desktop.
Method 3: Download Windows 10 ISO Directly with Rufus
Rufus is a lightweight ISO burning utility that has a portable version which requires no installation. Just run it directly from the .exe file after download.. You can now launch the program directly from wherever you save it. Once you launch Rufus, follow the steps below:
Step 1: In the Rufus interface, select DOWNLOAD in the Boot Selection section and make sure that the option displayed is Disk or ISO Image.
Step 2: Now insert a USB drive, because this is required for the next step to work.
Step 3: Click on the DOWNLOAD option again. In the pop-up window, select Windows 10 in the drop-down and click on Continue.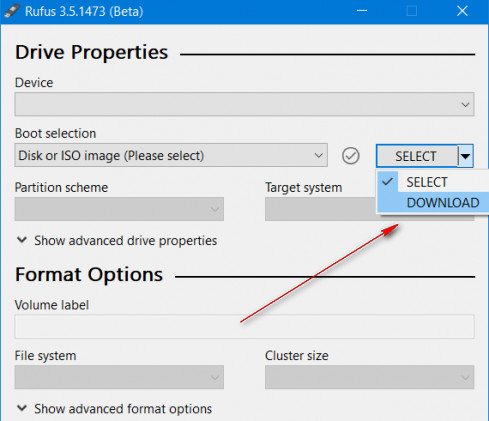 Step 4: In the next pop-up window, select the appropriate parameters as shown in the screenshot below:
Step 5: Once you've set the parameters, click the Download button and save the ISO file to your desktop.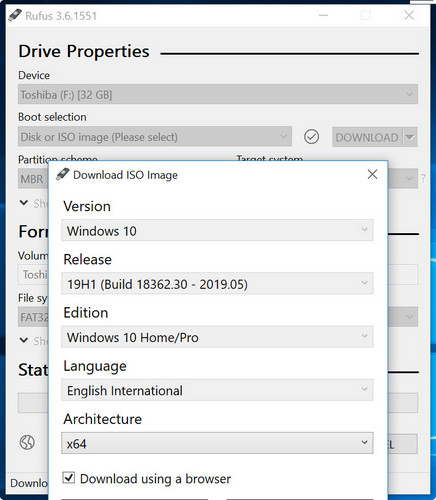 All of these methods will allow you to download whatever version of Windows 10 you need in ISO format. After that, you need to burn the ISO to USB or DVD in order to make it bootable for future installation. If the media can't boot from computer, here is the troubleshooting guide.