Apple periodically releases new versions of macOS, its desktop operating system for iMac and MacBook Pro products. So far, the company has released 15 versions, with the current one being macOS 10.14 Mojave. But there's a new version in the progress, and it's called macOS 10.15 Catalina. The new version is due to be released later this year and brings a whole new look and feel to the Mac environment. Lots of apps, lots of features and lots of improvements are what we can expect with the latest upcoming version of macOS.
Official macOS 10.15 Catalina Release Date
Apple is being vague about an exact release date for macOS Catalina. The website only says Coming Later This Year. Other sources show that it's coming in Fall 2019. That's not very exact, either, but since the fall season officially starts on September 23, 2019, we can expect macOS Catalina to be released sometime between that and the end of the year. Since the new OS version contains a lot of integrations with Apple's other products, it's understandable that Catalina is currently going through extensive beta tests prior to the official public release.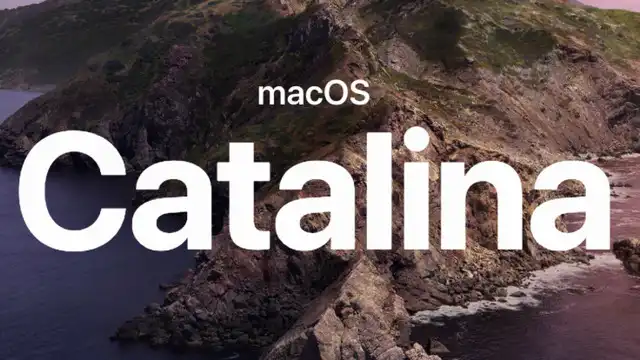 How to Download macOS Catalina 10.15 Public Bata
Unlike the existing macOS version, there is still no public download for macOS Catalina. However, if you're a developer or want access to the current beta releases for macOS 10.15 Catalina, you can sign up to be an Apple Developer at developer.apple.com. There's an annual subscription fee to be paid ($99), but it will give you access to all the developer tools as well as developer beta releases for all new versions of macOS and iOS.
If you're not a developer but you're keen on seeing Catalina in action before the official public release, you can sign up to Apple's Beta Software Program. The public program begins in July, but no firm date has been announced yet. You can sign up to the program here: beta.apple.com/sp/betaprogram.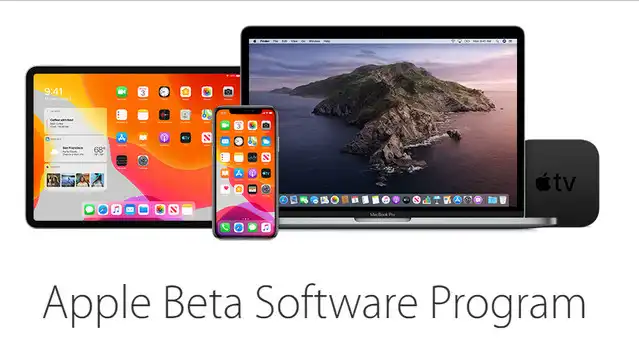 Please be aware that beta versions of any software or operating system are typically very buggy. If you don't have any experience, it's better to wait for the public release of the final version. But if you're willing to take a risk and know how to roll back to previous versions, you can take a stab at installing a beta.
Normal users will have to wait at least until September 23 to see the full version of macOS Catalina in the App Store. Once it's there, simply click on the Get button to download the application package. Follow the instructions to complete the installation, after which you can enjoy all the new features. Talking of which, here's what to expect from the latest macOS version from Apple.
New Features of macOS Catalina 10.15
Three great apps are making their way into the Mac ecosystem for the very first time: Apple Music, Apple TV and Apple Podcasts. All of them are very popular products but currently not available directly in Mac. With macOS 10.15 Catalina, that's all going to change.
Apple Music will show up as the Music app, and offers the full collection of over 50 million songs that you can directly access on Mac. The msuci can be synced with other Apple devices so playlists and favorites can be accessed on any Apple device. The app's design draws heavily from iTunes (discontinued in macOS 10.15), and you'll basically see the same layout, as shown in the screenshot below: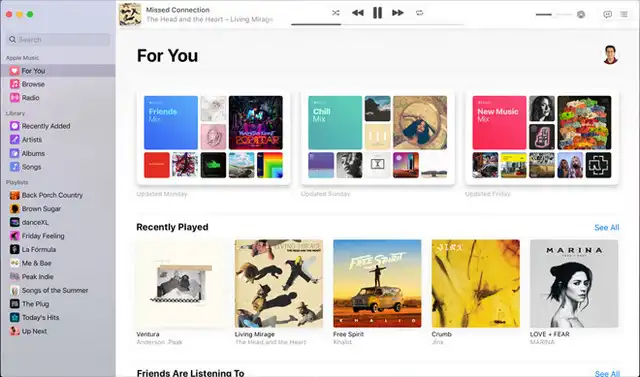 Apple TV will be available as a branded new Mac app and offer the entire collection of video content as the traditional Apple TV that you access through the hardware product. Like Netflix or Amazon Prime Video, Apple TV on Mac will allow you to continue watching on multiple devices. Apple says that this is the first time that movies with 4K resolution and Dolby Atmos are coming to Mac.
Apple Podcasts, another popular product previously only accessible through iTunes, will be available as a separate Mac app with macOS Catalina. You can do everything you previously did with the iTunes version, and you will have the ability to pick up where you left off when you switch devices.
iPad apps are also coming to the new macOS version. Apple has given developers the ability to port their iPad apps to Mac, and it will run natively on your desktop or laptop. You can even drag and drop content between these and your existing apps for Mac. This is a major development because it blurs the line between mobile and desktop, as well as gives access to a wide range of apps that were previously only available on iPadOS.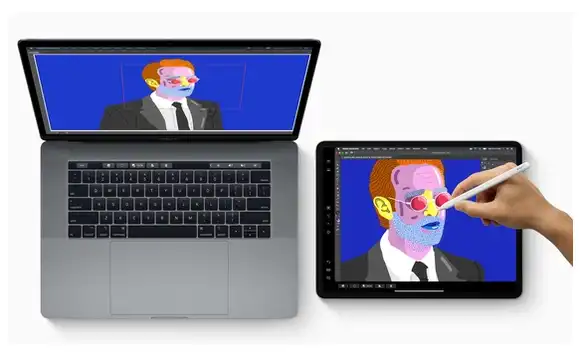 Photos app is getting a major upgrade with macOS Catalina. A new Photos tab, organization by day, month and year, larger previews of photos, auto-playing Live photos and videos, greater personalization, auto-filtering of duplicates and editing Memory movies are all part of the new Photos app for Mac.
Notes app, which is useful for jotting down important stuff, is getting a facelift with view-only sharing, gallery view, shared folders, checklist options, and a better search function.
Reminders will have a new design, as well as Smart Lists, the ability to add attachments to a note, grouped lists and much more. Siri will also be able to make intelligent suggestions for reminders when working in the Messages app.
Safari has also undergone some changes. You will be able to get Picture-in-Picture (PiP) from the tab audio button, and the Smart Search function will direct you to an already-open tab based on what you're typing. Safari is also getting a refreshed Start page with lots of shortcuts like bookmarks, recent sites, Message links and much more.
Apple Pencil allows you to import drawings from iPad into any compatible Mac application, so you can do your annotations on the tablet and push them to your desktop for easy access. You can also use your Pencil to draw inside Mac apps, and even use it like you'd use a mouse.
Sidecar feature will now let you use an iPad as a secondary monitor. You can use it with a cable or wirelessly, and it works with popular Mac apps like Adobe Illustrator, Sketch and Final Cut Pro.
Screen Time feature Monitors the computer usage of apps being running.. Get reports on app usage times, total times, number of notifications and more. The Downtime feature is great for limiting app usage for your kids, and you can also use iCloud in conjunction with Screen Time so your App Limits and Downtime settings are synced to other devices. One nifty little feature is the One More Minute button. Just click on it to give you additional time to save your work when your usage limit has been reached.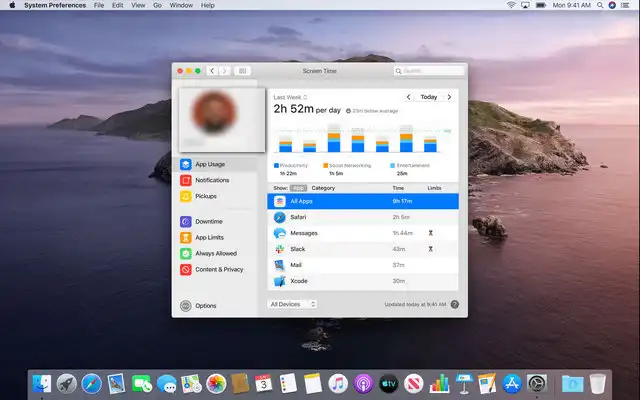 Security has also been greatly enhanced with macOS Catalina. All new apps will be checked by Gatekeeper when you use them for the first time, and in periodic intervals thereafter. One major change is that macOS Catalina will run in a separate system volume that is read-only. That means you can't accidentally change or overwrite the part of your disk where the operating system is stored. There's also a new feature that will prompt you for permission before an app accesses your data, meaning greater data protection from apps when doing things like keylogging or screen capture.
Summary
There are a ton of other new features coming with macOS 10.15 Catalina, such as Find My iPhone and Find My Friends being integrated into a single Find My app for Mac. You can also authenticate your Mac from an Apple Watch, enjoy the new Voice Control feature on your Mac, benefit from a single location for Apple ID account details, etc. QuickTime Player will come with timecode support, PiP, and the ability to open sequential images as a video. The new Home app for Mac lets you watch, share and delete recordings made on a home hub like your Apple TV.
It's exciting to see so many new features coming with the brand new macOS Catalina for Mac. Since the OS is still in developer beta, we could be seeing some additional features make their way prior to the public beta and eventual release, so watch out for anything new that you might find useful.