TransMac is an excellent disk management application that allows you to manipulate and handle Apple-formated hardware such as drives, disks, and DMG disk image files. One of its main uses is to create macOS installer disks on Windows. Some other features include:
Reading APFS volumes
Accessing Mac-formatted storage devices
Formatting drives for Mac
Copying to DMG and HFS+ disks
Create DMG files
It does a great job with most functions but it doesn't have a very modern or user-friendly interface. For that reason, users always look for better alternatives to TransMac. This article highlights three slimilar applications to help you manage DMG files and create USB installers for Mac on a Windows system.
TransMac Alternative #1: UUByte DMG Editor
UUByte DMG Editor is a versatile utility being packed with powerful features to help you create, copy, and edit DMG disk image files. You can also create error-free macOS install USB using its flexible and easy-to-use software; in fact, the user-friendly interface is one of the things that makes this application so appealing to Windows users who regularly work with Apple-formatted hardware, files, and storage devices.
Features of UUByte DMG Editor
Burn DMG to create a bootable USB or disk with just two clicks.
Available for Windows and macOS systems.
Support over 10 types of disk images and multiple OS installation files.
Burn DMG to several USBs or disks simultaneously.
Verify disk images before burning.


Step 1:

Download UUByte DMG Editor

Click the download link to download .exe or .dmg file from this website; then follow the screen guidelines to install the software on a PC or Mac. Below is an example of Windows 10.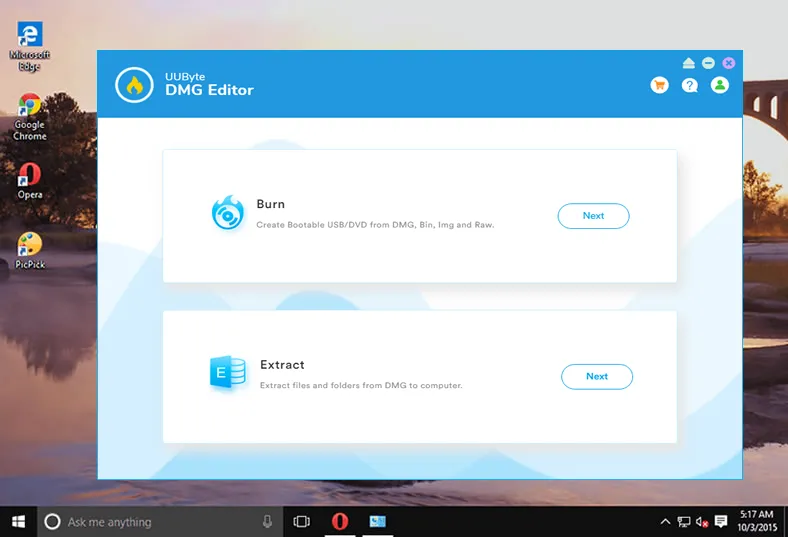 Step 2:

Add USB Drive and DMG File

Attach an USB drive to the computer where UUByte DMG Editor is installed. Now click the Browse button to load .dmg file into this program. Besides DMG, it also supports, IMG, ISO, ZIP, BIN, GZ, etc.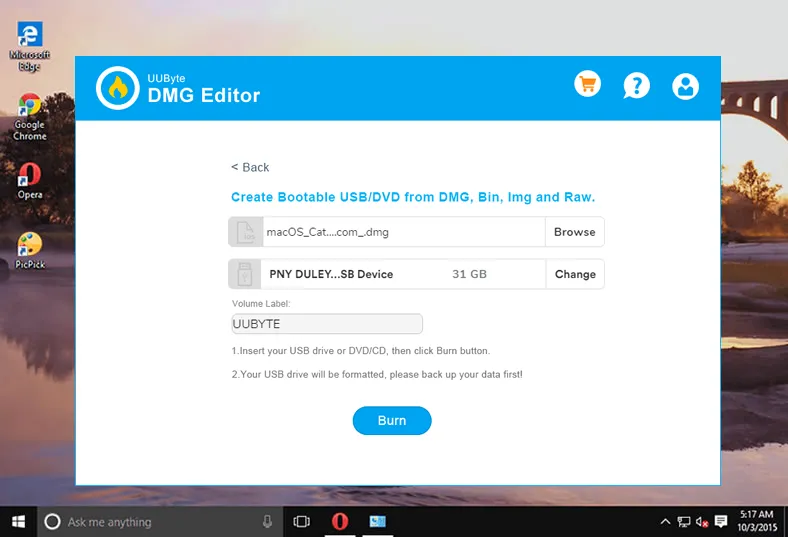 Step 3:

Start Making Bootable macOS USB

Click the Burn button to start burning .dmg file to USB. This takes 15 minutes approximately and you can see it running from progress bar.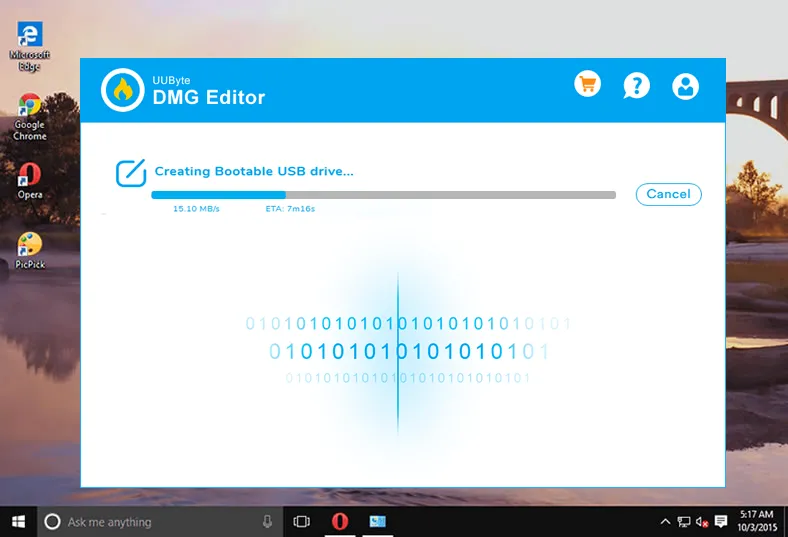 Step 4:

Verify and Install macOS from USB

The disk will be verfied after burning to make sure it is working well as a bootable USB. There is a step-by-step guide for installing macOS from USB drive after click the link at the bottom of burning successful screen.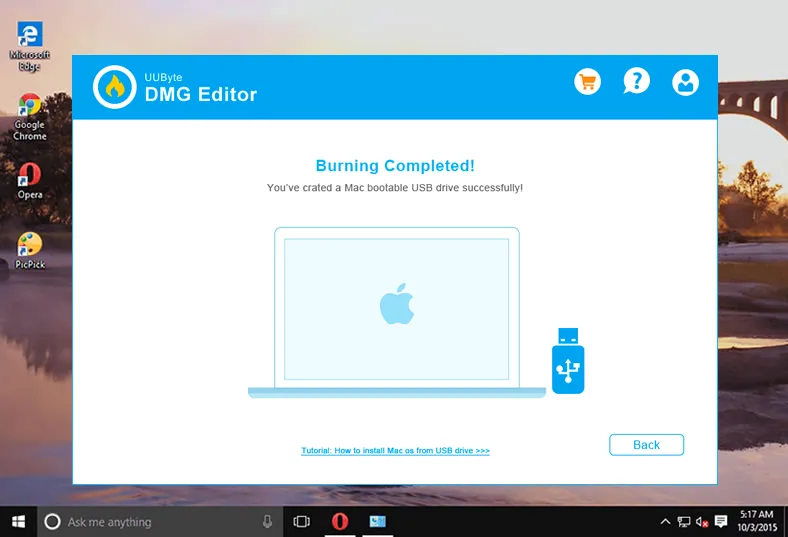 The creation process for a USB installer for macOS is very simple. Just install the application on your PC or Mac, load the DMG file into the program, insert your media, and hit the Burn button. That's it!


TransMac Alternative #2: Paragon HFS+ for Windows
The advantage of using Paragon HFS+ for Windows rather than TransMac is that it claims to be the only solution that will give you full read-write access to Apple's HFS+ partitions on any drive or storage device. It also works with Boot Camp drivers, which means you can use it on a Mac that's running an instance of Windows as well. Some key features are mentioned below.
Paragon HFS+ Key Features
Full support for all Windows versions from Windows 7 to Windows 10.
Comprehensive HFS+ and HFSX support.
Read and Write modes.
Compatible with Boot Camp Assistant and third-party 'Windows on Mac' applications
Using Paragon HFS+, you can also write DMG files to a drive, by first formatting it to Apple's standard. Once the disk is formatted, the DMG file can be burned to it in Write mode.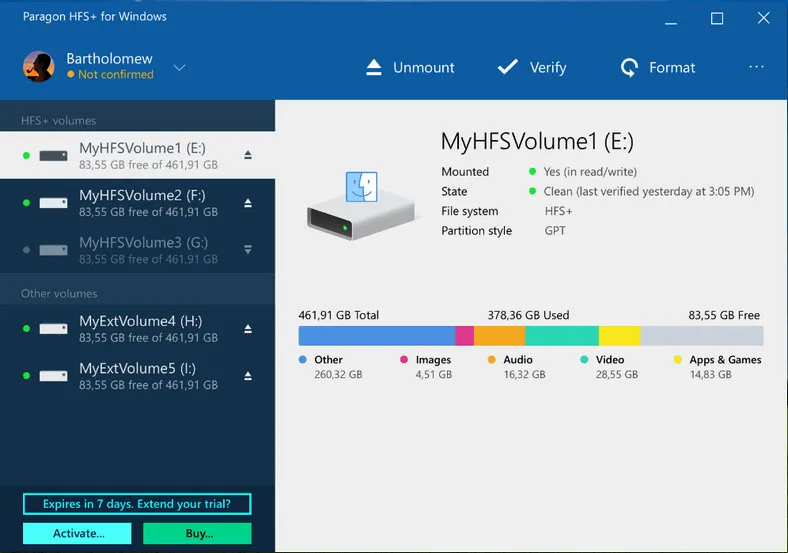 TransMac Alternative #3: MacDrive
MacDrive is available in Standard and Pro editions and is an ideal tool for mounting and managing Apple drives on Windows. It can also be used to verify Mac disks and even supports RAID sets that are Mac-formatted. Some of its top features are listed below.
MacDrive Key Features
Read and Write to Mac disks using a Windows Explorer interface.
Repair corrupted Mac disks and drives.
Compatible with Boot Camp Assistant.
Copy from or to disks that are Mac-formatted.
Support multiple partition types like APT, GPT, and MBR.
MacDrive is certainly a powerful utility as an alternative to TransMac, but it's meant for professionals who need to work on a Windows system using Mac-formatted drives and other media. You can also use it to write a DMG to a regular drive but you will need to first format the drive to HFS, HFS+, or HFSX using the same tool.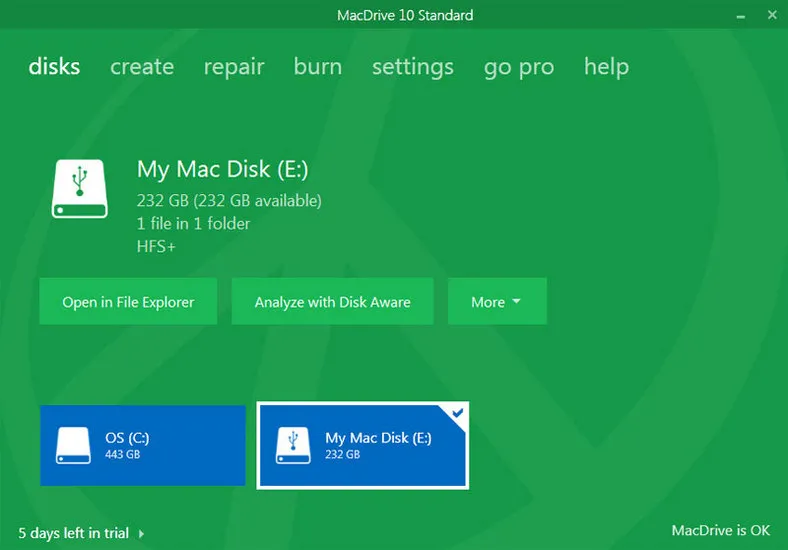 Wrapping Up
All these three alternatives to TransMac for Windows are great applications in their own right. However, we recommend UUByte DMG Editor as the primary option, especially for new or inexperienced users attempting to create a DMG installer on Windows for the first time. The easy-to-use interface will ensure that you don't make any mistakes during the burning process. The software does all the heavy lifting in the background, so a couple of clicks is all you need to get the job done properly. In addition, you can also verify your DMG files to make sure you don't waste valuable time burning a corrupt disk image to a USB or pen drive.
Finally, if you're using these applications on a Mac system running Windows 10, make sure that you have all the appropriate drivers installed so you can leverage any additional hardware that might be connected to your Mac. For example, Boot Camp won't support Thunderbolt 3 for reasons that Apple hasn't bothered to share with its user community. Additionally, you may come across complex issues without knowing the steps to troubleshoot them. Try UUByte DMG Editor as a safe bet when compared to other TransMac alternatives.