DMG file is a disk image format created by Apple and massive used on Mac based computers. It can be converted to the ISO format using several different ways, but to burn it on to a DVD or CD to make it bootable is probably the best approach if you're only working with Mac systems. However, we've also covered how to burn a DMG file to a disk on Windows systems, in case that's what you have to work with.
Part 1: Burn DMG to CD/DVD on Mac via Command Line (Terminal)
The first method involves using command line executions to burn a DMG file to disk. In a Mac, this would be done in Terminal, which you can access in Applications >> Utilities >> Terminal. In Windows, it's the Command Prompt, which you can access by entering 'cmd' in the run window.
Step 1: In Mac, enter the following command: hdiutil burn ~/Path/To/DiskImageFile
Step 2 : Remember to replace the file name with the appropriate DMG file name.
Step 3 : The hdutil utility is quite powerful and will even let you create ISO files, and it's relevant for later versions of macOS like High Sierra or even El Capitan because you can't use Disk Utility to burn ISO to a USB drive. That's only possible on earlier Mac OS X versions prior to El Capitan.
In Windows, you'll need something like TransMac to directly burn DMG to a USB drive. We've described the process in the final section. It's a bit confusing because you don't have any options to burn the DMG to USB. You might end up wondering what to do unless you have a guide. We've shown you how to use it for this purpose in the final section.
Once the process is complete, remove the USB stick and use it to install the application associated with that DMG on any other Mac computer.
Part 2: How to Burn DMG to CD/DVD on Mac via DMG Editor
UUByte DMG Editor, as the name suggests, is an superb toolkit for handing DMG files on Windows and Mac computer. The stock burning feature can easily burn an DMG file to external CD, DVD or USB flash drive without taking much effort. Unlike other programs, there is no need to convert DMG to ISO.
Besides DMG burning, this program also has multiple useful functions for operating DMG files, such as editing, extracting, copying. Basically, it is the only tool you need for DMG files.
Key Features of DMG Editor
1-click burn DMG to CD/DVD or USB drive.
Re-edit DMG file and create a new DMG.
Create bootable disk from DMG image.
Step 1:

Install UUByte DMG Editor

Install and run DMG Editor after downloading the installation file from here. Then launch the app.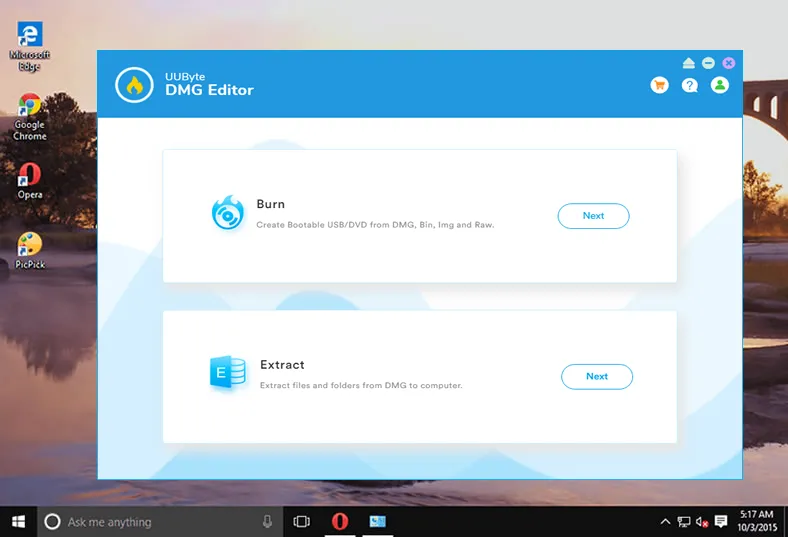 Step 2:

Attach CD/DVD to Computer

You'll see several options on the home page. One of them is "Burn". Click on that.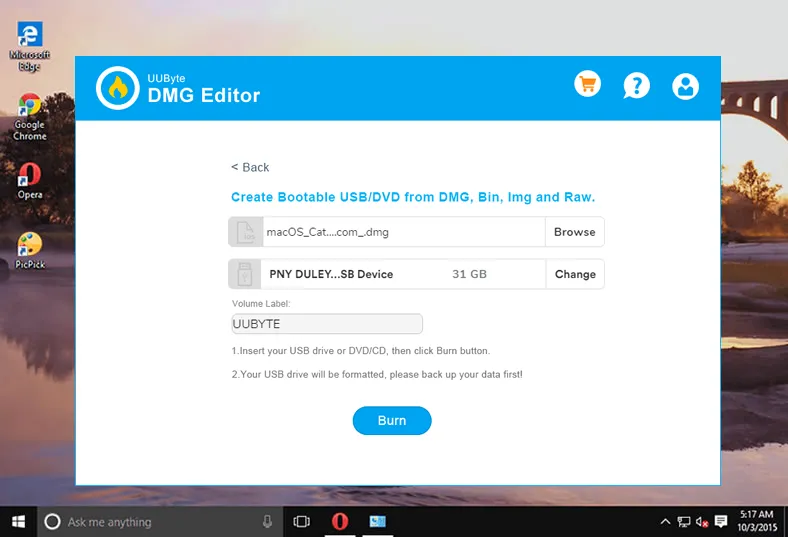 Step 3:

Start Burning DMG to USB

Now select the DMG file and insert a DVD/CD, after which you can select the optical drive and start the burning process.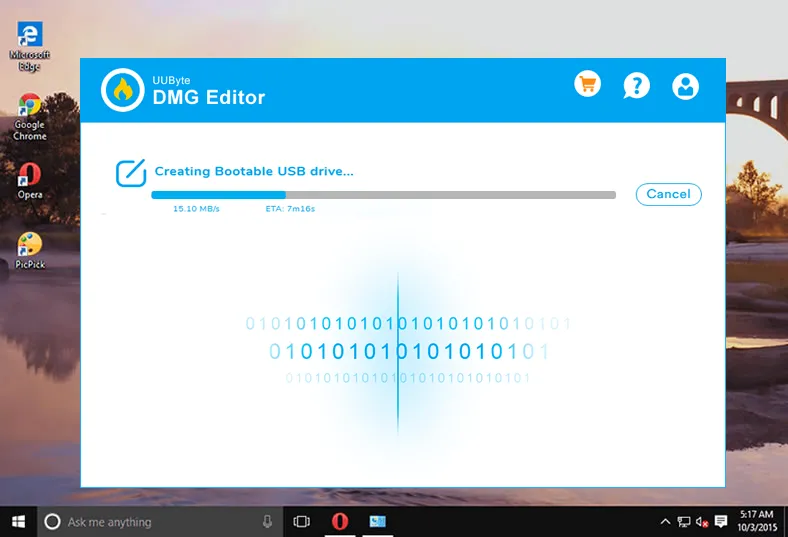 DMG Editor is extremely versatile, and you can even edit your ISO file and add and remove content before you burn it. It also gives you the dual option of burning dmg to USB flash drive or CD/DVD Disc if you need it. Converting DMG to ISO is a much easier way to handle DMG files on Windows, which are better suited to Mac systems. But if you need, DMG Editor is also available for Mac, which means you can do the same thing on a machine running Mac OS X or even macOS High Sierra.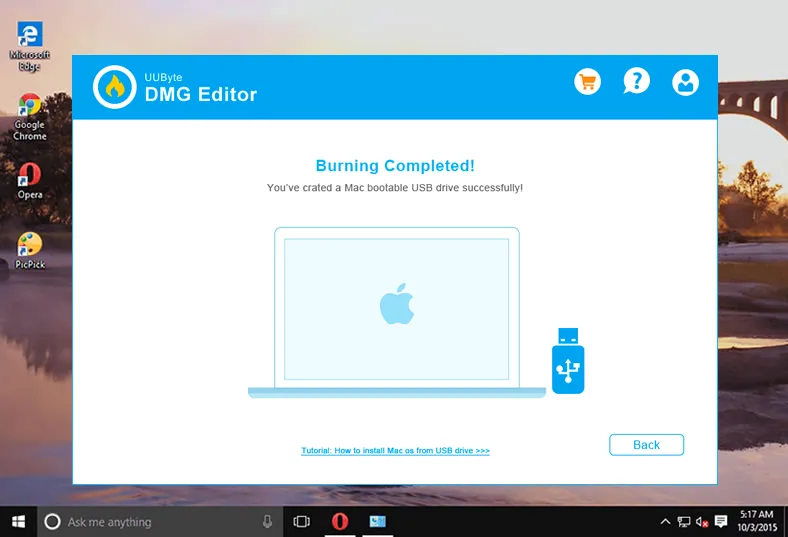 The best part about DMG Editor is that disk partitioning is very easy since the software supports multiple file systems and partition schemes, which makes it much easier to use if you're not technically adept and knowledgeable about disk image files and how to handle them.
Part 3: How to Burn DMG to CD/DVD on Windows PC
TransMac is a little complicated to use, and you may not be very comfortable as a first time user. You'll get a 15-day trial when you install the utility, so if you're only doing a once-off, it should serve your needs.
Step 1: Install the TransMac software on your Windows PC. You can get the official download here.
Step 2: Before running the application, insert the USB drive, and then launch the app as Administrator.
Step 3: Right-click on the drive listed on the left side and choose "Restore with Disk Image". This will open up a new window where you choose the DMG file and click "Ok" to proceed. The DMG file will now be burned to the drive you inserted.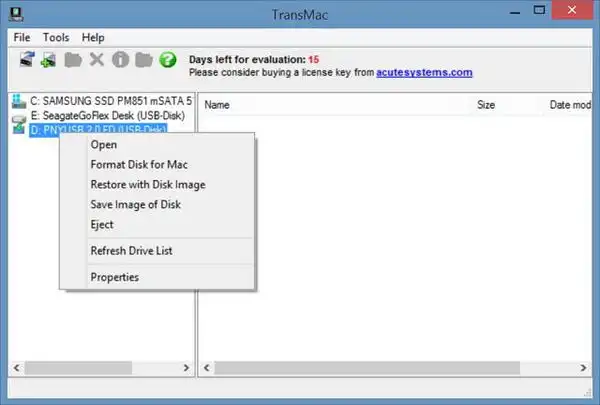 TransMac is a great utility, but there are some things to keep in mind. First of all, you will need to do a GPT partition on your USB drive. That means you require some knowledge of the diskpart utility in Windows. If you're a novice, this is not a recommended approach. The better option would be to use DMG Editor after converting the file to ISO. It's faster and safer as well.
Summary
Burning DMG to DVD is much harder than burning ISO image becasue less tools available on the market. Fortunately, you can use DMG Editor and TransMac to burn the DMG file on Mac or Windows PC. They are the best two programs for DMG burning in 2018. So don't miss the tool when handing DMG files by yourself.