Windows To Go (WTG) was created for the purpose of running Windows OS on other host computers from an USB connected drive. While Windows OS runs off the USB drive, it utilizes all computing resources of the host program, making this a convenient way to run a portable version of Windows OS from USB drive on a computer that is loaded with a different version.
Below is a list of best software to help you create a Windows To Go USB so you can carry a portable Windows USB and use it on any other computer.
A Glance at Windows To Go
Windows To Go only works with specific Windows editions such as Enterprise and Education . The host computer can be any machine that is capable of running Windows 7 or higher but must be compatible with the host computer's firmware (Legacy BIOS vs. UEFI BIOS) and processor architecture (32-bit vs. 64-bit.)
The Windows To Go program is usually carried on a USB stick that is used to boot from the host computer, which also means the BIOS settings of the host computer need to be changed beforehand. In addition, the official WTG program only works when it is burned on a Windows To Go certified USB drive. However, it is absolutely OK to use non-certified USB drive for third-party Windows To Go creation software.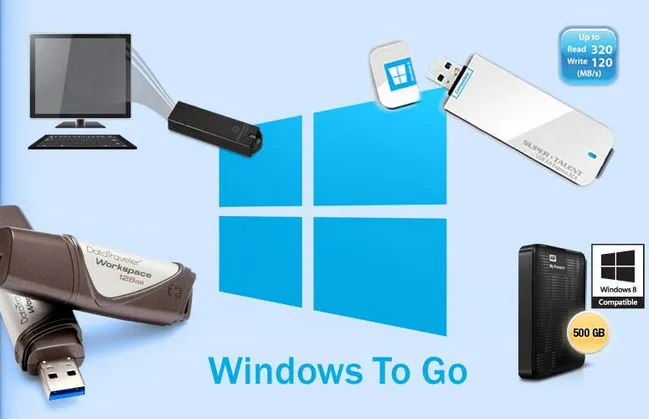 WTG USB Drive Recommendation
USB plays a vital role for creating a working Windows To Go workspace. And not all USB drivers are eligible for this task. We only recommends flash drive or portable SSD with USB 3.0 or higher standard. The creation and running speed will be extremely slow when you are using a USB 2.0 drive. Below is a set of recommended specs for choosing a Windows To Go compatible USB-based external drive.
USB 3.0 or 3.1 port.
At least 32GB storage.
USB-based flash drive, hard drive or SSD.
Portable SSD is more welcomed.
Buying from reliable manufacturers (Samsung, SandDisk, Kanguru, Super Talent, Spyrus).
Windows To Go Creator #1: Windows Enterprise
Windows Enterprise Editions have a built-in function that allows you to create WTG USB drives easily. The advantage is that the feature is integrated into the internal operating system, which leads to a lower error rate when burning a WTG drive. The ISO for the drive can be obtained from Microsoft Windows Evaluation Center.
The process is fairly simple because the built-in program takes you through each step with clear on-screen instructions. You'll also see various help resources to give you more information about the process. However, there are many limitations with this default Windows To Go creator.
[Updates:] Microsoft decided to remove Windows To Go feature from Windows 10 2004 and future releases. So it is not uncommon to see Windows To Go is not available if you are testing this feature on a newer version of Windows 10 Enterprise. Please skip this part and pick another Windows To Go creator software suggested in the following sections.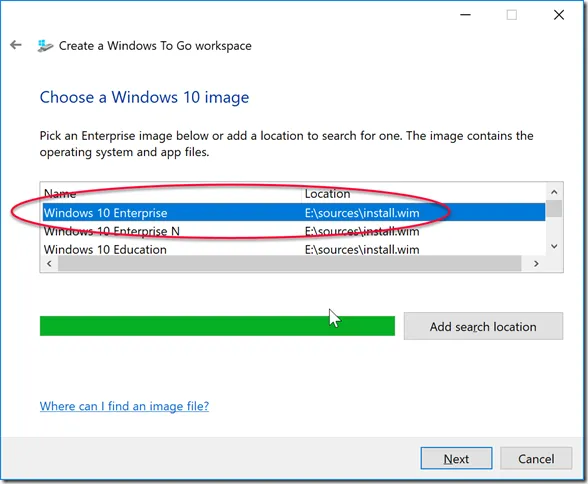 Pros:
Completely free.
Better official support and documentation.
More reliable and less error.
Batch deployment for usage in organization.
Cons:
Only support Windows 10 and Windows 8 Enterprise ISO file.
Only work on Windows To Go certified USB drive.
Only available in a limited version of Windows editions but not included Home and Pro.
In case you don't have a Windows 10 Enterprise machine or don't want to use this integrated function, there are several amazing third-party utilities that can do the same thing. The advantage with third-party tools is that the premium ones offer full technical support if you need help with creating your own Windows To Go USB drive. Let's take a look at best options
Windows To Go Creator #2: UUByte WintoUSB Pro
UUByte WintoUSB Pro, by far, is one of the best tools to create a Windows To Go USB stick. It is a versatile and highly dependable piece of software, and there is none noticeable performance degradation that is usually seen when running WTG on a host computer. One of the biggest advantages of using this software is that, once you create your WTG drive, you can use it to boot to your preferred Windows version on any PC or even Mac. Most new models of Apple's desktop hardware support this function, which means your Windows To Go stick is largely OS-agnostic.
In addition, UUByte WintoUSB Pro software offers a user-friendly interface with intuitive controls, so don't worry if you have little experience with this sort of task. Creating a WTG drive on USB or external HDD and SSD is as easy as a few clicks. In addition, it gives you the flexibility of creating your bootable OS media either using an ISO file or by cloning an existing OS installation. That means you can customize your experience and then carry that around to be used on any supporting computer.
The WTG USB creation process consists of three simple steps: First, run the program on any computer and insert the USB drive. In the software, choose the type of WTG to be created (Win on Win or Win on Mac), and click Next. Then, choose an ISO file or use the other option to clone your current OS environment, then choose the target USB drive for the burn. Finally, change any Advanced Settings that you need to, such as the boot scheme, setup mode, and any additional components you want to add or remove when creating the drive.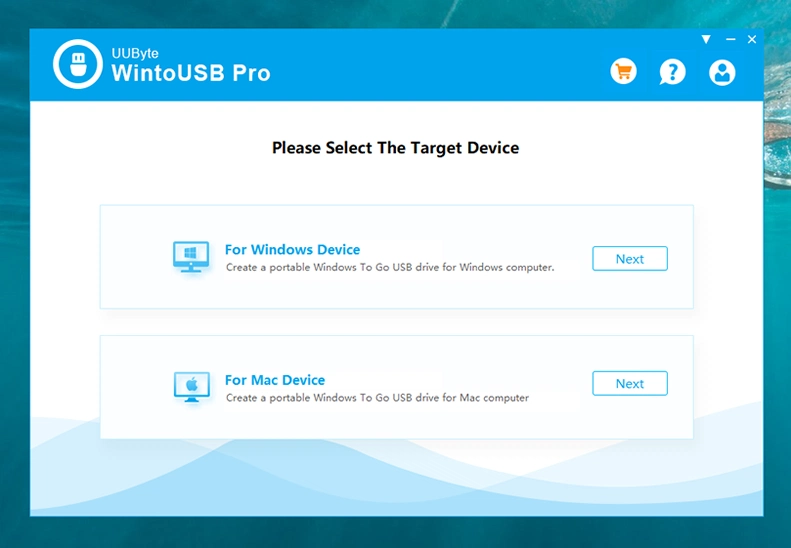 Pros:
Dedicated Windows To Go Creator software.
Fully compatible with all Windows ISO files.
Work on certified and non-certified USB devices.
Much higher success rate.
Intuitive UI and easy to use.
Take less time and error during the creation process.
Run Windows OS from USB on both Windows or Mac computer.
Cons:
Clone feature may not work properly on old computer.
Not free ($35,95).
Windows To Go Creator #3: AOMEI Partition Assistant
AOMEI Partition Assistant is essentially a partition management utility that comes with a Windows to Go creator module you can use to create a portable Windows drive. The tool itself is quite advanced in terms of disk partition management but the WTG Creator utility is quite simple to use. The biggest drawback might be that there are too many other functions and it can get confusing for a first-time user. Nevertheless, if this program helps you with other tasks, it's a really useful one to have.
AOMEI Partition Assistant has the ability to create a WTG USB for both Windows and Mac, and the interface is easy to follow once you find the right module for the job. The process is simplified into three steps that involve selecting the type of WTG drive to be created, the source to be used for the disk image, and the target location for burning the source disk image. There are also advanced controls to change the partition scheme for the drive. One of the chief benefits of this software is that it also comes with a data backup feature so you can copy any data on your USB drive prior to burning the Windows ISO file to it.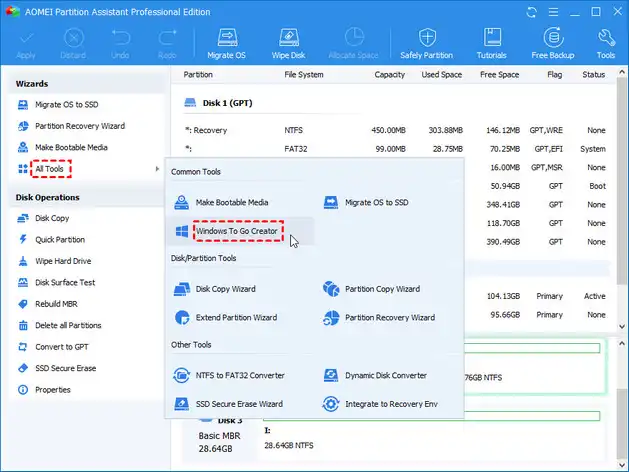 Pros:
Create WTG USB for both Windows and Mac.
Migrate Windows OS to another SSD.
Create a bootable WinPE media for system repairing.
Rebuilt MRB and fix booting issue automatically.
Directly clone hard disk to new drive.
Convert MBR partition to GPT.
Cons:
Windows To Go Creator feature only available in Pro version ($43.96).
Failed to work on Windows 7 laptop.
USB writing speed is a bit slow.
Windows To Go Creator #4: Hasleo WinToUSB
Hasleo Software has an excellent module called WinToUSB that can help you create an error-free Windows To Go USB drive. It also supports Thunderbolt drives so you can create WTG drives specifically for Mac. The convenient interface is clutter-free, yet full of useful features such as support for multiple disk image types and media, cloning support for 9 different Windows versions, etc. One major difference between this and other software is that it allows you to create WTG drives on non-certified USB drives.
WinToUSB also offers other unique features, such as 'hot cloning' your OS without having to restart the PC, as well as support for drives with sector sizes different from the standard 512 bytes. In addition, it has several other features like Windows PE creation and USB installer creation. As a versatile tool, it will be very handy to have at your disposal when working across multiple Windows versions.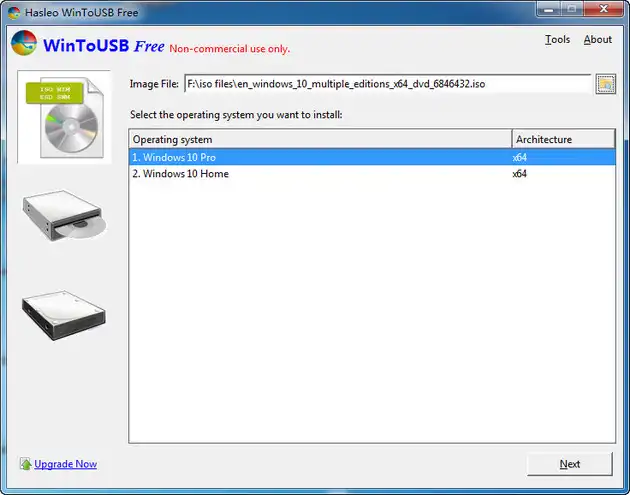 Pros:
Create WTG drive from ISO, WIM, VHD and CD/DVD.
Hot clone Windows partition without reboot.
UEFI and BIOS support.
Work with Thunderbolt drive.
Freely use any Windows ISO and USB drive.
Has a free demo version for non-commericial usage.
Cons:
The free version does not support Windows 10 Pro and above OS.
Advanced features are only available in paid version ($29.95).
Success rate is not high in free version.

A bit confusing because of too many steps and selections.
Windows To Go Creator #5: EaseUS Todo Backup
Although EaseUS Todo Backup is an excellent backup utility, it can also be used for the purpose of creating WTG drives and cloning disks or individual partitions. It is especially useful when you need to migrate your OS along with custom settings and apps to a new drive location or even a different drive. The clone can be created on a USB drive and then migrated to another media storage device, either internal or external. The same process can be used to create a Windows To Go USB using the local installation or a bootable ISO file containing another version of Windows.
One major advantage of this program is that there is also a Mac version. The only issue is that if you're not familiar with the process, it's a little hard to find. That's because it's not called Windows To Go; instead, during the system cloning process, after choosing the source drive, you'll need to go into Advanced Settings and select 'Create a portable Windows USB drive' as your preferred option. Nevertheless, the tool itself is highly accurate when creating the USB drive. The biggest benefit of using EaseUS Todo Backup is that it comes packaged with the main application, which is intended to help you make a backup of any drive or partition and avoid losing data.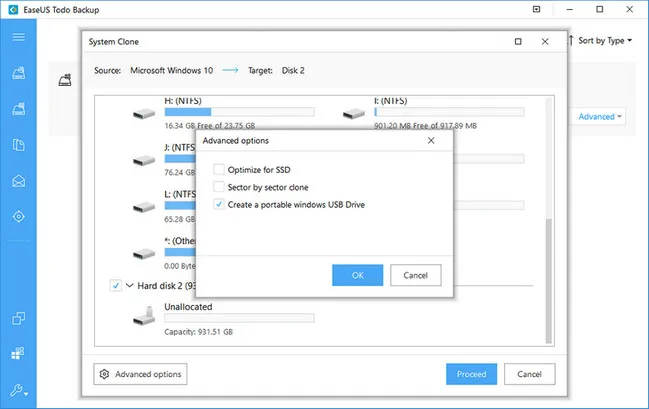 Pros:
Clone and create a portable Windows USB drive.
Backup Windows OS with custom user settings.
Automated backup for selected files and folders.
Various backup locations, such as physical disk, remote server and cloud storage.
Cons:
Hard to find the Windows To Go feature.
A bit expensive for WTG creation ($19 per year, $59 for life time license) .
Can not create WTG drive from Windows ISO.
Windows To Go Creator #6: GImageX
GImageX is another useful Windows To Go USB creation tool. Since GImageX is a native application for Windows, it will not require any external frameworks or runtimes. Essentially, it bypasses the need for the built-in Windows To Go Creator tool that comes with Windows Enterprise editions. Also, it is intended for use with WIM files, which you capture, mount, or split, as required.
The process is a little bit complex so it may not be suitable for new users, but it is fairly straightforward if you know what you're doing. Basically, what you will need to do is first run the program, select the source WIM file from a DVD or even your local installation, choose the target drive (the USB stick), make the partition active, create boot entries on the target drive, and finally create the WTG drive. However, since it requires the use of other applications such as the Windows Disk Management tool and also running some commands in CMD, you may want to try an alternate method if you're not familiar with these.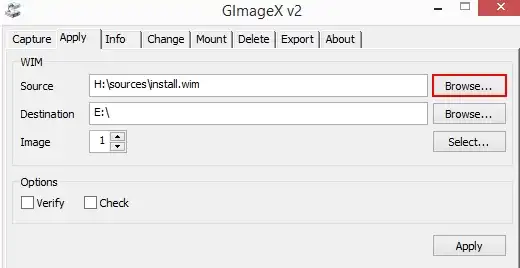 Pros:
Totally free.
Lightweight .
Powerful features to hand windows image file (WIM).
Able to run from Windows PE .
Cons:
Very Complex process combined with diskpart command line tool.
Has to unpack Windows ISO file first.
No clone feature.
Windows To Go Creator #7: DAEMON Tools Ultra
DAEMON Tools Ultra is a highly advanced utility for image file management that has an additional feature for WTG drive creation called Windows To Go creator wizard. It offers full functionality in terms of formatting the target drive, specifying the boot type, label, and file system, and so on. It also works with Linux distributions in addition to Windows ISO files.
The interface is simple enough for new users to get comfortable with quickly, and it comes with a host of other features that the software was originally designed for. Some of these include virtual disk creation, file sharing with mobile apps, Live USB device creation, and several other professional imaging tools for Windows and Linux operating systems. The tool is ideal for system recovery, creating RAM disks, and other purposes apart from being able to quickly create WTG drives in just a few clicks.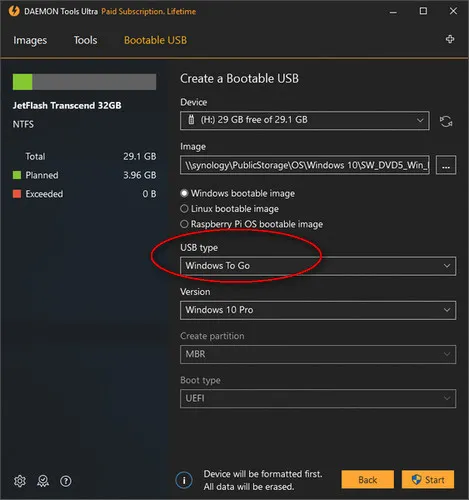 Pros:
Create Live USB (Windows To Go) from Windows image file.
Mount any kind of disc image file.
Create virtual writable devices.
Protect USB drive with password.
Create bootable USB drive for Windows and Linux .
Burn audio and data to CD or DVD.
Cons:
Premium software billed at $7 monthly (Life time for $69.99).
Must install Windows Security updates before installation starts.
Only support Windows 10 ISO image.
Windows To Go Creator #8: FlashBoot
FlashBoot was created to bypass the restrictions that prevent you from creating Windows To Go USB on non-certified USB drives. It works by modifying certain registry and driver settings so any USB drive will be treated as a 'fixed' drive rather than a 'removable' drive, which is essentially what the restriction is based on. The tool itself is quite simple in terms of functionality but it can work its magic when you only have a non-certified drive, either USB or external.
In addition to this special ability, you can also use FlashBoot on much older versions of Windows, such as Windows XP. Of course, your source OS must be compatible with Windows To Go, but you can create it on a computer that doesn't have Windows 7 or higher. The software will automatically format your USB drive for the required ISO file, which you can get by creating a clone of your OS; of course, you'll need a different application for that. Alternatively, you can provide your own image file to create the WTG drive.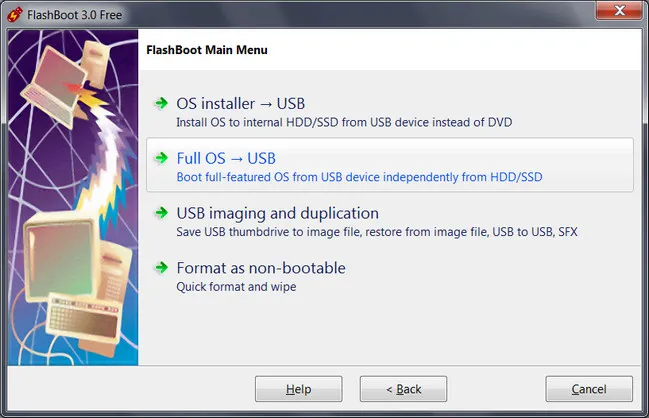 Pros:
Easily create WTG USB from Windows 8/8.1 and Windows 10 ISO.
Make bootable USB drive for OS installation.
Backup USB drive to an immage file.
Quick format USB drive.
Cons:
Slower installation speed.
A bit out of date user interface.
WTG USB drive can not work on Mac.
Test Result Comparison
Well, it is really hard to pick up the best from the list only by reading the above review. But it could be very time consuming if you tested all the suggestions one by one. To void wasting your time, we finally conducted a testing for all of them. Please check the comparison table and choose the best one for yourself.
Our Testing Environment
ThinkPad T480S with Windows 10 Home
SanDisk Extreme Pro CZ880 (USB 3.1)
ISO file: en_windows_10_multiple_editions_x64_dvd.iso (3.8GB)
Comparison Table of Third-Party Tools
| | WinToUSB Pro | Partition Assistant | Hasleo WinToUSB | EaseUs Todo Backup | GImageX | DAEMON Tools Ultra | FlashBoot |
| --- | --- | --- | --- | --- | --- | --- | --- |
| Creation Time | 15 Min | Error | Error | 32 Min | 117 Min | 29 Min | 56 Min |
| Difficulty Level | Easy | Medium | Medium | Medium | High | Medium | Easy |
| ISO Support | Windows 10/8/7 | Windows 10/8/7 | Windows 10/8/7 | Windows 10/8/7 | All | Windows 10 | Windows 10/8 |
| USB Support | All | All | All | All | All | All | All |
| Success | Yes | No | No | Yes | Yes | Yes | No |
| Life-Time Price | $35.95 | $43.96 | $29.95 | $59 | Free | $69.99 | $29.95 |
* Error (in Creation Time) means the task failed during the creation process.
Summary and Overall Impression
All these tools are impressive in their own right even though they can all perform the same basic function of creating a Windows To Go USB drive. As we saw, some of them like UUByte WintoUSB Pro can create WTG drives for both Windows and Mac; others can help you clone Windows system drive for creating WTG USB drive, and so on.
Your choice should be based on your specific needs, such as what you need as your source OS, whether or not you need a personalized OS to carry around, whether you have an ISO file to work with or have a WIM file to use as your source, and so on. Overall, if you don't require any added functionality but still need a comprehensive and flexible tool, we found UUByte WintoUSB Pro to be the best dedicated software for creating a Windows To Go USB drive quickly and accurately.