With the introduction of Windows To Go feature by Microsoft, the end user now has the option to run a portable version of Windows from external USB or hard drive. This is commonly s referred as Windows To USB technology. However, there are many limitations if you chose to use the default Windows To Go Creator shipped with Windows OS. That's why third-party tools come into help and Hasleo WinToUSB is a popular one among candidate list.
What is WinToUSB?
There are not many choices available at the early stage when Windows To Go (WTG) technology was released. And WinToUSB is the only one that is built for normal users. This means you won't get your hands dirty with text commands. It has a well designed user interface. So there are a lot of websites recommending WinToUSB for creating a portable Windows USB drive.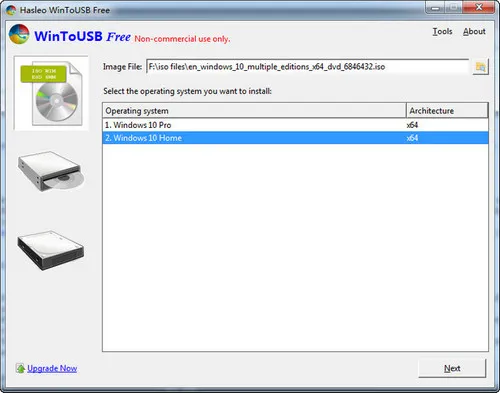 Simply put, WinToUSB is a popular freemium tool developed by Hasleo software and it it an one-stop solution for creating portable Windows to Go drive so that you can run Windows OS directly from USB or hard disk. One prominent feature is that it allows you to create a Windows To Go drive on certified and non-certified USB sticks. It is also able to create WTG drive from ISO, WIM or other image files. However, WinToUSB is available for free trial but later, you need to upgrade.
Main Features:
Create WTG drive from Windows ISO, WIM, VHD and DVD disc.
Clone existing Windows OS to external drive as bootable.
Fully Compatible with legacy BIOS and UEFI booting.
Support non-certified USB drive from third-party brands.
Why Looking for WinToUSB Alternative?
There are two main reasons why people are looking for alternative solutions to replace WinToUSB. The first one is that people need a completely free solution instead of free one with too many restrictions. Many advanced features are only available in paid version of WinToUSB. And the free version is simply useless in practice. Another reason is that WinToUSB is not working properly and failed to create a portable Windows USB.
Error Code 0x0000008000B40000: You can see such error code on the screen while trying to create a portable OS device using WinToUSB and the copy functionality stuck at a certain percentage. As a solution, you need to try the process again using another ISO file.
INACCESSIBLE BOOT DEVICE: When you are trying to create a WTG device using Windows 7 image file, you might get this error. As a solution, you need to use a USB 2.0 drive because Win 7 does not support the USB 3.0.
Partition is not active: The error occurs when you are trying to boot with a portable USB but the partition or boot order is not selected properly. As a solution, either you need to make the partition active from Disk Management or change the boot order on your PC.
Failed to run system API: This is a common error during USB formatting process and no solution is found yet.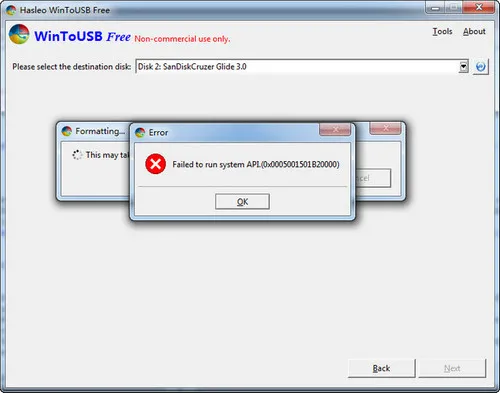 Nothing to worry about when WinToUSB is not working due to some reasons. There are many matured solutions out there as technology advances. Below is a list of best WinToUSB alternatives you can choose from.
WinToUSB Alternative #1: Windows To Go Creator
If you are using the latest version of Windows 10 Enterprise edition then you can use the built-in Windows to Go Creator to make WTG drive from Control Panel. It is the official tool provided by Microsoft so it is more reliable and secure than third-party tools.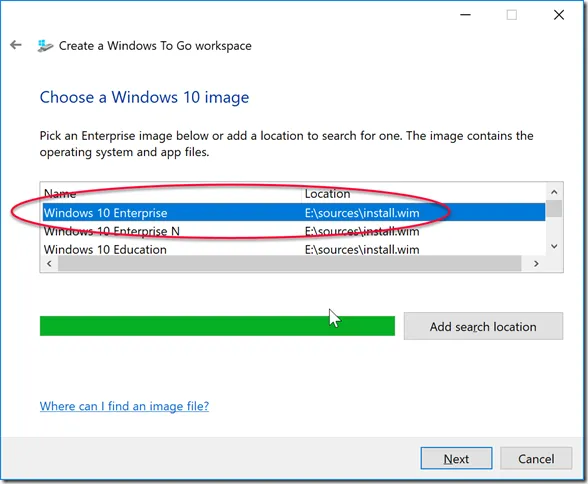 To create a portable Windows USB using the stock Windows To Go Creator, you need to sign in to Windows with an admin account. And then insert a USB drive into computer. Now search for Windows To Go using Cortana app and open Windows To Go from search result. Next, pick up the USB you just plugged in and import Windows ISO image file. You can also add a BitLocker password during the creation process. Finally,wait for a couple of mintues and a portable Windows USB drive will be available soon.
Cons:
Only available in Windows 10 Enterprise/Education and Windows 8/8.1 Entreprise.
Not working for non-certified USB drives.
Only support Windows 10 and Windows 8/8.1 Entreprise ISO image.
WinToUSB Alternative #2: UUByte WintoUSB Pro
UUByte WintoUSB Pro is another powerful Windows To Go creator that has less limitation and restrictions. It is a modern Windows application that build on an intuitive user interface. You can create a Windows To Go drive from all Windows ISO images and non-certified USB drives. Most importantly, it has much higher success rate and faster burning speeding. This means you don't need to speed more time on this challenging task.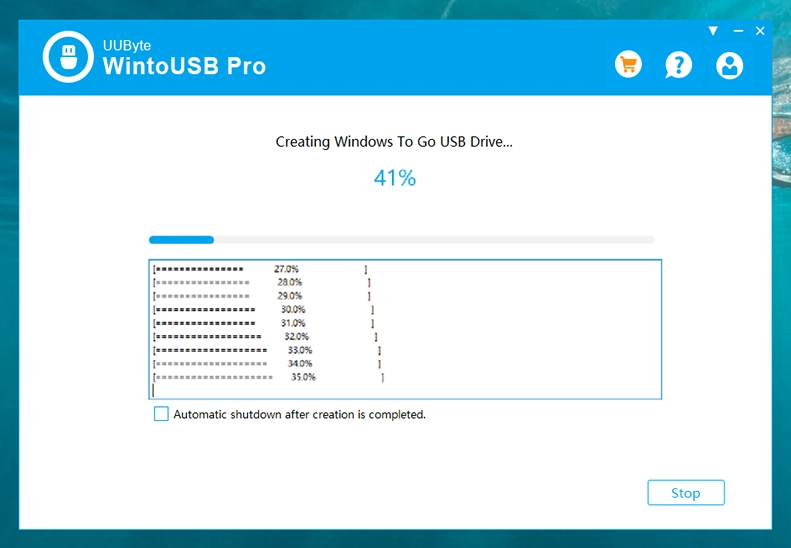 To create a Windows To Go drive with UUByte WintoUSB Pro, please download and install the program first. Then attach the USB drive to a USB port. Next, import Windows ISO file and choose the target drive where the Window OS will be installed on. Wait for about 10 minutes once the setting process is finished. Your Windows To Go USB drive is ready for use.
Cons:
No free version available.
The Clone feature may fail on old PCs.
WinToUSB Alternative #3: AOMEI Partition Assistant
AOMEI Partition Assistant is a disk managemnt software which can accomplish more than 30 tasks related to system partition and migration. It is another best alternative to WinToUSB. It is embedded with a feature called Windows To Go Creator that allows you to put a portable version of Windows to USB. By using the tool, you can also change the disk file format from NTFS to FAT32 and vice-versa. It also allows you to recover the lost data.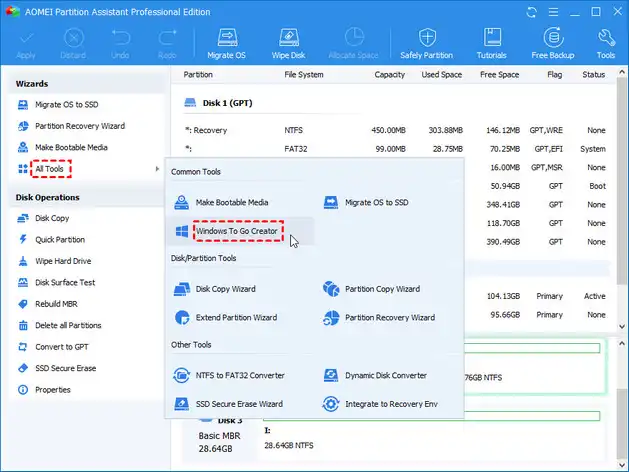 If you want to create a WTG portable device then just download and install the trial version of AOMEI Partition Assistant and then launch the tool. After that, go inside the All Tools and select Windows To Go Creator. In further 4 steps, you need to select the personal computer option, upload the Windows 10 ISO or image file, select your inserted USB device and finally click to Proceed. Now it will erase all the existing data from your selected devices and then will make your portable WTG in a few minutes only.
Cons:
Many restrictions in free version.
Lower success rate with Windows To Go Creator.
Wait too much time for creation process.
USB not bootable after creation.
WinToUSB Alternative #4:Rufus
Rufus is the nearest competitor of Hasleo WinToUSB utility which allows you to make a bootable media for Windows, Linux and others. Rufus is an open-source application that can be used without installation. You can also create a Windows To Go USB using Rufus tool if you are carrying a certified WTG USB.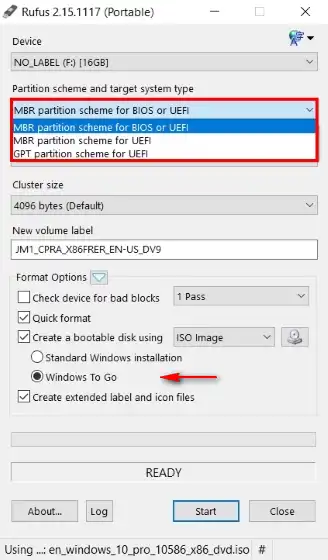 To start creating a portable Windows USB drive, first, you need to download and install Rufus tool. Now insert the desired USB device in which you want to put the portable Windows OS. Further, launch the software, select your inserted USB and upload Windows ISO file. After that, select the radio button stating Windows To Go and click on the Start button. Now wait for some time, and you will get them ready to use WTG portable USB drive created by Rufus.
Cons:
Windows To Go feature removed from new versions.
No official support.
Not working for latest USB 3.0 or 3.1 device.
WinToUSB Alternative #5: GImage X
GImage X is another freeware to create Windows To Go USB. Apart from that, the tool is embedded with all the required functions needed to edit, delete, mount, capture or export a WIM file. It is such a GUI which makes the task easier to operate with any kind of activities related to WIM files.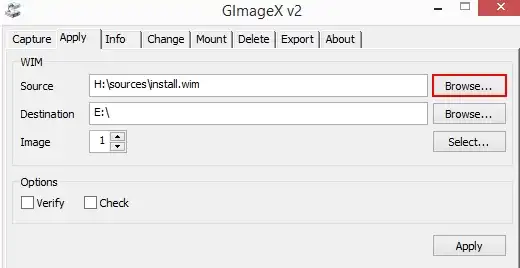 To create a WTG portable drive, you need to download GImage X and install it on a PC or laptop. Now insert the USB device and make it bootable with the help of diskpart commands. After that, mount your Windows ISO file and then launch the GImage X. Further, go inside the Apply section, click on the Browse button under the Source section and fetch the install.wim file. Finally, choose your inserted flash drive and click on the Apply button. GImage X might take a bit longer time than other WTG creator, so once it completes the process, you are ready to use the WTG device on any PC.
Cons:
Must combined with diskpart command.
Can not import Windows ISO file.
Take more time during file writing process.
Test Result Comparison Tablet
| | Result | Time | Price |
| --- | --- | --- | --- |
| Windows To Go | Failed | / | Free |
| WintoUSB Pro | Success | 12 Min | $29.95 |
| Partition Assistant | Failed | / | $43.96 |
| Rufus | Success | 2.5 Hrs | Free |
| GImageX | Success | 4 Hrs | Free |
Test Environment: ThinkPad T480S, Windows 10 Home, Samsung Bar Plus USB 3.1, Windows 10 Home ISO
Conclusion
WinToUSB is a great tool for creating portable Windows USB drive. However, you may experience technical glitches during the creation process. If the issue could not be fixed by your side, then please don't get frustrated because there are a few great alternatives to WinToUSB. Basically, if you seek for the tool with easy-to-use interface and less errors, then UUByte WintoUSB Pro is your best choice. And don't put too much trust on freemium tool as they will push to upgrade to paid version.