DVD disc is one of the most convenient ways to store digital content because can hold a lot of data in a single place. If you're using dual layer DVDs, you can effectively double the amount of storage space on the same media. So blank DVD disc is a great way to store personal data and make bootable installation disc for system repair. But the key to put the data on a DVD disc is to have the right DVD burning software. There are tons of free DVD burning software out there, but not all of them are equally good in terms of performance and reliability. In this article, we'll show you the best 5 free DVD burning software applications that you can start using today without spending a single cent.
Burn disc image - The Stock ISO Burning App on Windows 10
Burn disc image is a free utility that comes with Windows 10. It can be a great help when you are trying to mount ISO image or burn it to external DVD disc. We forgot to mention in original post and we think it is a good ideal to list it here based on user recommendation.
This app is extremenly easy to use and no complex settings. Just right click the ISO image you want to burn and click Burn disc image from context menu.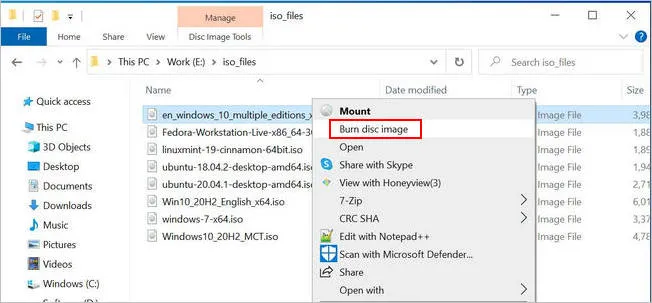 Pros:
No software download and install.
No complex settings.
Able to mount ISO file on Windows 10.
Verify DVD disc after burning.
Cons:
Slow ISO burning speed.
Not support dual layer DVD disc..
AnyBurn - A Complete Free DVD Burning Software for Windows 10
AnyBurn is by far one of the best free DVD burning software tools around, and it can be used for a variety of actions including creating image files from the contents of a disk, creating bootable DVDs from ISO files and even creating bootable USB drives. As such, it is one of the most feature-rich DVD burners you're likely to find online - free or paid. All the options available to you are right on the main menu page, so there's no need to hunt around for specific features.
Just download and install the software, and if you're using the portable version you won't even have to bother with installation; just run it directly from a USB stick. Pick the function you want to execute, such as "Burn Files/Folders to Disk", insert your DVD and hit the Burn button. You'll be done in no time, and you'll see how intuitive this software really is. Unfortunately, it's only available for Windows, but you can get either the 32-bit or 64-bit version.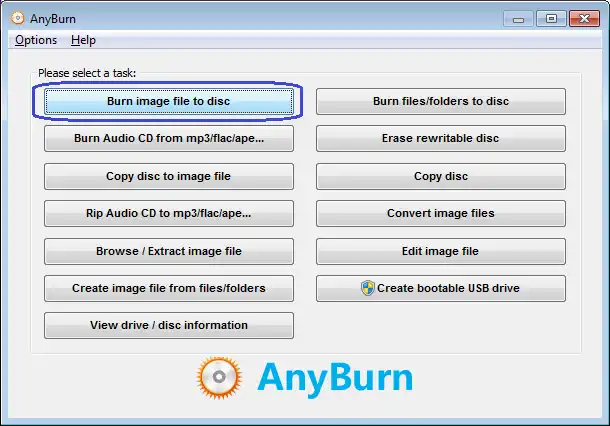 Pros:
Comprehensive utility for burning data to DVD.
Burn audio tracks to CD.
Support Blu-ray disc as well.
Copy content from DVD disc.
Cons:
Out of date user interface.
Burning speed is lower than others.
No reply from customer support.
ImgBurn - The Ultimate Free DVD Burner for Windows 10/8/7/XP
Another great DVD burner is ImgBurn, which also offers various functions other than burning media or files to a DVD. You can create ISO files from files and folders on your PC, or even directly from a physical disk. One unique feature is that you can verify whether a bootable ISO file actually works once you've put it on a disk.
ImgBurn supports a wide variety of image file formats, such as Apple's IMG and DMG formats. That means you can create a bootable macOS installer on a Windows PC from a DMG disk image without any additional tools or extensive command line work. The only downside to using this software is that it is pretty old, and the latest version dates back to 2013! Nevertheless, it is definitely one DVD burning software you can't afford to ignore. Again, this is a Windows-only application, so Mac users be a little patient as we cover just one more Windows app before addressing your needs.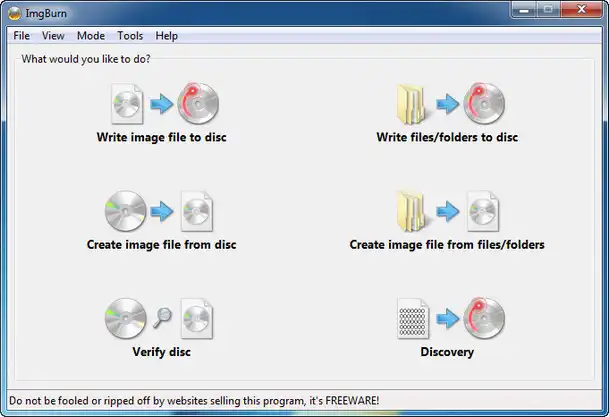 Pros:
Totally free without ads.
Suppor a wide range of image file format, such as ISO, CCD, DVD, IMG.
Burn ISO image to DVD as well as audio tracks and Video_TS file.
Easily create ISO image from files or folders.
Cons:
Low success rate for creating bootable DVD.
Not user friendly because of complex settings.
Bad support for protable DVD drives.
InfraRecorder - Advanced Free DVD Burning Software for Windows
If you want something with limited capabilities but is still reliable, then try InfraRecorder. This free image burning app is only meant for CDs and DVDs, so don't expect support for high-end formats like Blu-ray or HD-DVDs. That doesn't mean it's not a powerful app, and hundreds of thousands of users can attest to its efficacy as a DVD burning utility. You can, however, write disk image files to DVD, as well as verify that the bootable disk works as it should.
The good part is that there's a portable version that doesn't require any installation, which means you can run the program right off a USB drive. One thing you should know is that the plug-in for encoding MP3 files isn't available along with the software and must be downloaded separately. That's because of prevalent anti-copyright laws across the world, but it's not hard to get that as well.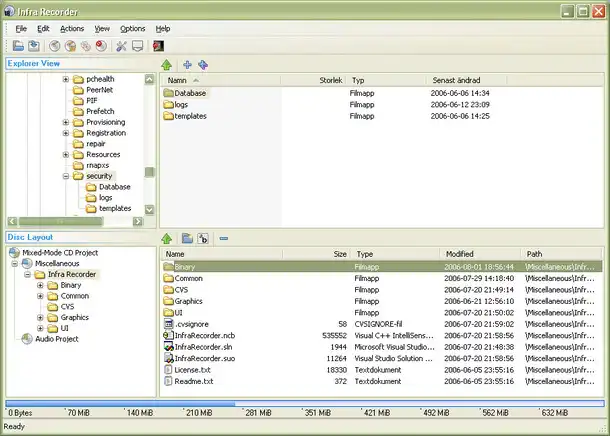 Pros:
Great for burning local files or folders to DVD.
Advanced settings for DVD burning to fit customer's needs.
Four different options to erase rewritable DVD disc.
Cons:
Not compatible with latest Windows 10.
Poor user interface as you can from the screenshot.
Too complex settings for DVD burning.
Express Burn - Fast DVD Burning Software for Mac (Data and Audio CDs)
Finally, something for Mac users! Express Burn is a great Mac utility for burning DVDs. It's simple to use and highly reliable, and you can even use it to burn ISO disk images to DVD for use on Windows machines.
The interface is clean and there's not much of a learning curve before you become adept at using this utility. The one catch is that you might have to upgrade to the paid version if you want additional functionality, but we showcased it because it's really easy to use if you just want basic burning capabilities rather than advanced features. You can always upgrade later if you really love the software.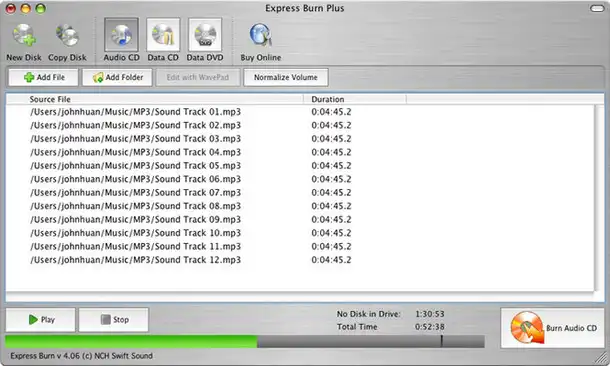 Pros:
Simple and easy to use
Perfect for data backup.
Great for burning Audio to CDs.
Cons:
Need to upgrade to paid version for advanced features
UI not upgraded for years and not fit for moder macOS design.
A little expensive just to get DVD support considering free alternatives
UUByte - Best DVD Burning Software to Create Bootable DVD on Windows & Mac
There are two main reasons to use a DVD burning software. One is for data backup and the other is for creating installation media. For this purpose, UUByte ISO Editor is the best tool out there. Currently, it supports Windows and macOS so you can make bootable DVD or USB on these two poplular platforms without any problem.
UUByte ISO Editor is a lightweight utility that is quite powerful for its size. It also offers a variety of functions like ISO burning, data extraction and ISO creation Don't be fooled by the simplicity of the interface. That's intentional so new users won't get confused. The software is highly reliable and is very popular on Windows and Mac.
Why Choose UUByte ISO Editor
Work seamlessly on latest Windows 10 and macOS Mojave.
Create bootable Windows DVD or USB in 1 click.
Easily extract content from any ISO image.
Create ISO file from files or folders for backup.
Freely edit ISO image file without any issue.
Top level customer support.
How to Use UUByte ISO Editor: First download a copy of UUByte ISO Editor on a PC or Mac. Install the program and open it up. Then click the corresponding tab to finish the ISO operation. Take burning as example. Click "Burn" button on the main interface and import ISO file to the prgram. Then connect a physical DVD drive and insert a blank DVD disc to the drive. You will see the DVD drive name displayed on the screen. After that, click "Burn" tab to burn ISO to DVD.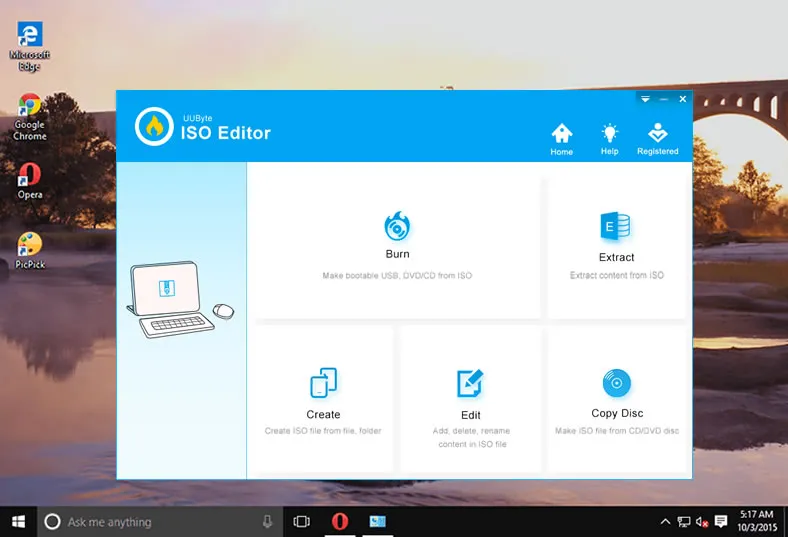 The Bottom Line
The above Image burner suggestions are fairly enough for burnig ISO to blank CD or DVD. Each of the program has its own advantages for fullfilling specific burning needs. For bootable media, UUByte ISO Editor is the best considersation. For data disk, ImgBurn and AnyBurn is preferred. If you are looking for good customer support, then premium software do much better than free options.