"A media driver your computer needs is missing" is a common issue you may come across while trying to install Windows 10. The computer error message is shown as following:
"A media driver your computer needs is missing. This could be a DVD, USB, or Hard disk driver. If you have a CD, DVD, or USB flash drive with the driver on it, please insert it now."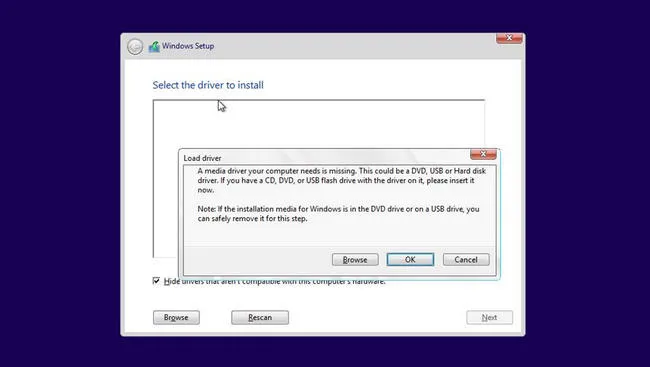 As mentioned above, this issue is not new as it can pop up at any time during Windows 10 installation. Luckily, there are fixes for it and they actually work like a charm. If you are struggling to deal with this annoying issue, don't worry as you can fix it easily with some straightforward steps.
In this tutorial, we will walk you through the steps on how to fix "A media driver your computer needs is missing" error. Before proceeding with our step-by-step guide, there are a couple of things you need to know about.
Table of Contents
First, When Does This Error Happen?
Microsoft says that this issue usually emerges when you try to install Windows 10 on a computer using a Windows installation DVD or USB drive. The problem has been affecting thousands of Windows users since the days of Windows 7. So, if you are dealing with this issue, then you are not alone.
So, why does it occur? The issue does not pop up for no reason. In fact, there is no specific explanation for it, but some possible causes are as follow:
Your DVD or USB drive may be faulty or problematic.
Windows fails to detect DVD or USB drive during Windows 10 setuo.
Windows 10 ISO file is incomplete.
Whatever the reason is, there are fixes for it. You can try one of the methods below to see if the problem is fixed.
1. Insert USB to a Different Port (USB 2.0 Preferred)
Some of the old Windows 10 ISO image file does have native support for new USB port, such as Type-C or 3.1. This means there is no support driver if you connected the bootable USB to these new ports. You should insert Windows 10 bootable USB into an old USB port such as USB 2.0. And The most common way to fix driver missing error during Windows 10 setup.
Step 1: When you see the error message, hit the Cancel button and the Windows 10 installation will stop.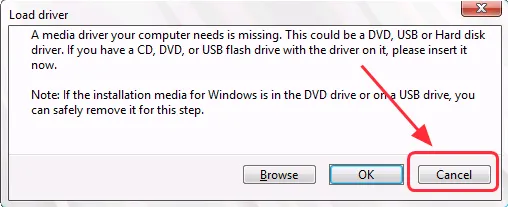 Step 2: Now, unplug USB drive from the computer and re-plug it to an USB 2.0 port.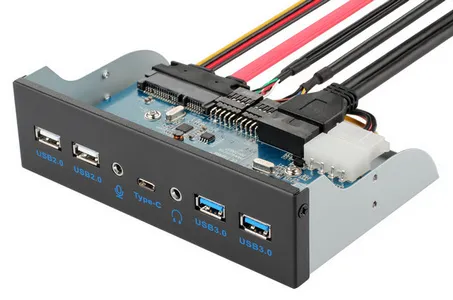 Step 3: Try installing Windows again to see if the problem is dealt with.
This should fix the issue for most of times as a lot of users said this worked in their case. If the problem still exists, please try the following suggestions instead.
2. Change Settings in BIOS
If the problem still persists, it may be the problem with BIOS settings. In reality, wrong configuration in BIOS would lead to a failure in Windows 10 installation. If this is the case, here are the steps to change the settings in BIOS.
Step 1: Check if USB 3.0 support option in BIOS is set to Auto or Disabled.
Step 2: Change SATA to IDE. For those who may not know, SATA and IDE are two different types of interfaces to connect a storage device to your computer's system bus. So, an incorrect SATA mode would result in the "A media driver your computer needs is missing" issue.
In this case, boot your system into BIOS, then head over to Advanced/Storage Configuration > SATA Mode. Change its position to IDE or Compatible or SATA and save the settings.
3. Format USB Drive to FAT32
NTFS is a new file system developed by Microsoft to solve the 4-GB file limitation. However, this new file system is not supported by old hardware or Apple's Mac. You have to format the USB drive to FAT32 and burn Windows 10 ISO to USB again. This is an effective solution if the error happened on a Mac.
To quick format a USB drive on Windows, please connect it to computer and make sure it can be detected by computer. Now, go to Windows Explorer and right click the USB drive name. Finally, choose FAT32 from File System drop-down list. That's all. The USB should be formated to FAT32 in seconds.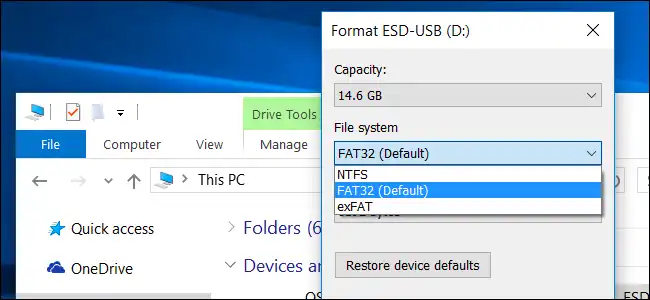 4. Re-download Windows 10 ISO and Burn to USB Again
It has been six years since the first stable release of Windows 10 ISO. We are pretty sure an old version of Windows 10 ISO will not contain media driver for modern hardware that years after Windows 10 release. So if you are using an out dated Windows 10 ISO and trying to use it on a new computer, then there is a big chance the missing driver issue comes up. Our suggestion is to download a new version of Windows 10 ISO using Windows ISO Downloader developed by HeiDoc.net. You can download Windows 10 from various options.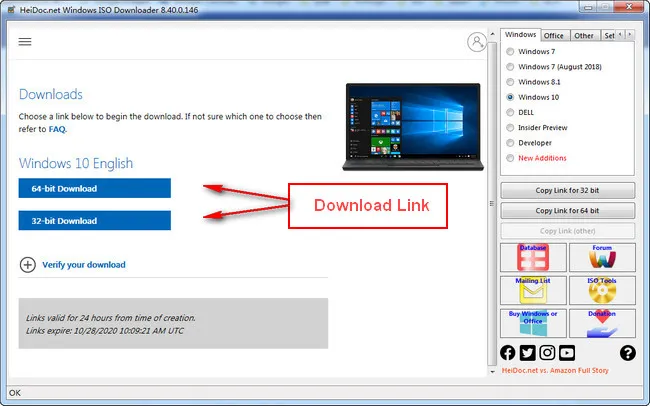 After successful download, get a copy of UUByte ISO Editor, a reliable program for creating bootable USB drives from Windows ISO. This could be a better option than Microsoft Media Creation Tool.
Now, open UUByte ISO Editor and choose Burn option from main screen. This feature allows users creating bootable USB or DVD from Windows ISO. At the new window, please import your Windows 10 ISO and insert a USB drive. Make sure the drive letter is correct. Finally, click Burn button to write Windows 10 ISO to target USB drive.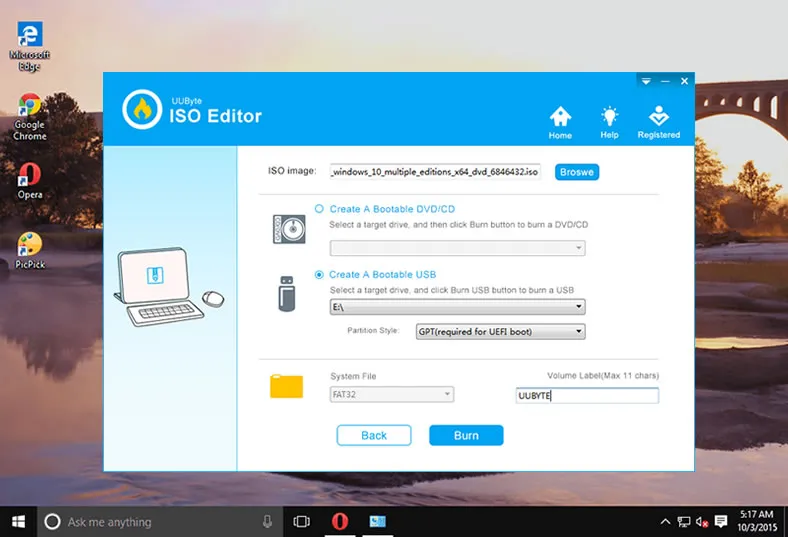 You can now use this newly created bootable USB to install Windows 10 on a Mac or PC. By doing this, 'A media driver your computer needs is missing' error will not appear any more.
Wrap Up
We have listed all possible solutions to fix 'A media driver your computer needs is missing' error during Windows 10 installation. Please try one by one in order as the easier solution is shared in front section.