Windows computer tends to run into issues from time to time because of OS bugs, drive issues and malware/virus attacks. Unfortunately, Windows 11 is not an exception. If you are using Windows 11 computer regularly, it is highly possible that the computer ends up breaking it once in a while. However, there is no need to be worried as a Windows 11 recovery USB will eliminate various types of software and hardware problems. In this tutorial, we will be discussing about one of these tools for creating Windows 11 recovery USB. Honestly, Windows 11 recovery USB could be in great help in emergency if you had a Windows 11 computer running.
A Windows 11 USB recovery drive can help you troubleshoot and repair numerous problems, even when your Windows 11 computer refuses to start. This recovery USB can be prepared with a number of software referred to as Windows 11 recovery USB software. Although Windows 11 has a built-in program for creating a recovery USB. its functions are extremely basic.
To create an advanced Windows 11 recovery USB, We highly recommend giving a try on the tools discussed below. They are more robust and efficient to get the problem solved. Some of the common problems a Windows 11 recovery USB can fix are including:
Blue screen of death
Unable to boot into Windows 11
Attacked by virus or malware
Recover lost data or partition
Restore from Windows backup
Corrupted bootloader
Reset computer login password
Issues caused by Incompatible driver
Partition disk for clean install
Tips: If you are going to pick up the candidate from Hiren's BootCD, Gandalf and MediaCat USB, then you have to download a separate ISO burning program (such as ISO Editor) to make a bootable Windows 11 recovery USB from ISO file. The rest of recovery USB creation software have a stock burning utility by default.
Hiren's Boot CD PE
Hiren's Boot CD PE, as the name suggests, is a Preinstalled Environment for Windows OS. With Hiren's recovery USB, you can run a copy of a Windows OS from USB flash drive, which can be very useful if you could not login to Windows 11.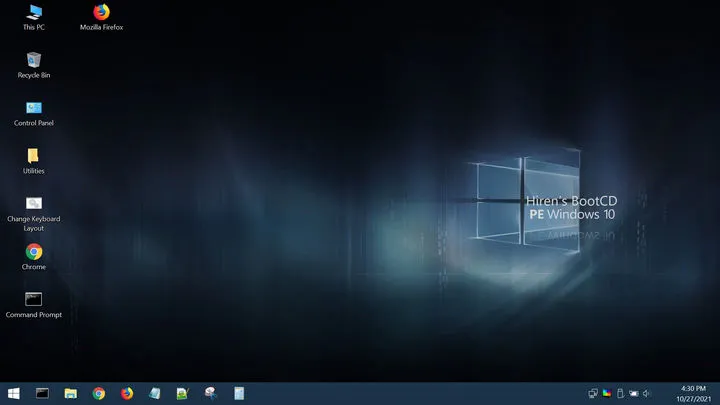 The best thing about Hiren's Boot CD PE is that this recovery toolkit comes loaded with a wide variety of free tools including a malware and virus remover, a remote access utility using which you can ask someone to connect to your own computer for troubleshooting purposes, a whole collection of disk imaging and data backup utilities, a media player with all the required codecs to play almost any type of media file, hard drive diagnostic tools, and above all, a Windows 11 password unlocker. A short list of well-known software contained in Hiren's Boot CD PE.
Antivirus: Malwarebytes, Dr.Web, Avira, Spybot, ComboFix, CCCleaner, Norton Removal Tool
Backup and Restore: Macrium Reflect, CloneDisk, FastCopy, RawCopy, ImgBurn
Data Recovery: DiskGenius, Recuva, DiskDigger, DataRescue, TestDisk, PhotoRec
Disk Partition: Partition Image, GParted Partition Editor, USB Format Tool
Device Driver: Device Doctor, Smart Driver Backup, UnkownDevices, 3DP Chip
Password: NTPWEdit, Kon-Boot, Password Renew, ProduKey, SniffPass, ATAPWD
Hardware diagnosis: DiskMan, MbrFix, CPU-Z, BlueScreenView, HDD Scan, MemTest
Network: Putty, WinSCP, Angry IP Scanner, SmartSniff, WiFiInfoView
File Manager: 7-Zip, Opera, Everything, WinDirStat, Tor Browser, IrfanView, SmartPDF
Utilities: TeamViewer, DiskCryptor, TrueCrypt, BIOS Utility, UniFlash, Glary Registry Repair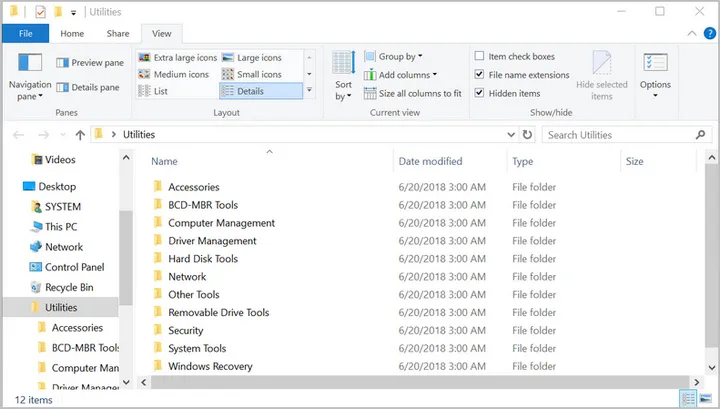 Hiren's Boot CD PE is available for free on their website. However, it is no more maintained by the original author for a very long time now. In fact, there has been no official updates to the tool since 2012. That makes the software a quite outdated for sure. Also, they only have a contact form, and an email address on their website as their only form of support. There's no customer support team, even the FAQ articles are no longer maintained. So, if you come across any issues while using this tool, you'll have to depend on the internet for a solution.
Pros:
Graphics user interface based on the latest Windows 10 PE
Preloaded with dozens of super-useful free utilities
No privated or crack software included
Easily troubleshoot Windows 11
Support UEFI Booting
Run fast and no sluggish
Cons:
Unable to boot from Legacy BIOS
Some of premium software not included
A bit sluggish
In conclusion: Best Windows 11 recovery USB software for general purpose. It should solve most of the problem you might come across on Windows 11. However, you can not use it on a computer that supports Legacy BIOS only.
Gandalf's Windows 10 PE (July 4th Edition 2020)
Gandalf's Windows 10 PE is another popular Windows Preinstalled Environment that can be used to create a Windows 11 recovery USB. The free version of this software has been released a while back. Since then, you need to donate to the author of Gandalf's Windows 10PE to be able to download the software.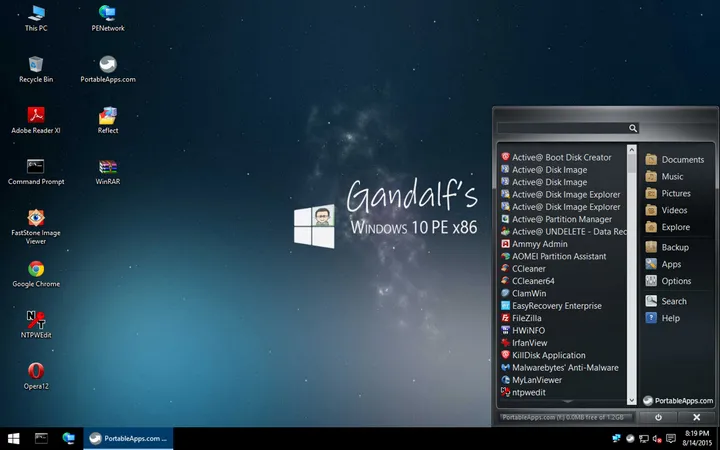 Unlike Hiren's Boot CD PE, Gandalf's Windows 10 PE does have support documentation available and it's really good. Although this too does not have any support team available whom you can reach out to in case of hiccups while using this software to make a bootable Windows 11 recovery USB. They do have listed the Twitter username of the original author, but I am not quire sure how useful that would when you need help right away.
The Gandalf's Windows 10 PE software has portable version of other useful utilities preloaded into it. However, since this runs from a USB flash drive, quite like Hiren's Boot CD PE this too can become very slow while using it. Overall, this tool is quite similar to Hiren's Boot CD, one prominent difference being this is a freemium product whereas Hiren's Boot CD PE is a completely free software. In addition, Gandalf's Windows 10 PE includes some very nice software that Hiren's BootCD PE fails to provide. A list of popular software utilies in Gandalf's Windows 10PE.
Antivirus: CCCleaner, Malwarebytes, Trend Micro Ramsomware, EmiSoft Emgergency Kit
Backup and Restore: AOMEI Backupper, Macrium Reflect, Ghost
Data Recovery: EasyRecovery, Disk Image & Clone, Lazesoft Recovery Suite
Disk Partition: Active Partition Manager 6, AOMEI Partition Assistant
Device Driver: Force Install Devices, Install Basic Display Driver
Password: Password Recovery, NTPWEdit, Windows Login Unlocker
Hardware diagnosis: Cystal DiskInfo, HDTune, CPU-Z, SSD-Z, HWInfo
Network: FileZilla, Wireless Network Watcher, PENetwork, Simplewall
File Manager: Chrome, UltraISO, Everything, WinRAR, SumatraPDF
Utilities: Rufus, TeamViewer, ProductKey, DiskCrytor, Microrit Data Wiper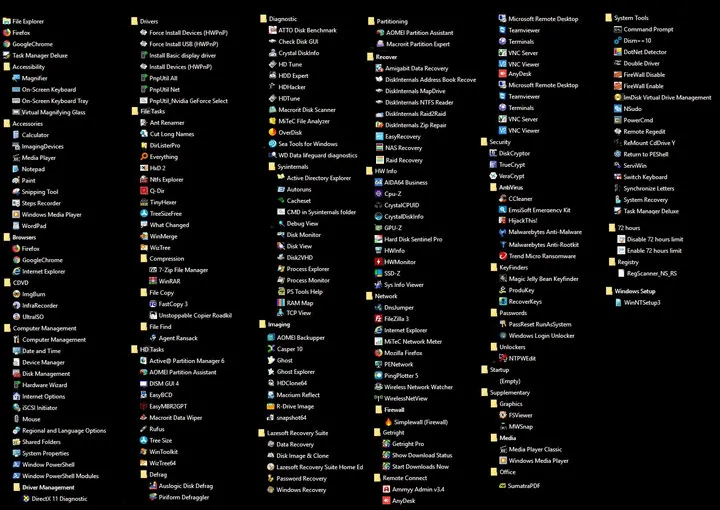 Pros:
Contain numerous free utilities
Provide more premium software
Sustained updates in PE image
Better documentation with FAQ and video tutorials
Compaible with BIOS and UEFI
Cons:
Pretty hard to get the download link (donation required)
Clickbait ads in official product page
In conclusion: Go with Gandalf's Windows 11 recovery USB toolkit if you are looking for premium software not being listed in Hirens' BootCD PE, such as UltraISO, Lazesoft Recovery Suite. Gandalf's PE tends to offer more GUI based programs and less command-line ones in general. In addition, this is your best choice old computers that supports legacy boot only.
Dr. Web LiveDisk
Dr.Web is a famous vendor in computer security sector. And it offers a bootable Windows recovery image for fixing computers infected by virus or malware. The product name is Dr. Web LiveDisk, which a hot anti-virus solution favored widely by system administrators and Windows 11 users. Unlike the previous 2 software, you don't need to download ISO burning tool to make a Windows 11 recovery USB. Instead, the download .exe file has a stock feature to complete the task. And this recovery USB software is mainly used to prevent malware attacks, disinfect virus infections and resolve boot issues for Windows 11.
The bootable ISO image of Dr.Web LiveDisk in contained in .exe file where you can download it from official website and create a Windows 11 recovery USB by running drweb-livedisk-900-usb.exe. Once you have created a recovery USB with LiveDisk, you can boot Windows 11 computer from that USB and get into emergency environment for problem solving.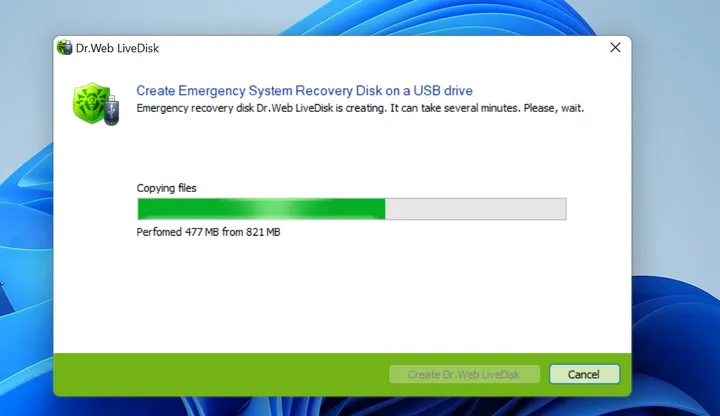 If you have a problem with the memory stick of Windows 11 computer, you can use this software to run a memory test. It also includes a registry editor, an antivirus, the Firefox browser, a file manager and 2 other utilities. Compared to the previous 2 software, the number of preloaded utilities is pretty low in this software.
This software can be used to run malware or virus scans without loading Windows 11 on your computer. This can be helpful in case the virus or malware has already infected your Windows 11 installation. If you come across an issue while using this software, you can use the Firefox browser to connect to the internet to search for a solution.
Here are a list of programs contained in Dr.Web LiveDisk:
Dr.Web CureIt!: Scan and remove virus/malware/trojans from boot sector and separate files
Update Virus Databases: Get up-to-date virus databases to find potential threats
Dr.Web Registry Editor: Edit, view, create and repair registry keys
File Manager: GUI based file management tool
Midnight Commander: Command Line based file manager
Web: A lightweight web browser
MATE Terminal: Command line utility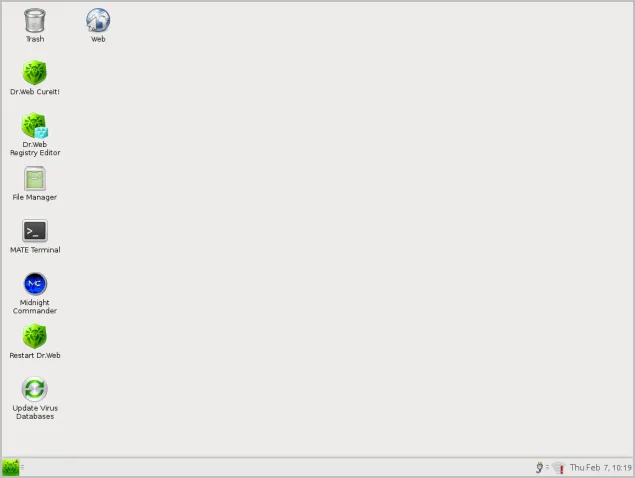 Pros:
Free software for creating Windows 11 recovery USB
Scan Windows for virus, trojans, spyware, adware, worms and rootkits
Edit Windows 11 registry
Run memory tests
No ISO burning software required
minimal and easy-to-use GUI
Portable program and no installation
Cons:
Number of tools available with this tool is extremely limited
Error code 11 while copying ISO file to USB (occasionally)
Can not run on 32-bit systems
USB is not bootable on some brand of computers
Only self-support is available for this software
In conclusion: Dr.Web LiveDisk is a dedicated Windows 11 recovery USB software for detecting and wiping out dangerous software from problematic computer. If your computer was attackd by virus, then this is the best option to fix the problem.
Macrium Reflect Free (Rescue Media Builder)
Rescue Media Builder is a part of Macrium Reflect free, a top-notch disk backup and restore software. This feature allows you to create a Windows recovery USB for data backup and restore. This could be an ideal solution if there were very important data sitting on the problematic device.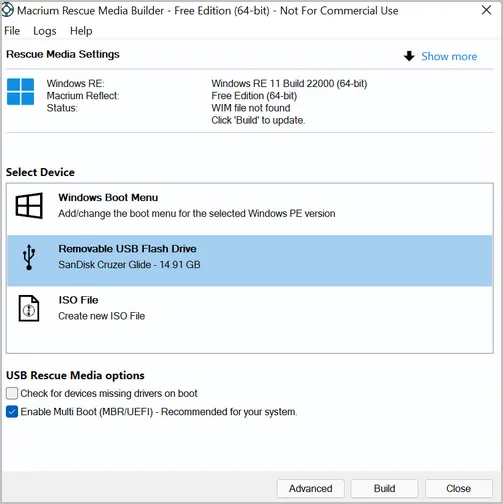 In case your hard drive is failing, or is beyond repair, or if you have installed Windows 11 on an unsupported device and the hard driver has stopped responding, you can use this software to clone or backup hard drive to prevent potential data loss.
Macrium Rescue Media Wizard has some nifty features like adding boot menu options in Windows 11, fix boot issues, update drivers on Windows 11, it can also be customized to add support for unlocking Windows 11 BitLocker encrypted drives by including the necessary components and decryption keys. You can also create a backup image of Windows 11, and later use this software to restore the image. This software also has RAID support. You should use this software if you want to take a backup of your Windows 11 computer, or want to restore from a previously backed up image.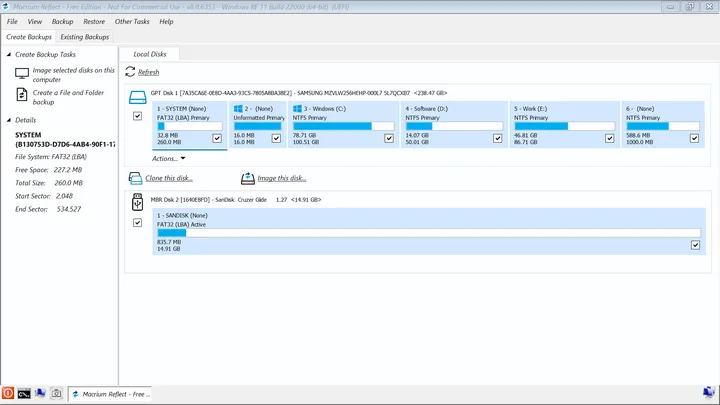 Pros:
Make a full back up of selected drive or partition
Create a separate backup for files and folders
Restore from existing backups
Deploy image to new hardware
Fix windows boot issues
Fully support Legacy and UEFI boot
Add drivers to Windows PE
RAID support
Unlock BitLocker encrypted drives
Configure network settings
Take screenshot
Completely free for home users.
Cons:
No third-party apps included
Not user friendly for newbies
USB with GPT partition is not supported
No commercial use
In conclusion: If your Windows 11 computer could not boot into desktop or you are looking for a way to backup or restore data, then Macrium Reflect Free is the best shot!
DiskGenius PE
DiskGenius PE is another tool that can be used to backup data, manage and troubleshoot issues with hard drives, and recover lost data from Windows 11 computers. It also has a number of other useful feature like repairing corrupt sectors on hard drives, permanently wiping out hard drives (this can be helpful if you have personal data stored and would like to delete them before selling your computer), rebuild a corrupt Master Boot Record and Windows 11 is unable to boot up, delete files which you were unable to delete once Windows 11 loaded on your computer etc.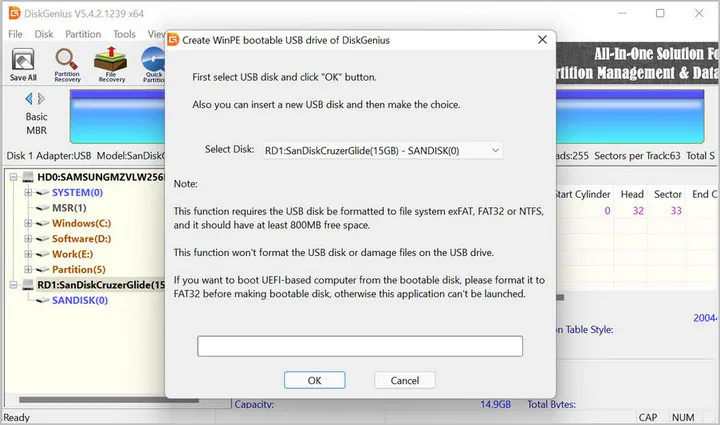 However, the utilities and functionalities are limited to issues related to hard drives. If your Windows 11 computer is having problems unrelated to hard drives then this is not the right tool for you. Also, there are hardly any support documentation available on how you can use the DiskGenius PE as a Windows 11 recovery USB even on their official website. This can become quite a challenge since searching for related documentation even on the internet didn't reveal many results.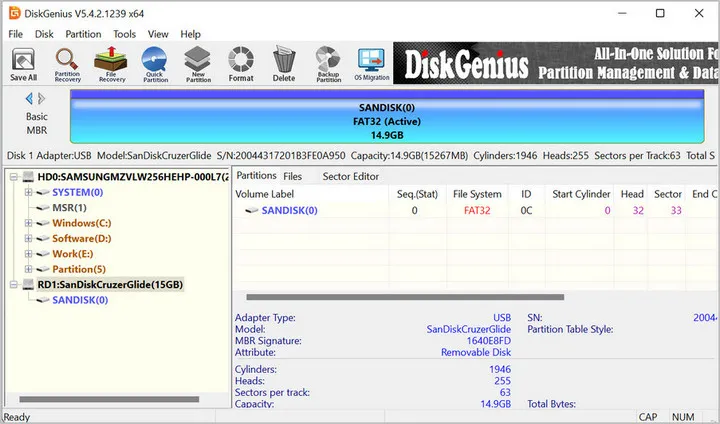 Pros:
Available for free
Backup physical disk or specific partition
Partition management (Create, Delete, Format and Edit)
Recover deleted or lost files
Migrate OS to new drive
Covert partition to MBR or GPT
Repair bad sector
Convert virtual disk format
Search for lost partition
Cons:
Limited apps in recovery USB.
Error in creating recovery bootable USB (Only reboot to DiskGenius PE available)
No support documentation available. Even the FAQ is not searchable.
In conclusion: DiskGenius PE is an ideal solution for managing disk partition and recoverling files. If the operation has something to do with physical disk, then this is the best way to create Windows 11 recovery USB.
MediCat USB
If you have ever used Ventoy, the super useful tool for creating multi-boot USB flash drives, you would have an idea of how powerful MediCat USB can be since it is powered by Ventoy. This is an active software package with regular maintenance, and a highly-customizable multiboot USB stick. It is an open-source tool which you can modify MediCat's ISO image files and menu as per your requirement. It has tons of free portable apps more than the ones we listed above. Hence, the download file is too large. In short, it is a perfect tool for people who are running PC repair service as this package is able to fix almost all system issues.
MediCat USB supports both legacy and UEFI BIOS, so even if you have installed Windows 11 on an unsupported device, you can use MediCat USB on your computer. The PE includes Dot Net Framework upto version 6.0, Visual C++ Redistributables, it also includes Jyro's toolbox which contains all the tools you need to get started for solving Windows 11 related issues.
Best part of MediCat USB is that it is free from bloatware, does not have any Window PE limitations, it is disabled of telemetry. However, one of the main issues with MediCat USB is that it does not have a dedicated website let alone updated support documentation. So, you need to be very careful where you are downloading the tool from since it may not be the original tool. You can understand from this description that this tool is more catered towards users who are technically sound.
Pros:
Free and open-source
Preloaded with dozens of free tools
Most up-to-date software.
Support UEFI and legacy BIOS
Include various frameworks and redistributables
Free from bloatware, virus and adware
Cons:
Download file is too big (23 GB)
No support documentation available
In conclusion: Go and pick up MediaCat Recovery USB if you need to fix various computer issues regularly. It is a pefect fit for PC repair technicians.
Hiren's Boot CD PE, Gandalf's Windows 10PE and MediaCat USB are general purpose toolkit for creating Windows 11 recovery USB. They can solve problems from varius categories. The rest ones can be used only for certain specific issues. All of them are great! You should choose the one according to the problem you currently meet.