Boot Camp Assistant is a very useful utility that allows you to run Windows alongside Mac OS X and macOS on a single Mac computer. Although the app officially supports running Windows 10 on Mac, some of the hardware may not work properly in Windows 10 instance. In such case, you should repair or update Boot Camp drivers to fix the issue.
This can be done in Windows 10 once it is loaded on your Mac, and the following sections of this article show you how to do that. Please note that this process is executed first on your macOS, and then on a Windows 10 instance running on the same Mac.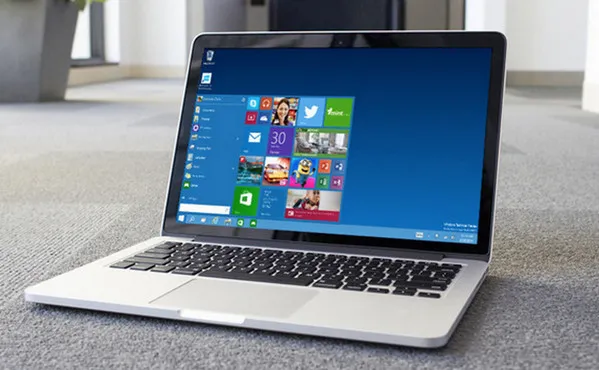 Part 1: Format USB to MS-DOS (FAT)
The first thing you'll need to do is to format your USB drive in preparation for the download. The drive will need to be formatted to the Master Boot Record (MBR) partition scheme rather than the GUID Partition Table (GPT) scheme. Here are the steps to do it:
Step 1: Start up your computer from macOS. If it's currently in Windows, you can click the Boot Camp icon and choose to restart from macOS. You'll find this icon in the system tray in Windows 10.
Step 2: Insert your USB drive and open Disk Utility from Applications > Utilities and select it in the left panel. Be sure to choose the main drive name rather than the volume name under it.
Step 3: Look for the Erase button or tab and click it. In the pop-up, select MS-DOS (FAT) as the format and MBR as the scheme, if shown.
Step 4: Hit the Erase button and exit Disk Utility. Your USB has now been formatted for Windows compatible format and you can now download and install Boot Camp driver in the next section.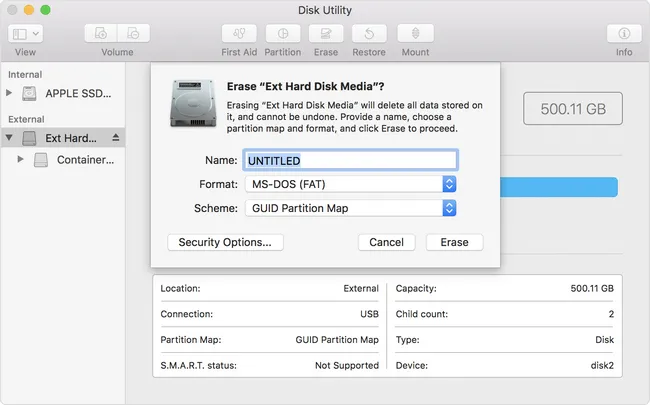 Part 2. Download Windows 10 Drivers in Boot Camp on Mac
To make the hardware connected to your Mac working in Windows 10 instance, all necessary drivers should be installed in Bootcamp partition. If any of them were missing, you would have issue in using this hardware on Mac. If the problem did occur, then you can use Boot Camp to download and update Windows drivers.
Step 1: Make sure your Mac has an Internet connection enabled.
Step 2: Go to Applications > Utilities and launch Boot Camp Assistant.
Step 3: Once the app is open, select only the 'Download Windows support software' option and make sure that all other options are deselected, then hit Continue.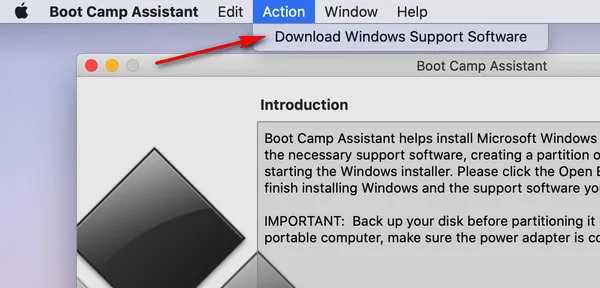 Step 4: Insert the pre-formatted USB pen drive and hit Continue. Grant permission when prompted by entering your Mac admin name and password. The USB drive will now get all your driver downloads for Windows 10.
Step 5: Keep the USB drive inserted but close Boot Camp Assistant. Now to go System Preferences > Startup Disk and click on the Windows volume icon where your drivers are listed. Hit Restart.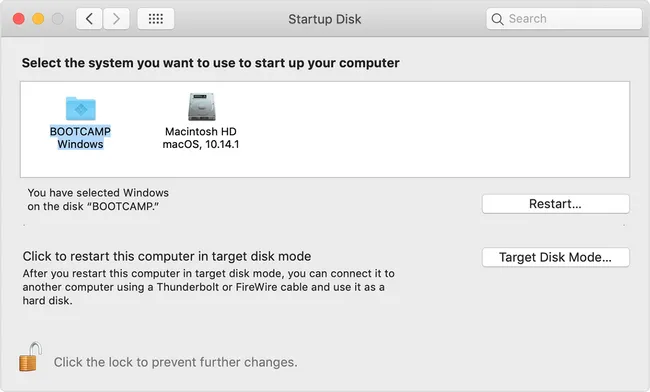 Part 3. Repair or Update Windows 10 Drivers with Boot Camp Software
This section explains how to repair and update all your Windows 10 drivers using Boot Camp Assistant to download the latest files.
Step 1: Your computer will now boot into Windows 10 instance. Navigate to the USB drive in Explorer and move BootCamp folder under WindowsSupport. From here, double click Setup.exe to install missing drivers, update or repair existing drivers.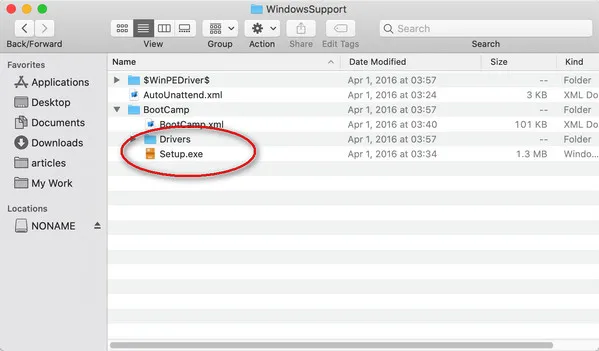 Step 2: Confirm changes with Yes if prompted by Boot Camp, then click on Repair. This will update all your Windows drivers with the ones that you just downloaded, which are the ones you are now installing from the USB drive.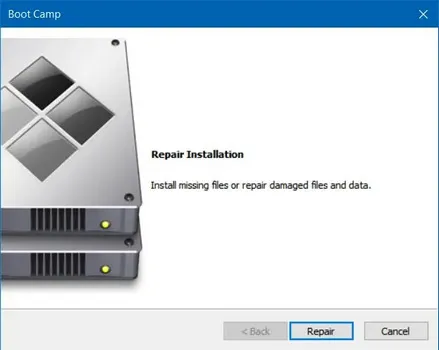 Step 3: At this point you may see an error message telling you that the Windows Logo test failed. Click on Continue Anyway to proceed.
Step 4: Once the drivers have been updated, they should work normally. You can click on Yes to restart the computer. Your Windows 10 instance should work properly now.
If the problem still doesn't get resolved with Boot Camp after updating the drivers, you can also try resetting PRAM on your Mac. But most users report that their problems go away after updating their drivers through Boot Camp Assistant in Windows 10.