I recently bought a 64GB LEXAR USB flash drive and found out there was no way to move files from my Mac to it. Only read permission is granted on my MacBook Pro with Big Sur installed. It turns out the USB drive is formatted by NTFS after checking with diskutil command.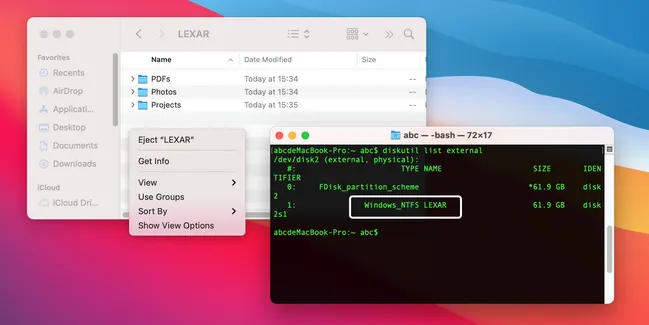 In short, NTFS is a new file system developed by Microsoft and it aims to replace the legacy FAT file system. Unfortunate, NTFS is patent protected by Microsoft Company and only authorized parties can utilize this new file system in their products. From the time this post is written, Apple is still not getting the permission for using NTFS in macOS. That's why NTFS drive is not writable in my case.
The good news is that there are a few third-party apps that can help you read or write a NTFS drive on Mac. We tested several well-known apps and below is the review details. Please don't forget to check it out.
[Update] You can Write a NTFS Drive on Mac Ventura Now!
A List of Modern NTFS for Mac Software:
Common Questions about NTFS on Mac
Before starting, there are common questions you may be highly interested to get the answer like the following ones:
Does NTFS work on Mac? Yes. NTFS drive can be read by Mac without installing additional software application. However, you have to take extra step or download NTFS for Mac software if you want to write a NTFS drive.
Is NTFS for Mac free? Yes. There are three free NTFS for Mac apps you can use. Please check the software review in coming sections.
Can a Mac copy files from an NTFS drive? Yes. This is the default option on macOS.
NTFS for Mac compatible with M1 Mac (Apple Silicon)? Yes but the choice is less. Check the comparison table at the end.
Can NTFS for Mac software work on Big Sur? Big Yes. Most of them support macOS Big Sur.
Can NTFS for Mac software work on Monterey? Currently no based on our testing, at least for Monterey beta. Please wait more time for this.
Mounty NTFS for Mac (Free)
Mounty NTFS for Mac is a hobby app developed and maintained by Uwe Hollatz. It is much smaller in size and no advanced features despite NTFS reading and writing. The tiny app does not require a full installation and scan NTFS drives on Mac automatically.
However, Mounty NTFS for Mac comes without any user interface. It only shows up as an option in top navigation bar. The only way to read or write NTFS drive is via Mounty drop-down menu, saying 'Show LEXAR in Finder'. LEXAR is the USB drive name. Other two options are Unmount and mount automatically.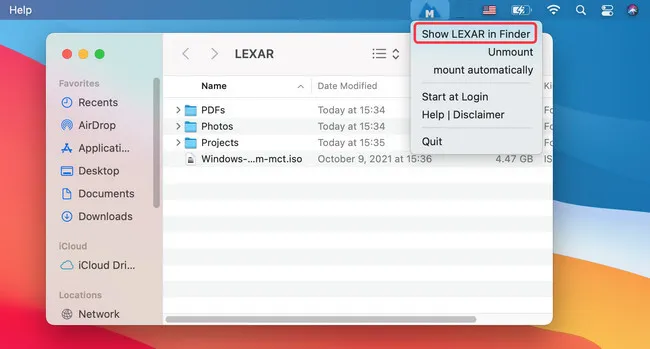 Pros:
No installation required.
No auto startup.
Full access to NTFS read and write.
Cons:
Slow downloading speed from its website.
NTFS drive name not appearing in Finder sidebar after mounting.
No dedicated support and documentation.
UUByte NTFS Geeker
People love free software and that is for sure! We should always try the free ones first if they were proven to work. Unfortunately, free software sometimes would not get the issue solved. And the support is usually not available.
UUByte NTFS Geeker is the first premium app we are going to share in this post. It is a popular piece of software for accessing NTFS drive on Mac with read and write permission. Most importantly, the steps are ultra-simple. Just open up the app and mount the drive as writable. That is! You can now copy file from NTFS drive or move file to it from your Mac after mounting.

Another great advantage of NTFS Geeker is that it works perfectly almost on all modern Macs. And you will get professional and timely reply from their support team. This will help you fix the problem more quickly.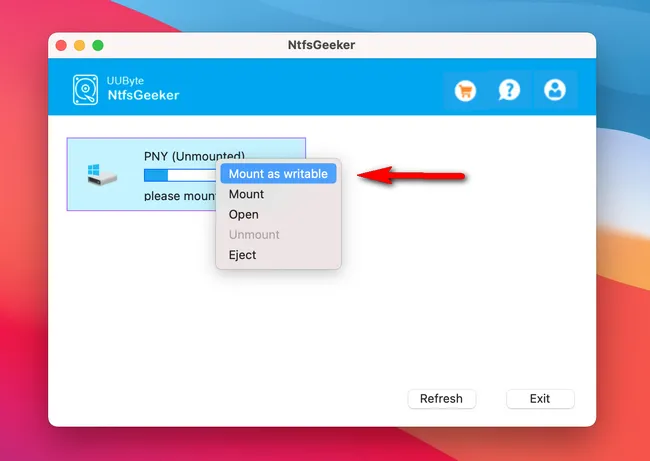 Pros:
Full reading and writing access to NTFS drive
Support macOS Monterey and other modern macOS versions
Run perfectly on M1 Mac as well as Intel Mac
Easy-to-under user interface
Amazing customer support
Cheaper pricing plans
Hasleo NTFS for Mac (Free)
Haselo NTFS for Mac is a free app developed by EasyUEFI team. This NTFS for Mac app has full read and write access to NTFS formatted disks on a Mac. However, it failed to write to my LEXAR USB drive according to my experiment on a Big Sur MacBook Pro. It only mounts and open the NTFS drive.
[Updates]: I managed to write files to my NTFS drive with this app. The catch is that you have to unmount the NTFS drive on Mac first in Disk Utility app. After that, mount the drive with Hasleo NTFS for Mac. Your Mac will be granted write access to NTFS drive since then.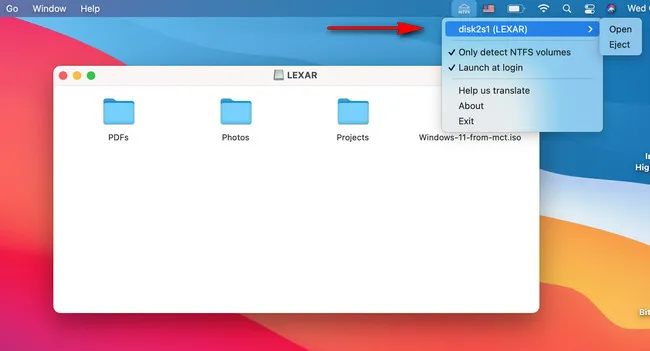 Pros:
Totally free and no hidden fee.
Read and write access to NTFS drive.
Simple installation process.
Only list NTFS drive in drop-down menu.
Cons:
Receive 'from unidentified developer' error when opening the install pkg file.
Has to unmount the drive with Disk Utility app first.
Auto start after login.
No user interface.
Paragon NTFS for Mac
The above two are free NTFS for Mac software and they might not be the perfect choice sometimes, mostly lack of support. So in here, we are going to introduce a premiun software instead. Paragon NTFS for Mac is a dedicated app for NTFS reading and writing on Mac developed by Paragon software, which is an excellent software company dedicated to file system development and disk management. This means Paragon NTFS for Mac is more stable than competing products and has less bugs. Also, it gets better support for latest Mac hardware and macOS. These are the prominent advantages over similar software products.
Honestly, it is super easy to write a NTFS drive on Mac with Paragon NTFS for Mac. First, install this app on your Mac; and then restart the computer. When Paragon NTFS for Mac software is opened, it will scan all the drives on this Mac and display them on sidebar. Once the drive is mounted, simply click the NTFS drive and start reading file from it or writing file to it. That is!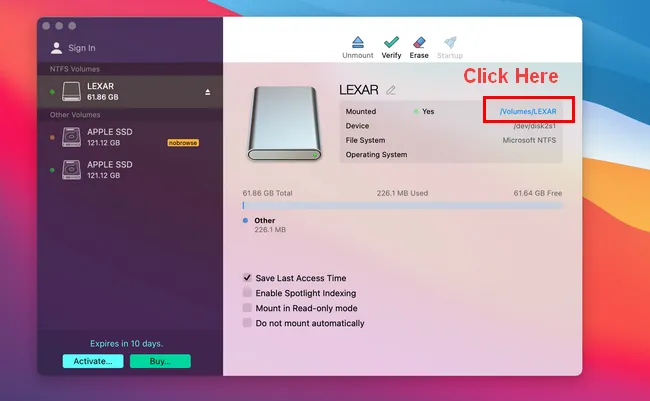 Pros:
Full read and write access to NTFS drive.
Clear and easy-to-under user interface.
6 times faster reading and writing speed.
Auto detect NTFS drive by default.
10-day free trial without feature restrictions.
Support Intel and Apple Silicon Macs.
Compatible with latest macOS 12 Monterey.
A license can be re-activated four times on different Macs.
Support Dark and Light mode on Mac.
Cons:
Not completely free after trial (19.95 USD).
Restart required after installation.
Launch automatically after system startup.
A bit difficult to fully close the app.
Tuxera NTFS for Mac (Disk Manager)
Tuxera is a vital player in embedded software and file system development. And NTFS for Mac is a famous Mac app from its product line. This dedicated app can help you open, copy, delete and move files on a NTFS drive with solid reliability.
The steps are ultra-simple. After software installation, simply open Tuxera NTFS for Mac from top navigation bar and you will see all drives on shown in left sidebar. All NTFS drives will be mounted automatically. Now, locate the specific NTFS drive and you can read or write this NTFS for various file operations, such as copying, pasting or creating new between your Mac and this NTFS drive.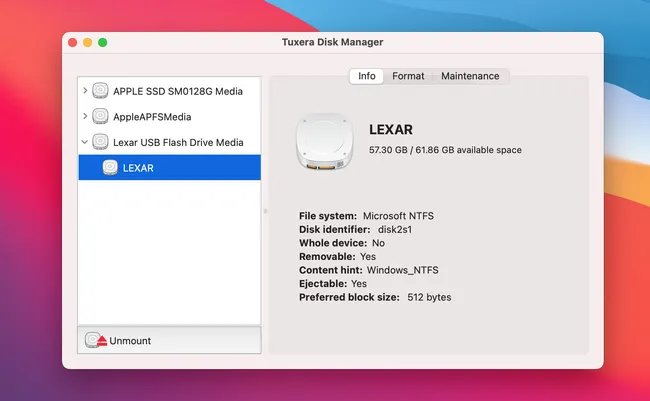 Pros:
15-day free trial.
Read and write NTFS drive on Mac.
Verify and repair NTFS drive.
Able to create new NTFS partition.
Faster file transfer speed with smart caching technology.
Access NTFS Bootcamp volume.
Work with PPC, Intel and Apple Silicon Mac.
A license can be re-activated four times on different Macs.
Compatible with old Mac OS X and modern macOS (10.4 to 11).
Cons:
Pay after 15-day free trial (15 USD).
Primitive user interface.
Has to do the uninstallation process twice to remove the app from Mac completely .
Reboot is mandatory after install.
Open automatically after system restart.
Not support macOS Monterey.
One license per Mac.
Less user friendly documentation central.
macFUSE and NTFS-3G (Command Line)
macOS is unable to write NTFS drive by default. macFUSE is an open source project that allows macOS to handle third-party file systems on your Mac in user space, including NTFS, sshfs, procfs. However, it is a general driver for Mac and to write NTFS drive on Mac, you need a special driver called NTFS-3G, which is a full featured NTFS driver for multiple operating systems, such as macOS, Linux and Android. With these two combined open source drivers, your Mac can read or write NTFS drive freely.
The only issue with this approach is that no visual user interface is available. You have to input several commands to get it working. And this is not a favored option for most of the users. And that's why we only recommend this method in fifth place as you have to do some really challenging hacks to fully write a NTFS drive on macOS.
If you prefer a free NTFS for Mac solution and not afraid of commands, please visit this tutorial to enable NTFS writing on Mac using macFUSE and NTFS-3G.
Pros:
Free and open source.
Support macOS from 10.12 to 11.6.
Regular updates from developer.
Able to create new NTFS partition.
Cons:
No GUI.
Primitive user interface.
Much more complicated for beginners.
iBoysoft NTFS for Mac
iBoysoft is a new comer in disk management field. Its app (named NTFS for Mac) is a complete solution for reading, writing, checking and repairing NTFS drives. This premium app works the same way as Tuxera NTFS for Mac. One excellent feature that does not find in competing products is the ability to access NTFS Boot Camp partition on your Mac. This means the file exchange between Boot Camp and native Mac drive is seamless. The biggest drawback is that there is no free way to try it out. You have to pay (20 USD) before unlocking the NTFS writing feature.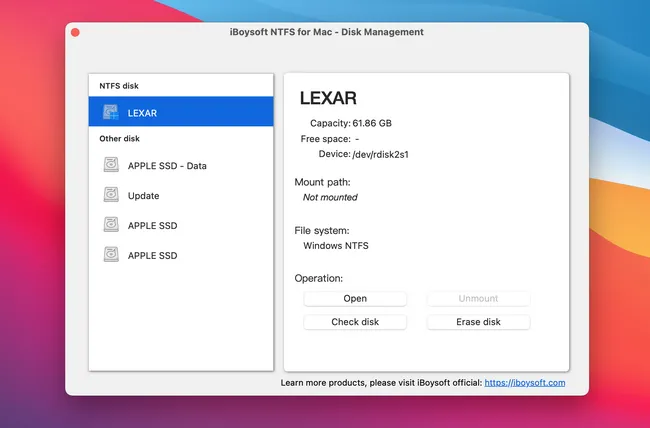 Pros:
Complete support for all file operations on NTFS drive.
Able to check and repair NTFS disks.
Read and write Boot Camp NTFS partition.
Uninstall menu available and leave no trace.
Support macOS 12 and Apple M1 Mac.
Cons:
No free trail available.
Record screen for 10 seconds without permission.
Pop-up window asking for purchase on each startup.
Comparison Table
Free apps are more welcomed and there is no loss to try it out. However, the free ones usually don't have the capability of premium software. Please check out the following comparison table and choose the best one according to your Mac system.
Test Device
64 GB LEXAR USB 3.1 Flash Drive
MacBook Pro 2015 (Big Sur 11.6)
NTFS for Mac Software being reviewed.
| | Hasleo | Mounty | UUByte | Paragon | Tuxera | macFUSE | iBoysoft |
| --- | --- | --- | --- | --- | --- | --- | --- |
| NTFS Read | Yes | Yes | Yes | Yes | Yes | Yes | Yes |
| NTFS Write | Yes | Yes | Yes | Yes | Yes | Yes | Yes |
| Speed | Slow | Moderate | Fast | Moderate | Fast | Moderate | Moderate |
| Free Trial | Forever | Forever | None | 10 Days | 15 Days | Forever | None |
| Price | 0 | 0 | $15.95 | $19.95 | $15 | 0 | $20 |
| User Exprience | Bad | Moderate | Easy | Easy | Moderate | Difficult | Easy |
| Format NTFS | No | No | No | Yes | Yes | No | Yes |
| Create NTFS | No | No | No | Yes | Free | Free | Yes |
| Repair NTFS | No | No | No | Yes | No | No | Yes |
| NTFS Bootcamp | No | No | No | No | Yes | No | No |
| Big Sur | Yes | Yes | Yes | Yes | Yes | Yes | Yes |
| Monterey | No | No | Yes | No | No | No | No |
| Apple M1 Chip | No | Yes | Yes | Yes | No | No | Unclear |
| BitLocker NTFS Support | No | No | Yes | No | No | No | No |
Writing NTFS drive is no longer a challenging task with the help of NTFS for Mac software. From hours of extensive researching, the above six are the best NTFS for Mac apps you could find nowadays. Please go with the free ones. If they failed to work (sometimes), then use Paragon or Tuxera NTFS for Mac instead.
Other Means to Write NTFS Drive on Mac
Besides those NTFS for Mac applications, you can also read or write NTFS through the following means:
Access NTFS Drive via Boot Camp
Boot Camp is a stock app on Mac that helps you create a Windows partition along with macOS. You can boot in Boot Camp Windows partition and write NTFS drive accordingly. This is a great solution if you already set up a Boot Camp instance on your Mac.
Format NTFS Drive to exFAT/FAT32
exFAT and FAT32 are another two popular file systems that you have full read and write access on Mac as well as Windows PC. You can format the current NTFS drive to exFAT or FAT32 with Disk Utility app. And there is no need to install third-party software to get this done. However, the current data on NTFS disk will be deleted. Please keep this in mind.
Upload Files on NTFS Drive to Cloud
Cloud Drive has been a favored option for data backup, especially for smartphones. Once the files being uploaded to a cloud service, the file can be accessed across on any device with Internet connection. This is a more convenience way to read, copy or edit a file across different devices.