BitLocker is an advanced feature in Windows OS to be used as a mechanism to encrypt partion or physical drive. It is a great way to safeguard sensitive and private data of users. Only authrozied user has the potential to access files or folders saved in an BitLocker encrypted drive. However, BitLocker encryption is a Windows-dependent technoly that only has native support from Windows based devices. For Mac users, you have to use third-party software in order to open a BitLocker encrypte drive because Apple refuses to provide BitLcoker support. Instead, it prompts its own encryption technology called FileVault.
Up to now, both Microsoft and Apple have not released any official BitLocker Reader for Mac and that disrupts the Mac users to access encrypted BitLocker drives. Fortunately, there are a couple of amazing third-party apps for this purpose, which works flawlessly on Mac computer according to our test. In here, you will get to know a full review of best BitLocker Reader for Mac. So, let's begin the journey.
[Update June 11, 2021]: For macOS Big Sur users, please upgrade macOS to Big Sur 11.3 and above. The latest version is 11.4. The former versions have serious bug in kernel, which prevents third-party extensions to be loaded. The BitLocker drive would not be unlocked on Big Sur Beta and 11.1.x to 11.2.x.
#1 UUByte BitLocker Geeker
UUByte BitLocker Geeker is a new player in this battleground. This light-weight BitLocker Reader for Mac is built-on several high-efficient algorithms that can unlock BitLocker drive on Mac at a bleeding fast speed. You can simply decrypt the drive with initial BitLocker password or recovery key. And it fully supports the latest BitLocker AES 256-bit encryption, a more complicated and secured encryption algorithm than AES 128-bit.
One of the notable features is that BitLocker Geeker acts like a normal Mac app and no malicious activity. Unlike other competitors, there is no additional setup to make it working. So you are able to access a BitLocker drive on Mac within 3-5 clicks. What's more, it is super easy to use. In a word, this is a BitLocker Reader made for average Mac users. All the technical and complex settings are hidden from user interface and to be done at background instead.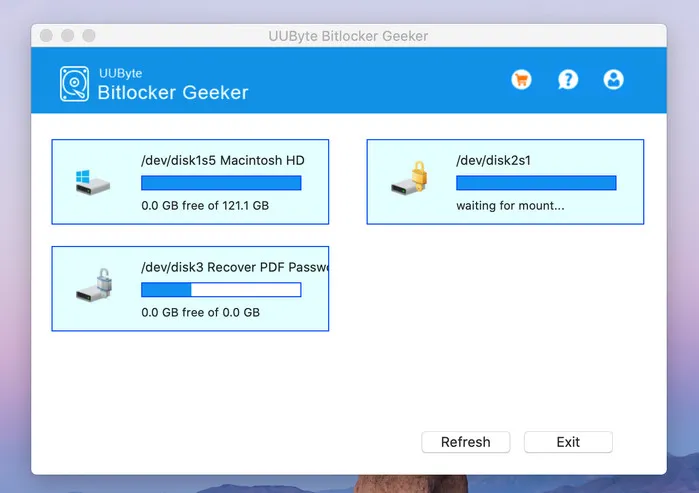 Cons:
Can not change BitLocker password.
#2 M3 BitLocker Loader for Mac ($39.95/yr)
Since execution of General Data Protection Regulation, millions of users encrypt their data on external drives and that results in the rise of the demand for M3 BitLocker Loader, which is a cross-platform Bitlocker rearder that works on Mac, Windows and Linux. It has been introduced that enables users to read and write encrypted BitLocker drive on different computers with separate installation packages and pricing plans.
With M3 BitLocker Loader for Mac, you can open, read, and write encrypted BitLocker drive on Mac. Through this utility, you can transfer files from encrypted drive to another place after mounting BitLocker drive. You have to input the correct password to complete this process. Since then, you can easily access this drive just like the native drive on Mac. The supported file system of the encrypted drive are included FAT32, NTFS, and ex-FAT. Hence, it is completely an automatic tool that will enable you to access BitLocker drive on Mac.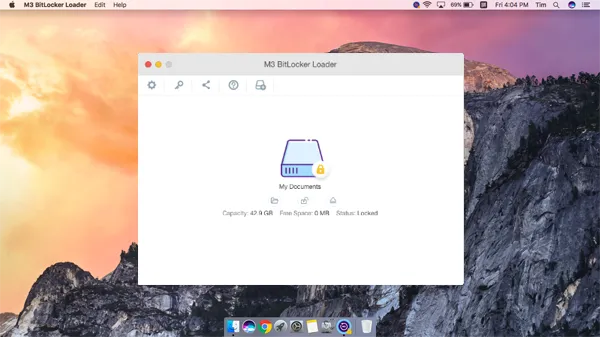 Cons:
A bit complicated installation process.
Still be active after clicking the close button.
Out of date user interface.
#3 iMyFone BitLockerGoMac ($29.95/yr)
iMyFone BitLockerGoMac is another popular tool to read and write the encrypted BitLocker drive on Mac. It supports many storage devices such as USB flash drive, external HDD, USB-connected SSD, Memory Card, TF Card, and others. Through this BitLocker Reader for Mac, you can mount the BitLocker encrypted drive on Mac and open protected content of encrypted drive smoothly. Moreover, you can share the files enclosed in the BitLocker disk on Mac.
The interface of iMyFone BitLockerGoMac is very smooth and user-friendly that will help you to access BitLocker encrypted drive efficiently. It also supports the encrypted drive on various macOS such as Catalina, Big Sur, and many more. The mount feature is outstanding and once you do the same, then only a password is required to read and write the contents enclosed in an encrypted BitLocker drive.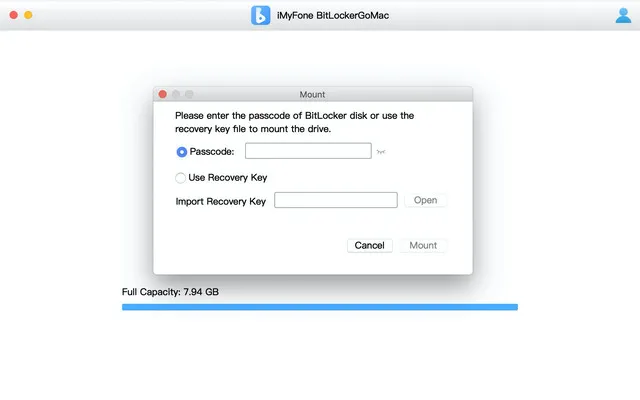 Cons:
No trial available.
Require additional settings and setup.
Ask for notification permission all the times.
#4 iSumsoft BitLocker Reader for Mac ($19.95)
iSumsoft BitLocker Reader for Mac is specially designed app for Pro users who frequently exchange files between Windows and macOS via encrypted BitLocker drive. Through this software, you can mount, open and read BitLocker encrypted driveseon Mac. Moreover, it also allows you to transfer encrypted files between Mac and BitLocker drive comfortably.
Moreover, the user interface of iSumsoft BitLocker reader for Mac is quite straightforward. All the built-in features are accessible through the top menu bar. This is really useful and saves time. Just mount the encrypted BitLocker device on Mac and then read the entire contents efficiently. The most important feature of this tool is that it enables you to even open encrypted dmg file on Mac. The utility supports most of the macOS versions to bring all the Mac users under one roof who need to read BitLocker drive on Mac.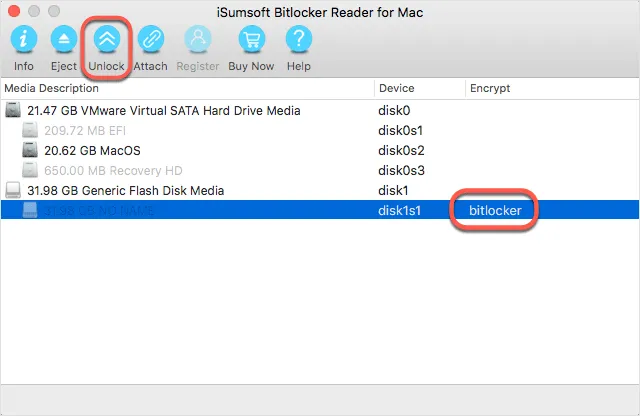 Cons:
Can not write to BitLocker drive.
Display none Bitlocker encrypted drives.
Software window not opening when launching from LaunchPad.
#5 Haselo BitLocker AnyWhere for Mac ($19.98)
Haselo BitLocker AnyWhere for Mac is the last BitLocker reader we will review in this post. It is very different from the above-listed recommendations because it is embedded with advanced features. For instance, you can decrypt BitLocker drives through this app. Moreover, changing the password of a BitLocker encrypted drive is also provided that makes it unique from others. Most of the time, it happens that users forgot their BitLocker password and they failed to open such devices on Mac, but Haselo BitLocker Reader for Mac enables them to change the password.
Also, The above tools do not support exporting recovery key from target BitLocker drive, but Haselo BitLocker does and this feature helps the users to protect BitLocker key for future use. These exceptional and unique features make Haselo a leading tool to read BitLocker encrypted device on Mac. To access the contents of an encrypted BitLocker device, you need to mount it first and after that, you can easily read and write the file.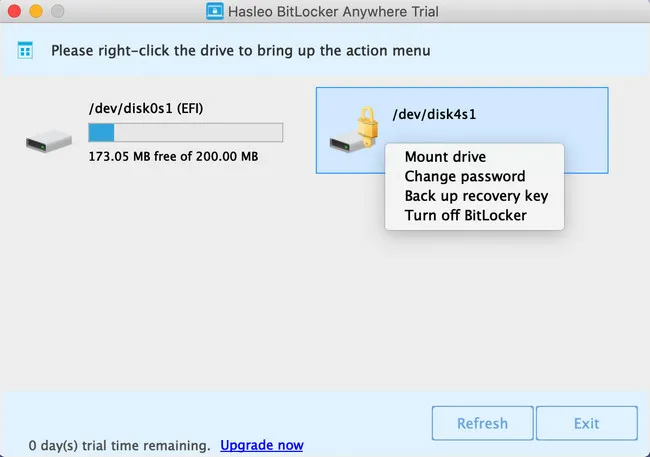 Cons:
Request full disk access.
No user interface when opening from LaunchPad.
Automatical login after reboot.
Conclusion
There are a few more BitLocker readers not being listed in here because of quality concerns. The above are four best BitLocker Reader for Mac and among them, UUByte BitLocker Geeker for Mac is the leading one due to ample unique features. Though the other tools also help you read BitLocker encrypted device on Mac and you can even transfer the files between the Mac and external drive. Now, the ball is in your court, grab the one and freely access encrypted BitLocker device on Mac.