Security is a very important issue for all of us. Especially in the digital age, we are constantly looking for ways to ensure our data stays safe and secure. May apps natively provide you with options to password lock USB or portable drive. These days, you will barely come across a system that isn't locked. So it is but natural for people to want to encrypt their external storage devices as well.
Windows popularly uses what is known as BitLocker to secure external USB drives and external hard discs. BitLocker has been developed by Microsoft and provides an optimal level of security for your devices. And since people tend to store data in external drives for prolonged periods of time, it's always a good idea to password protect them in case they fall in the wrong hands. BitLocker is an excellent tool with only one significant drawback - it only works with Windows systems. This means that if you ever make a change to a different OS in future, you will be locked out of your drive with no way to open the password encrypt drive with BitLocker encryption.
Mac users in particular face this issue a lot. Very often, people use certain USB drives for years with their Microsoft systems and then later switch to a Mac. It's only when they try to open their USB drives do they realize that their BitLocker encryption has effectively blocked them from opening the drive on a Mac. But every problem comes with solutions and we have three of them for you to open BitLocker disk on Mac.
Method 1: Open BitLocker Encrypted USB Drive by Reformatting
BitLocker is essentially an added layer of protection that is installed on your USB to encrypt the data inside of it. One way to get rid of it would be to format your drive entirely but this only works if you are willing to lose all your data on that drive. Here's what you need to.
Step 1: Connect the BitLocked protected USB to Mac.
Step 2: Launch Disk Utility app.You can find it in Application folder or from Launchpad.
Step 3: Select the USB drive you are trying to open and click on 'Erase' option on the top menu bar.
Step 4: Once the box pops up, select the type of formatting you want to go for. Once formatting completes, your USB drive will now be good as new and free from any encryptions.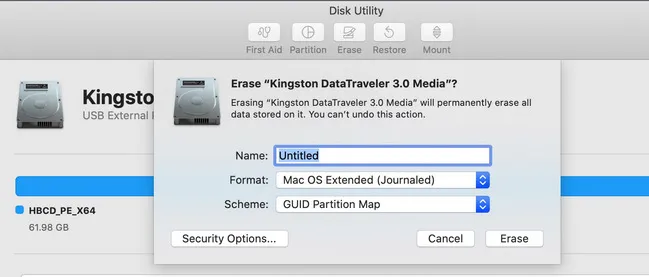 This method works best when you are simply trying to salvage USB device and wish to reuse it for future storage. However, it is not ideal if you are trying to open the data on Mac as it effectively wipes it all out. In case you are looking for a way in which you can open your data, choose one of the other options.
Method 2: Open BitLocker Encrypted USB on Mac by Borrowing a Windows PC
BitLocker is simply a tool offered by Windows and hence they won't let any other OS use it or open it without additional effort. Apple too hasn't been able to crack down and find a solution for making BitLocked encrypted drives compatible on Mac. One of the easiest ways to access BitLocker drive on Mac and salvage your drive would be to borrow a Windows system or set up a Windows virtual machine with Virutalbox or VMWare. Here's what you need to do.
Step 1: Use a Windows system and connect your USB.
Step 2: Enter your USB password to unlock the BitLocker encryption.
Step 3: Now copy all the files to the Windows system and name the file accordingly.
Step 4: Now go to 'My Computer', right click on the drive and format it. You would ideally want to format it to a version that can be opened by both Windows and Mac.
Step 5: After formatting, you will find that your USB drive can be opened without any encryption.
Step 6: No transfer all your data from the Windows system back to the drive.
Step 7: You can now freely open the USB drive on your Mac as well without any BitLocker encryption in place.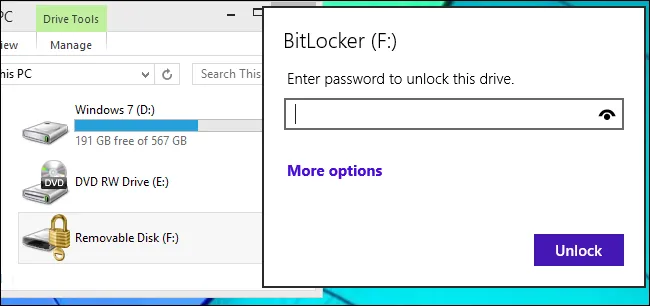 This is probably the best way to ensure the integrity and safety of your data. However, it is not always possible to have access to a Windows computer. And if you are in a situation where you can not get hold of another Windows computer, you might have to rely on third-party software to open BitLocker protected drive on Mac for you. In this case, we will share more details in Method 3.
Method 3: Open BitLocker Encrypted USB on Mac via UUByte BitLocker Geeker
UUByte BitLocker Geeker is a famous BitLocker reader software on Mac. It can easily mount and read BitLocker drive on modern Macs after inputting the correct password. Currently, it supports various external drives, including USB flash drive, HDD, SSD and SD card. Let see how to use BitLocker Geeker to open BitLocker encrypted drive on Mac.

Step 1: Download UUByte BitLocker Geeker and install this app on your Mac. Then grant Full Disk Access permission to BitLocker Geeker app in System Preferences.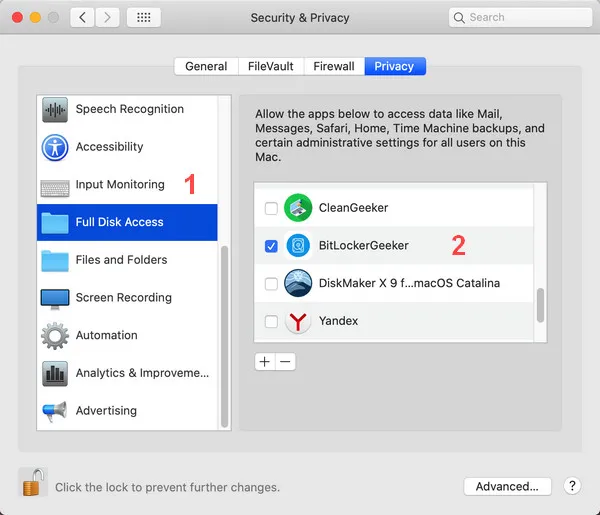 Step 2: Insert BitLocker drive on Mac. You will see a warning message this time. Please choose 'Ignore'.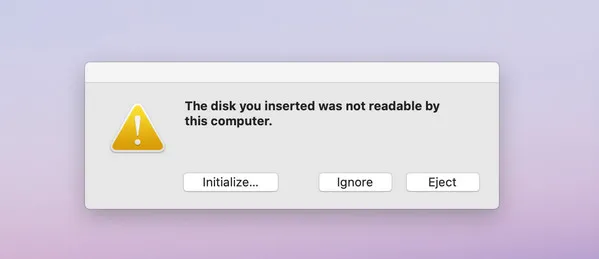 Step 3: Open BigLocker Geeker app and you will see all device drives being listed on the welcome screen.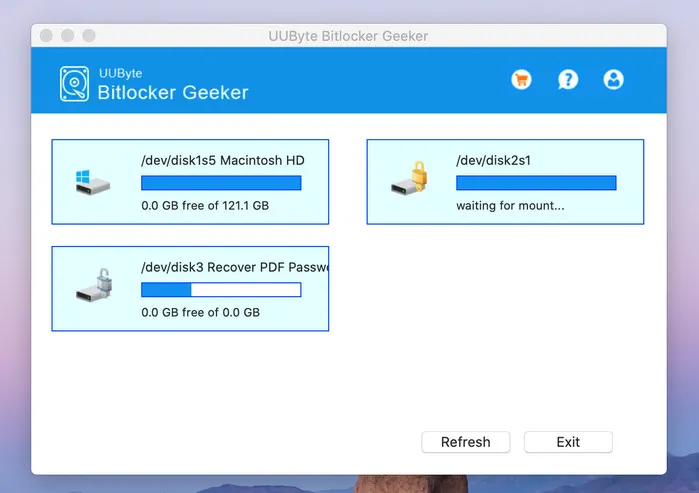 Step 4: Double click BitLocker drive and input password to unlock it.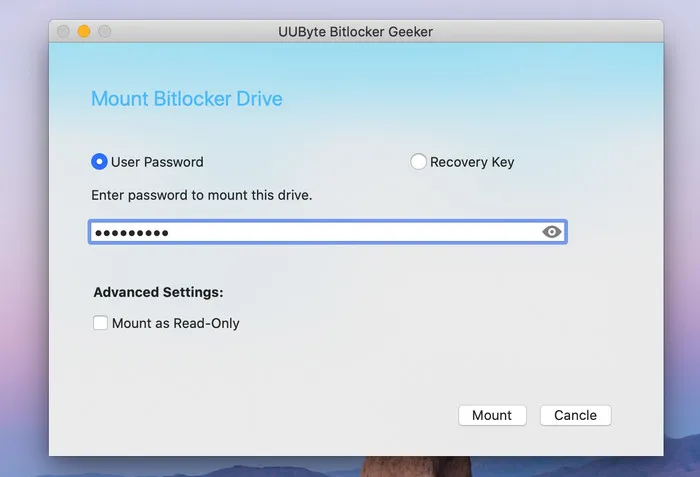 Step 5: Wait for 3-4 seconds and the drive will be opened automatically with a pop-up window. After that, you can start reading or writing operation.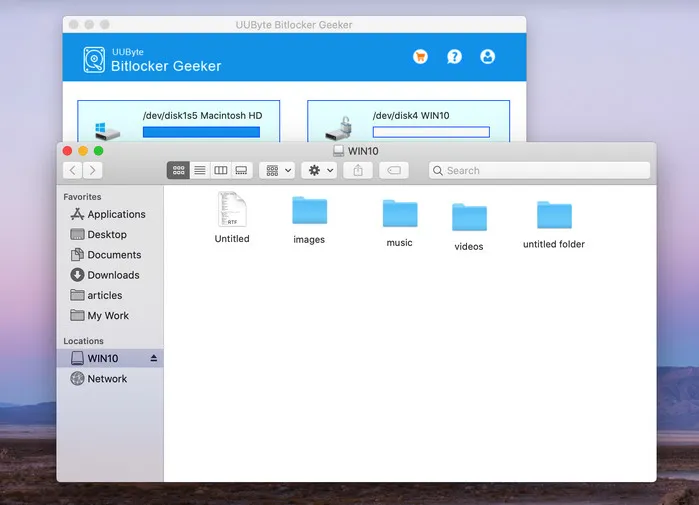 It is just a simple task to open BitLocker drive on Mac with the help of UUByte BitLocker Geeker. The user interface is clean and the steps are straightforward.

Method 4: Open BitLocked Encrypted USB Drive via BitLocker Reader for Mac
Opening BitLocked encrypted USB or drive in direct way is not possible in the past. However, with more details of BitLocker algorithm being published by Microsoft, there is no problem to access BitLocker device on Mac with third-party apps. Apple is still no official support for BitLocker encryption on latest macOS Catalina. Now the key is to select the right software to do the job. iSumsoft's BitLocker Reader for Mac is currently your best option when it comes to unlocking BitLocker protected drives on a Mac system. Here's how it works.
Step 1: Download the pkg file of BitLocker Reader for Mac and follow the screen instructions to install the software on hard drive. You have to enter login password to permit the operation.
Step 2: Connect the BitLocked Protected USB and launch BitLocker Reader for Mac.
Step 3: Select the drive you want to open and click on the 'unlock' button. Another window will pop up. Type BitLocker password you set previously and click on the 'Mount' button.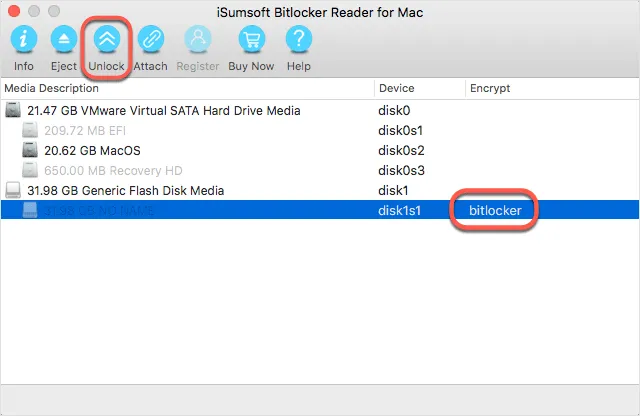 Step 4: Within seconds, your BitLocker protected drive will get unlocked and you will be able to easily open the files and folders on Mac computer..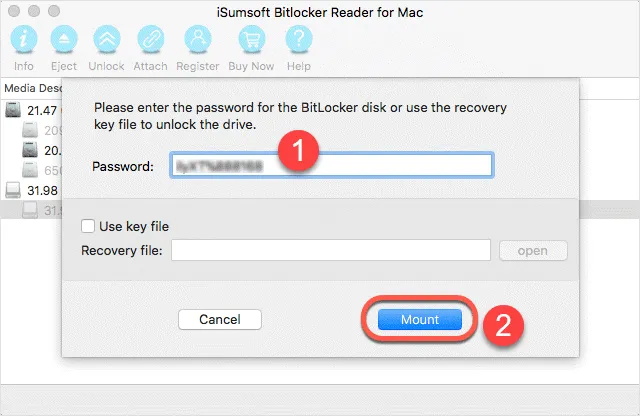 BitLocker Reader for Mac can be used to open BitLocker protected drives on Mac every time. However, you can choose to format the drive after transferring your data and opt fo FileVault, a more Mac friendly security system.
The Bottom Line
If you have any BitLocker encrypt USB drive lying around and if you have already moved to a new Mac system, these methods will come in very handy to open BitLocked protected devices on macOS. It's always advisable to switch to Mac encryption methods to protect drives though you might want to keep your options open. In which case, something like a BitLocker Reader will help you unlock BitLocker drive on Mac with ease.