Windows 7 is my favorite operating system that runs on my ThinkPad laptop for over seven years without any issue. It is stable and no annoying automatic update, which happens frequently on Windows 10. Surprisingly, Windows 10 still grabs 17% market share of desktop operating system in 2021. This means there are millions of devices using Windows 7 as well.
When Windows 7 computer was crashed or got hit by virus, it is necessary to reinstall Windows 7 to fix the issue. The question is where to download Windows 7 ISO in order to create a bootable Windows 7 installer.
We will share three different ways to download Windows 7 ISO that still works in 2021. Please read on!
[Updates]: Microsoft no longer hosts downlaod of Windows 7 ISO on its website as it ends of support. Below is the latest link in 2021 for downloading Windows 7 ISO.
https://www.dell.com/community/Windows-General-Wiki/Microsoft-Windows-7-Official-iso-Downloads-Digital-River/ta-p/5190417
Method 1: Directly Download Windows 7 ISO from Microsoft.com
Microsoft is the legit owner of Windows so it is safe to download Windows from it if possible. Fortunately, there is a direct download option for Windows 7 ISO image. However, you should have a valid Windows 7 product key to proceed.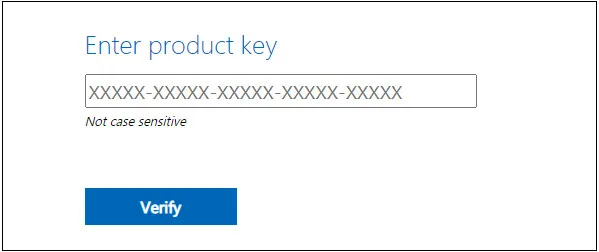 You can find your product key by right clicking My Computer and scroll down the window. The license key is displayed at the bottom of page.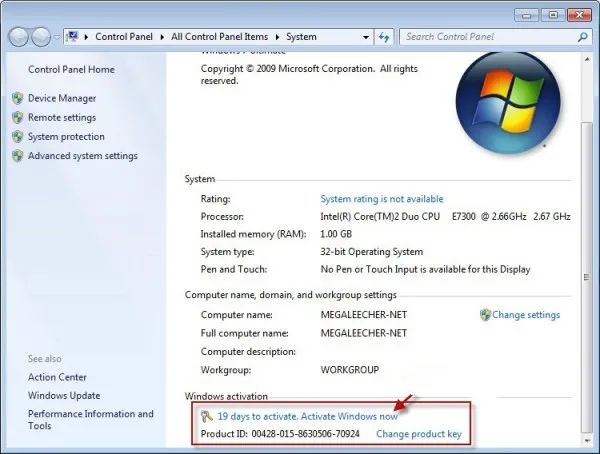 Go to Windows 7 Download Page (www.microsoft.com/en-us/software-download/windows7). Scroll down the page and input the product key into Windows 7 Download page and click Verify button. If the key was validated successfully, you will get a direct download link of Windows 7 ISO. That's!
Note: OEM product key is not eligible in this case!
Method 2: Download Windows 7 ISO with HeicDoc ISO Downloader
You will receive the following error from time to time when trying to download Windows 7 ISO from Microsoft.

This means the product key you input are incorrect. Please do not worry. We can use some third-party software to complete the process without any issue. The first recommendation is HeiDoc.net Windows ISO Downloader, one of the greatest tools for downloading Windows and Office ISO on your computer.
First, click this link to download .exe file of HeiDoc.net Windows ISO Downloader. Double click the download file to open the software.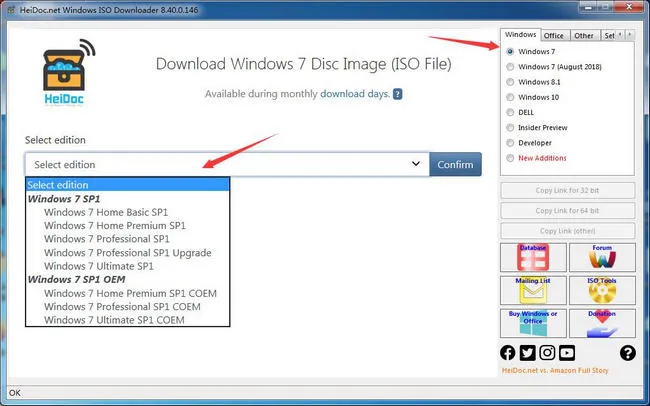 Next, choose Windows 7 from upper right corner. This will show up the download options for Windows 7. Please choose one from the list and pick up a Language. Finally, click Confirm button to get the download link of Windows 7 ISO for both 64-bit and 32-bit.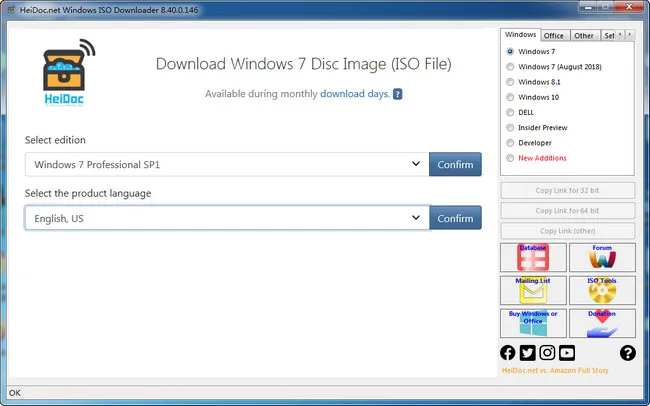 Besides downloading Windows 7 ISO, HeiDoc.net ISO Downloader is also capable of downloading Windows 10 ISO and Office. Currently, it is the best desktop tool for downloading ISO disc image from Microsoft products.
Method 3: Download Windows 7 ISO from Other Sources
Microsoft blocked Windows 7 download request from time to time. We cannot guarantee HeiDoc.net Windows ISO Downloader always working. Its developer frequently updates the issue on WinCert. You can get the latest updates from this thread.
If Windows ISO Downloader does not work when using it, please download Windows 7 ISO torrent from the following resources:
Windows 7 Home Basic: ed2k://|file|en_windows_7_home_basic_x86_dvd_x15-65654.iso|2501894144|7E4414CAD21CE37FBF360B732095F05C|/
Windows 7 Home Premium: ed2k://|file|en_windows_7_home_premium_x64_dvd_x15-65733.iso|3224686592|9154F9E4021BEAF83439A42FA267ACBD|/
Windows 7 Professional: ed2k://|file|en_windows_7_professional_x64_dvd_x15-65805.iso|3224686592|A71F26E478076FFC75F02CB6459E87B0|/
Windows 7 Ultimate: ed2k://|file|en_windows_7_ultimate_x64_dvd_X15-65922.iso|3224686592|6719AFC5486F38BE75F2DF39C8527113|/
Closing Words: When you successfully download Windows 7 ISO, the next move is to burn Windows 7 ISO to USB drive. By doing this, you will get a bootable USB for installing Windows 7 OS on it.