Time Machine and iCloud are widely used when it comes to backing up a Mac. Their highlight lies in the fact that they come built directly into Apple ecosystem, eliminating the need for a third-party app or service to be installed on your machine. Basically, they keep copies of photos, music, files, and more in the cloud so you can access them across all multiple devices.
While Time Machine and iCloud are great backup tools, they are not perfect, and relying on them alone to keep your data from the prying eyes is not a good idea, which could result in data loss or personal info leakage.
If you now use Time Machine to back up your data to an external drive, it's a good idea to have another tool that creates regular backups to a different drive. This approach makes sure your data won't fall into the wrong hands. Fortunately, there are a number of different backup software for Mac. Many of them are simple, easy-to-use, and inexpensive, allowing you to run incremental backups on your Mac.
Time Machine: Bulit-in Free Backup Software for Mac
Time Machine comes pre-installed on every Mac out there, providing a reliable and safe method to back up your personal data on a Mac. By default, Time Machine automatically makes Mac backups on an hourly basis, ensuring that all of your personal files are up-to-date in case of data corruption or system malfunctioning.
Another annoyance is that Time Machine does not feature cloud storage integrations, including Dropbox, One Drive, and Google Drive. That's a big flaw when compared to its main rivals like SuperDuper or Backblaze.
To back up your Mac using Time Machine, insert an external drive into your machine. Once you have done so, head to System Preferences, then click Time Machine. From here, select your external drive as the backup destination disk. For secure reason, you can also encrypt the backup file so the data won't fall into wrong hands.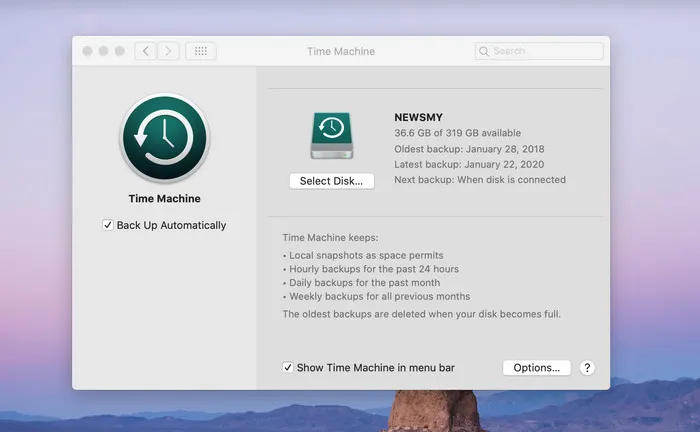 Pros:
Come with macOS.
Free and no additional cost.
Simple to use.
Cons:
Backup process is extremely low on hard drive.
Some of the external drives are not detected by Time Machine.
No advanced backup options.
Editor Review: Time Machine is great for simple backup purpose. At least it comes as a built-in backup feature, which is ideal for those who don't want to install some kind of third-parties. However, it is not perfect. From my personal view, I won't use time machine any more as backup solution on my Mac as it takes several hours to backup a Mac with only 120 GB data.
A warm tip. If you insist on using Time Machine as your backup choice, please buy a portable SSD instead, which has much faster reading and writing speed then traditional hard drive.
Carbon Copy Cloner: The Most Popular Third-Party Backup Software for Mac
According to an user poll of MacRumors, one of the most popular Apple news portal, Carbon Copy Cloner is the most popular backup software among Mac users, second to the stock Time Machine backup solution. It is a great tool for creating bootable clones of Mac's startup drive. It's now much better than it was in the past, and it now can stand in line with SuperDuper and serves as a reliable backup tool for Mac.
Like SuperDuper, Carbon Cloner only copies files that have changes to the backup drive. However, one thing that makes it useful lies in its SafetyNet, a cool feature that keeps copies of your previous backups even when you make changes to them. This means that you can access older versions of backup files. This is not something other backup tools out there can do.
Carbon Clone Cloner features an easy-to-use user interface with a focus on three things including source volume, destination volume, and schedule. One major downside is that it's not straightforward when it comes to restoring individual files and folders. But, you can use Time Machine to run this task, along with Carbon Clone Cloner cloning your disks and backing up your data.
To use Carbon Copy Cloner, launch the app on your Mac, then select the source disk. After that, select external drive as destination disk and click Clone to start the backup process.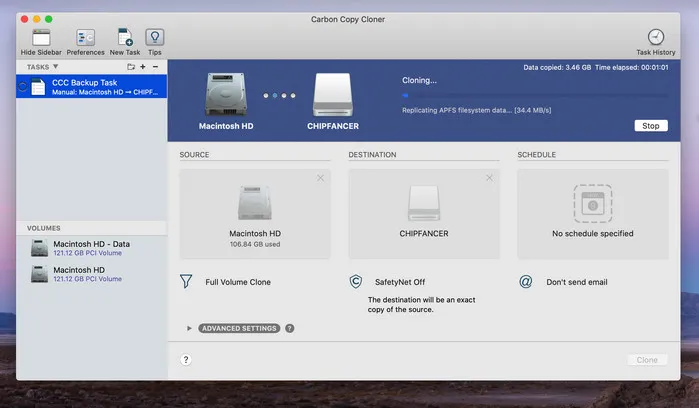 Pros:
Take live snapshot of backup file and restore them easily after deletion.
Create bootable backup disk from Mac's startup disk.
New backup only updates the files that has been modified or newly added.
Store backup file on external drive or another Mac computer.
Receive system or email notification when backup is completed.
Schedule backup task at hourly, daily, weekly, monthly basis.
Modified and deleted files are cached in destination disk with SafeNet technology.
Vert intuitive user interface and timely on-screen tips.
Cons:
A bit expensive ($39.99) .
Software upgrade is not free.
Prompt for purchase each time when it is opened or cloning starts.
Only run on higher version of macOS (at least 10.10).
Require root password to start backup process.
Editor Review: Ifyou are looking for a tool that can easily backup Mac data or clone bootable disk, then Carbon Copy Cloner is the best way to go. However, if you want an app that does some basic backups, then stick to Time Machine.
SuperDuper: Easy-to-use Mac Backup Software
SuperDuper is a great alternative to Time Machine out there, allowing you to create bootable clones of your Mac's hard drive. SuperDuper is super easy to use with its intuitive, well-designed user interface. But what sets it apart from Apple's Time Machine lies in its Smart Updates feature. With Smart Updates enabled, SuperDuper compares the current files on your Mac's hard drive with the files you've created in your backup drive. If you make any changes to your Mac files, it will copy those files only to your backup drive, and the process only takes a fraction of time. This ensures your backup files are always up-to-date.
You can use SuperDuper side by side with Time Machine, with SuperDuper cloning and Smart Updating your Time Machine backups. In this case, you can choose which files and folders you want to back up.
One major drawback is that SuperDuper is not user-friendly as it does not offer a step-by-step guide for backing up your data. Or it sometimes does not work on macOS Big Sur. However, it's not a big deal.
To use SuperDuper, you will need an external drive that has enough storage space. The process mainly involves making an exact copy of your Mac's hard drive.
First, launch SuperDuper on your Mac, then select your backup drive as the Copy Source from its main menu. After that, select your external drive as the Copy To destination, then select Backup – all files, and under the During Copy section, select Erase [backup location], then copy files from [startup drive]. When you are done, hit the OK button and then click Copy Now.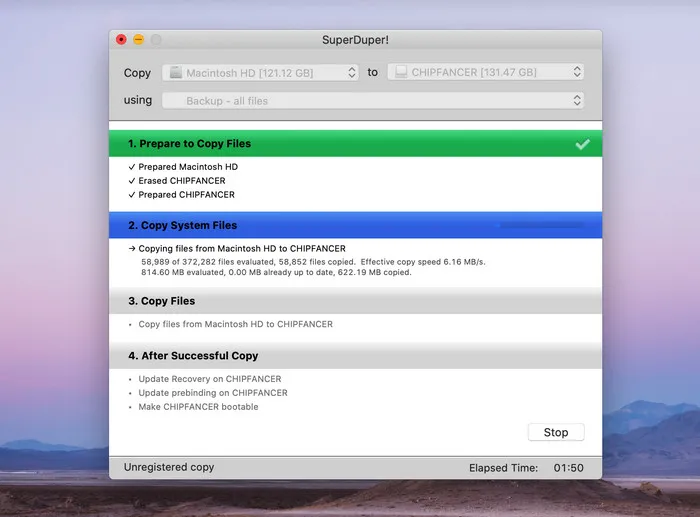 Pros:
No complex settings and easy to use.
Create a full bootable backup.
Easy to restore from backup files.
Provide five standard scripts for different backup purposes.
Able to backup Mac drive as a disk image file (.dmg).
Continue backup process when minor drive errors happened.
Cons:
Advanced backup features only available in paid version.
2X slower backup speed than Carbon Copy Cloner.
Not support latest macOS Big Sur.
Outdated user interface.
Erase target disk before cloning.
Has to enable full disk access manually.
Editor Review: SuperDuper is a good backup option for your Mac. The best part is that you can run the tool alongside Time Machine to back up and protect your data. You can use Time Machine to run regular backups and you can boot your machine from SuperDuper's up-to-date clone if something goes wrong with your local hard drive.
Backblaze: Simple and Secure Online Backup for Mac
Backblaze is an online service that allows you to back up Mac machine to its remote servers. Like Carbon Copy Cloner, you can schedule your backup and select which folders or files you wish to back up. Backblaze requires you to download its Mac app before using its online backup service. It also features a very easy-to-use, intuitive user interface, allowing you to easily back up a variety of files, including documents, photos, movies, and music.
What sets it apart from the above backup options is that Backblaze keeps your backups for 30 days. Once that time limit reaches, the tool will send out an alert to all users that it will automatically erase all of their older backups. If you want to restore your data, then you can do this via Backblaze's main user interface or send your files to a USB stick or an external hard drive. However, there is an extra fee for that.
There is no major weak point when it comes to Backblaze, apart from the fact that it's a subscription-based service that charges you monthly, rather than offers a lifetime license.
Once you have downloaded the tool, follow the on-screen instructions to complete the installation. When it is done, Backblaze will automatically back up your Mac. If this is the first time you run Backblaze, it needs to copy everything to its servers, which can take several days depending on the upload speed of your internet.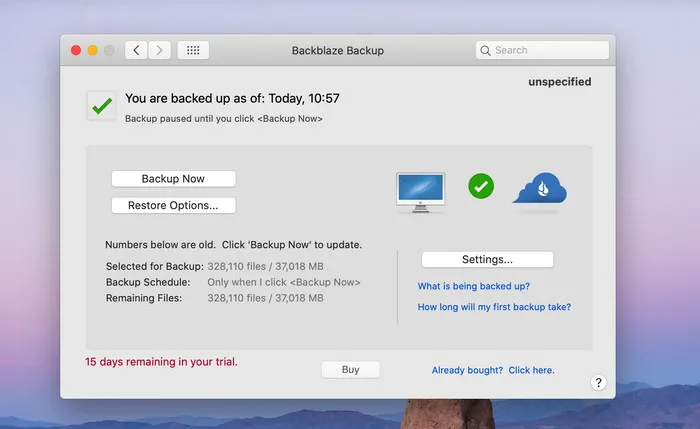 Pros:
Backup selected folders or files automatically for new changes.
Unlimited storages.
No limitation on file size.
Encrypt your data with AES encryption with an unique private key.
Keep deleted files for 30 days.
Restore your files when the computer was lost or broken.
Get your backup onto USB drive and send to you by FedEx.
Download all your backup files in .zip format.
Cons:
Pay $6 per month when 15-day trial expired.
Must create a new account before downloading the installation file.
Installation process is a bit time consuming.
Only backup personal files.
No bootable clone.
Backup your Mac hard drive automatically without asking after launch.
Editor Review: Backblaze is an incredible online backup service for Mac. The tool has its upper hand over Carbon and SuperDuper thanks to its cheaper price and simplicity. If you want to back up personal data to an secure place, then Backblaze is the perferred option over external disk.
Arq7: The Optimized Backup Software for Mac
Arq Backup is an optimized Mac backup software for getting your data out of data loss or corruption. This backup software basically allows you to copy data on Mac to a cloud drive of your choice.
Unlike Time Machine or SuperDuper, Arq Backup relies on third-party storage services to store your data. In other words, you choose your own storage service and link it to Arq Backup. The best part is that you can select multiple backup services, which allows you to secure a folder or a document to different storage providers. However, one major drawback is that there is no live backup, which is a big disadvantage when compared to Backblaze or SuperDuper.
When it comes to pricing, Arq Backup charges you $49.95 for a lifetime license. However, this price does not include a cloud storage provider, which means you need to purchase one to make use of the software.
Once the download is complete, install it on your Mac. During the installation of the software, you will get to choose your cloud storage location and enter your account details to proceed. After that, Arq Backup will start backup Mac data to its servers and you will see a progress about the whole backup process.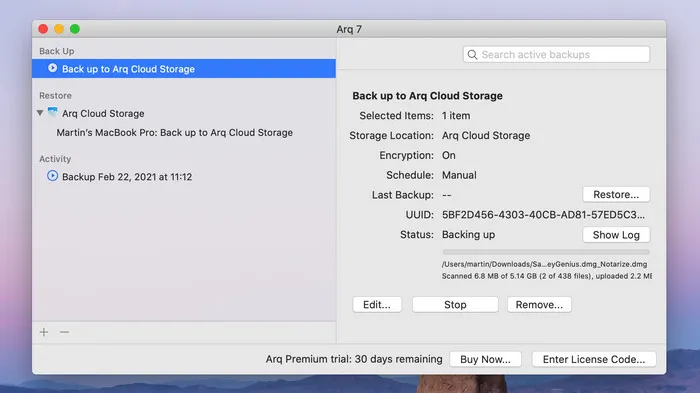 Pros:
Designed for Mac users .
All backup files are saved in a reliable online place (Amazon S3) .
Encrypt backup with password so only authorized user can access it.
Backup can be also sent to NAS or SFTP server.
Keep a record of backup activities.
Integrated with more than 10+ cloud drives, such as Dropbox, Google Drive, OneDrive.
Cons:
$59.99 per year for premium service.
Lack documentation and user guidence in UI.
Upload speed is quite slow.
ChronoSync: All-in-one Backup Software for Mac
With ChronoSync, you can manually run backups or schedule them, and back up your personal data to a local hard drive. If you are an Amazon S3 subscriber, you can back up your files to Amazon's cloud directly from ChronoSync.
ChronoSync will move your previous backup to an archived folder every time it runs a backup. This means you can restore a file from an old backup version, which should come in handy if you accidentally deleted a file or a folder from the previous backup.
One major downside is that it is not stable on macOS Big Sur. Users have been reporting crashes or glitches while trying to create a backup in macOS Big Sur with ChronoSync. If you want to make the most of it, we recommend you install it on macOS Catalina.
Once you have the tool installed on your Mac, launch it and it will automatically back up your Mac to your local hard drive or an external drive. The process might take several hours.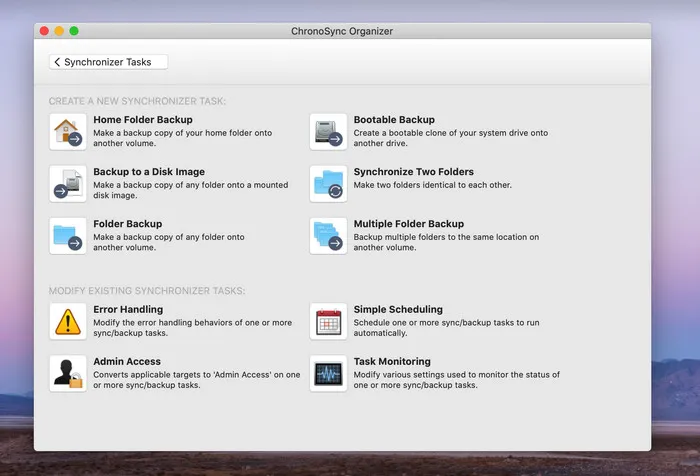 Pros:
All features available in trial mode.
Complete backup solution for various purposes.
Sync files and folders between two Macs.
Able to create bootable backup of Mac hard drive.
Backup data to another Mac, remote server or NAS.
Backup local data to online storage (Amazon S3 and Backblaze B2).
Recover missing or currupt files from previous backup.
Support macOS Big Sur.
One-time payment and no additional upgrade fee.
Cons:
Complex user interface.
Sluggish data copying speed.
Expensive price ($49.99).
Editor Review: ChronoSync is a complete backup solution for Mac, which incorporates multiple advanced backup and sync features. So it is ideal for users who are looking for an all-in-one Mac backup software. The major drawback is that the backup speed is much slower than Carbon Copy Cloner.
iCloud: The Built-in Free Cloud Backup Software for Mac
iCloud Backup is Apple's built-in storage feature that allows you to sync your data to the cloud and access it across all Apple devices. The main point of iCloud Backup is that you don't need to install any third-party software. All you need to do is to provide a valid Apple ID to initiate the backup process.
The main weak point is that iCloud does not back up everything to the cloud, as it only supports some basic types of data, including calendars, reminders, notes, documents, passwords, and more.
To use it, open iCloud from System Preferences, then log into Apple ID and agree to the terms and conditions. From here, check the boxes next to use iCloud for your documents and data and Use my Find my Mac, and select what you want to back up.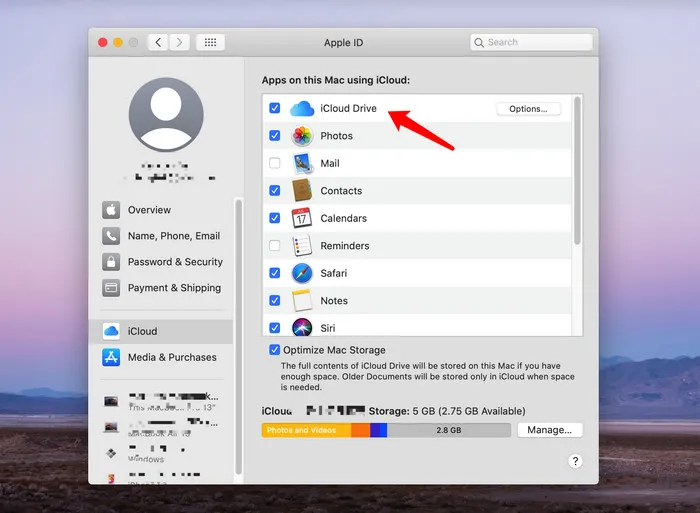 Pros:
Complete free for 5GB storage.
No additional download and install.
Access or restore backup content from cloud.
Cons:
Limited free storage for backup.
Only backup user data and folders.
No bootable backup.
Editor Review: iCloud works great if you are using Apple's service extensively. It is the best option to backup iOS device but it is not the one for Mac. You can use the free 5GB storage to only backup the most important staff on your Mac. For a complete data backup, it is more advised to use other professional Mac backup software instead.
The Bottom Line
Backing up your Mac is very important if you don't want to lose all of your precious data. Time Machine and iCloud are not complete backup solution as you need a helping hand from a third-party. For simple and fast backup, Carbon Copy Clone is recommended. For complext and cheap backup solution, ChronoSync backup software is the best choice. For secure cloud backup, BackBlaze is the ideal solution.