When I plugged in a USB drive to my MacBook Pro, I received an error message, saying "The disk you inserted was not readable by this computer." It is the first I encountered this issue. What is it and how to fix this?
Part 1: About 'The disk you inserted was not readable by this computer' error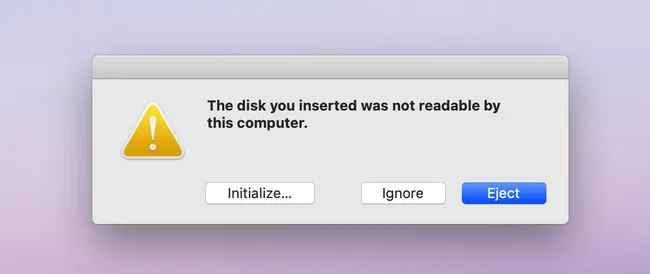 I ran into this issue on my Mac the other day I inserted a USB drive being added with BitLocker encryption from a PC. It took me several hours to finally identify the problem. You may be wondering what each option stands for from above error screenshot?
Initialize...: This will format the external drive you inserted on your Mac and all data will be deleted accordingly. Please be cautious with this option.
Ignore: Not doing anything with the drive. Hence it is not able to read from or write file to the drive. It is just an invisible disk if you check in Disk Utility app.
Eject: Unmount inserted drive from your Mac.
Part 2: Why Disk Not Readable Error Happens on Your Mac?
This is a frequently seen error when dealing external USB drives on Mac. And there are four main reasons why this error happens. Below is a quick snapshot of possibel reasons.
The disk is encrypted by BitLocker.
File system of disk is not supported by Mac.
Damaged or corrupted partition.
Hardware failure of target disk (Less possible).
From our research, the most possible reason is that the disk is encrypted by BitLocker or other encryption software. The second is unsupported file system. We will provide actionable tricks in the following part to fix disk not readable error on Mac.
Part 3: How to Fix Disk Not Readable Issue on Mac Computer
Reason #1: The disk is encrypted by BitLocker
This is most common reason why "This disk you inserted was not readable by this computer" occurs. A lot of people encrypt their drive for protection on their Windows PC. But BitLocker is not going to be working on Mac as it is a Microsoft technology. Simply put, Mac can not read bitlocker encrypted drive without using additional software.
How to Fix: Download and install UUByte BitLocker Reader software on your Mac and insert the drive. When you see the pop-up message (This disk your inserted was not readable by this computer), simply click Ingore button. Now, open Bitlock Geeker and you will see all disks on this Mac being listed on the welcome screen. You see a lock icon if the drive was encrypted.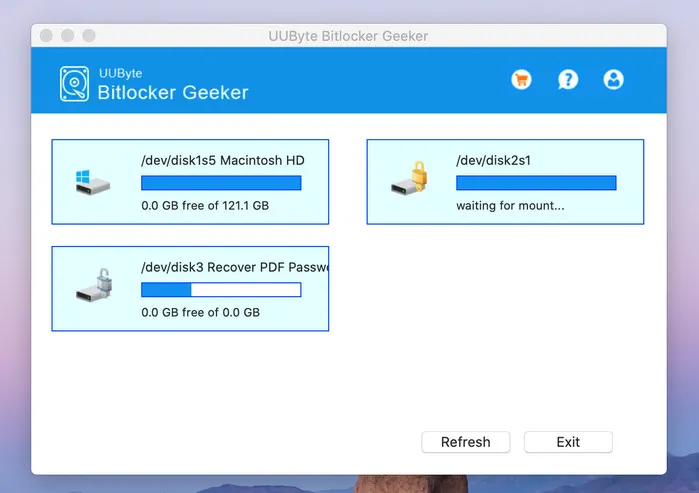 Double click the disk name to input the password you set previously. Wait for 5-10 seconds, the encrypted disk will be unlocked and you will see the files and folders in it. After that, you are free to start reading or writing operations to the drive.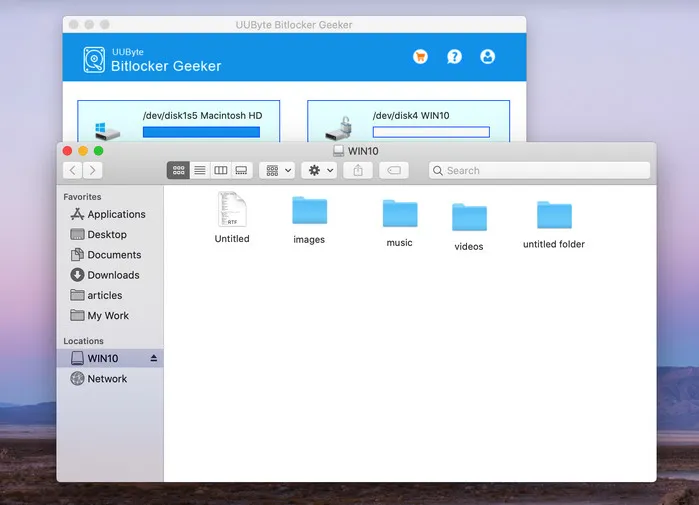 Notice: This warning message won't disappear unless you turn off BitLocker encryption on that disk. The error still pops up each time when you inserted it on your Mac. Just click Ignore option and unlock it with UUByte BitLocker Geeker each time.
Reason #2: The file system on target disk is not supported by Mac
The file system supported by all Macs are HFS, HFS+, APFS, exFAT and FAT32. macOS can read NTFS partition whereas Mac OS X does not. If the USB drive was formated by other file syste, then the disk will not be readable by Mac computer for sure.
How to Fix: If there is no important data on that disk, you can format the drive to Mac compatible file system within Disk Utility app.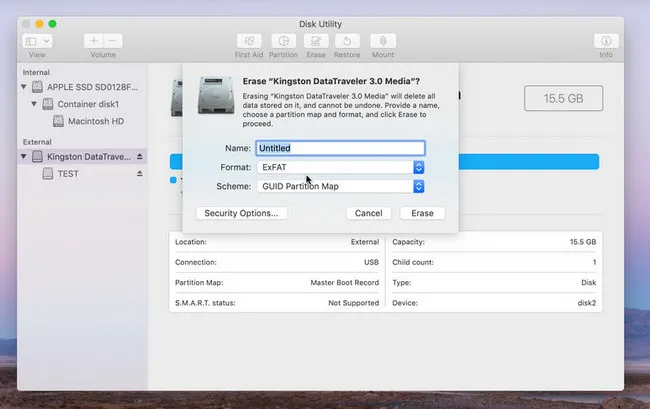 However, if there were sensitive or private data contained in that disk, please connect it to a Windows PC and backup the disk first. After that, you can format the disk on PC or Mac.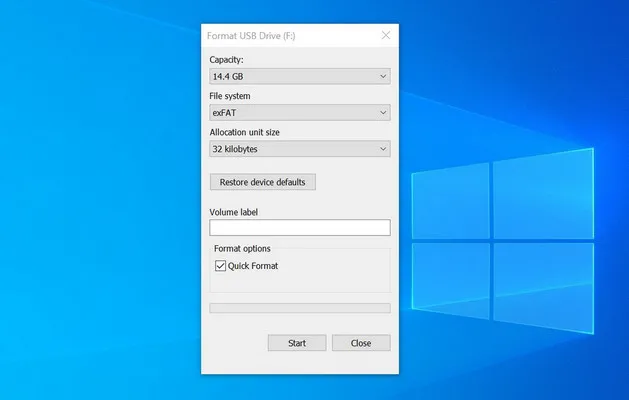 p.s our recommended file format is exFAT, which can be read by major desktop operating system such as Windows, Linux and macOS. Though FAT32 has the same functionality, it can not hold a file larger than 4GB.
Reason #3: Damaged or corrupted partition
A physical disk has to be partitioned first before full functional. Each partition scheme has it own internal structure and it is corrupted or damaged, then neither Mac nor other types of computers is able to read content from the disk.
How to Fix: For safety reason, we suggest inserting the same disk to another computer and see if it is working. If yes, then the error may be caused by other reason. If the disk was not readable by both computers, then it is highly possible the partition was damaged or corrupted. You have to format the disk to fix this issue.
Reason #4: Hardware failure
This might happen on old disk but the chance is rare for disk manufactured by modern technology. We have dozens of USB flash drives, portable hard drive, portable SSD and SD cards and none of them have hardware failure even tested extensively by our software.
How to Fix: If you suspect this error caused by hardware failure, you can format the disk first. If it does not work, then run Fist Aid in Disk Utility app to repair potential issues.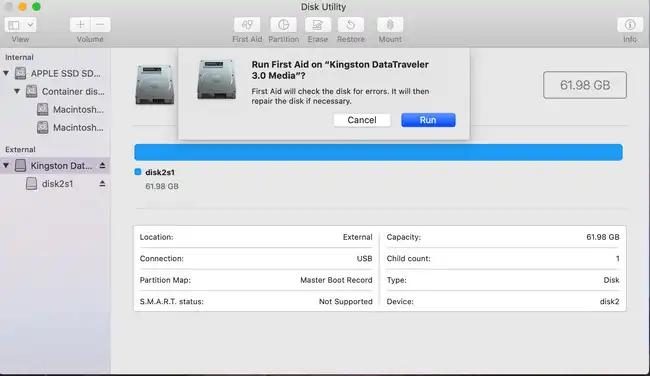 Conclusion
The above four methods are the most reliable solutions to fix 'The disk your inserted was not readable by this computer'' error on Mac.Please follow the detailed steps for each solution and fix it by yourself. In addition, if you have new suggestion, please don't hesitate shot us an email. We will update this post reguarly if new solution were found.