Catalina (10.15) is the latest stable release of Apple's macOS. You will see some of the recent apps can only work on this version. And you have to upgrade macOS accordingly. However, only a small portion of Mac models are eligible for direct upgrade offered by Apple. What 's to do if you want to use Catalina on an unsupported Mac? This tutorial will show you how to install macOS Catalina on an unsupported Mac model.
1. Why macOS Catalina?
macOS Catalina is the last iteration of the macOS series, after which Apple has now moved to macOS 11 Big Sur. Not all Mac users will install Big Sur so soon after its release because they'll be waiting for all the major bugs to be fixed in an 11.x update. But there's also another reason: Big Sur is only meant for certain models of MacBooks and iMacs.
And some of the apps can not work on an old version of macOS, such as High Serria or Serria. You will receive the following messages if you try to run an app that only supports Catalina and later versions. You have to upgrade macOS to Catalina in such a case if the app is very important for you.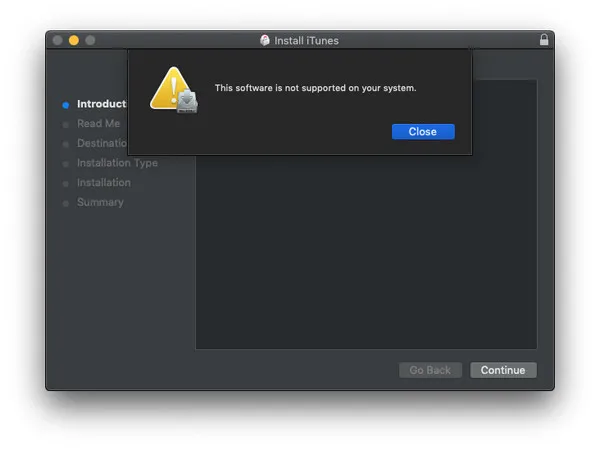 The same is true of Catalina as well, but Catalina is a more mature version and brings a lot of features to the table, such as the improved Siri, customizable smart lists, the new AI-based Photos app, better Notes search, refreshed Safari, and so on. Probably the most important change is the deprecation of iTunes into three separate entities for Music, TV, and Podcasts. That's why a large portion of users still prefer Catalina even if their device is compatible with Big Sur.
2. Official Support List by Catalina
Unfortunately, as in the case of Big Sur, macOS Catalina also does not support very old models of Apple devices. Here is the official support list. If your device is from an older year, you cannot upgrade to macOS Catalina the usual way.
MacBook (Early 2015 or newer)
MacBook Air (Mid 2012 or newer)
MacBook Pro (Mid 2012 or newer)
Mac mini (Late 2012 or newer)
iMac (Late 2012 or newer)
iMac Pro (2017)
In addition, your video card will need to be pre-metal, and it works with specific series of GeForce, Radeon, and Intel graphics cards.
3. Unofficial Support List by Catalina
Thankfully, there's a way to patch macOS Catalina on your older system, which extends the list of supported devices. However, you will need to download macOS Catalina dmg file, burn it to a USB drive, and then install Catalina on your Mac by booting from the USB installer. The process is shown below and it works with the following unsupported Mac models.
MacBook Pro Early 2008 or newer
MacBook Air Late 2008 or newer
Mac Mini Early 2009 or newer
MacBook Early 2009 or newer
iMac Early 2008 or newer
4. How to Create a macOS Catalina Bootable USB
UUByte DMG Editor is a fantastic disk image management utility for Apple's DMG files. Not only can you burn a DMG to a range of media storage devices but you can also extract files without having to mount the DMG as a virtual drive. Besides, it is a cross-platform application that works well on both Windows and macOS. This means you can create a bootable Catalina USB installer on a Windows PC.
Although it is meant for experienced users, the user interface, navigation, and feature layout have been simplified so even beginners can jump right in and get comfortable with the software. Here's the process in the form of steps you can duplicate on your Mac.
Warning: Please back up your Mac first before taking into real actions. This might brick your EFI chip with multiple EEPROM definitions.
Step 1: Download DMG file of macOS Catalina from the following sources. These site offer the latest version of the macOS Catalina, please download a copy to your Mac.
Step 2: Insert a USB drive and install UUByte DMG Editor application on a Mac or PC.
Step 3: Launch UUByte DMG Editor and select the 'Burn' option on the main page.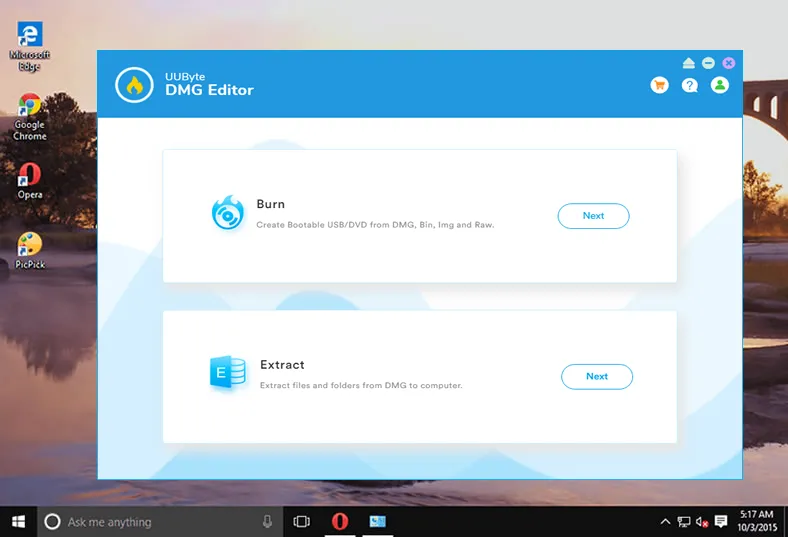 Step 4: On the inside page, hit the 'Browse' button and select the DMG file from your local storage. Check if your USB drive is displayed in the field below the DMG image field. If not, click on 'Change' button to select the correct drive.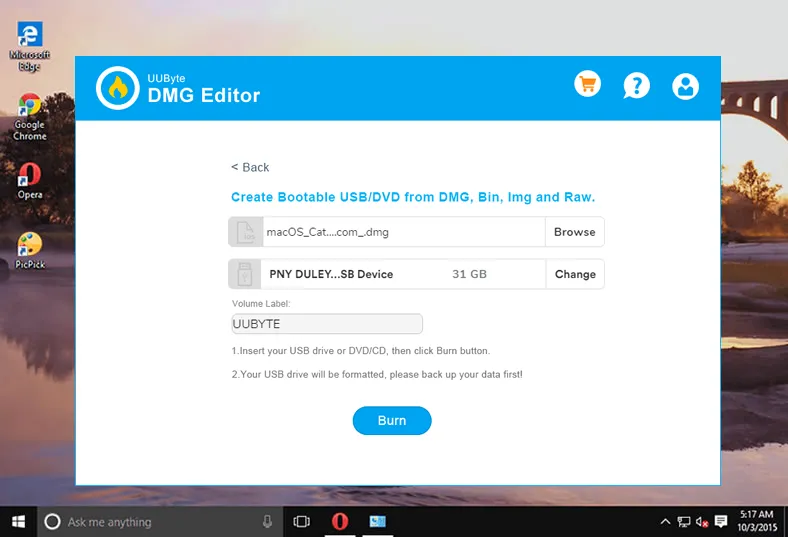 Step 5: All you need to do is name your drive and hit 'Burn' button. You will see the progress as the USB installer is created.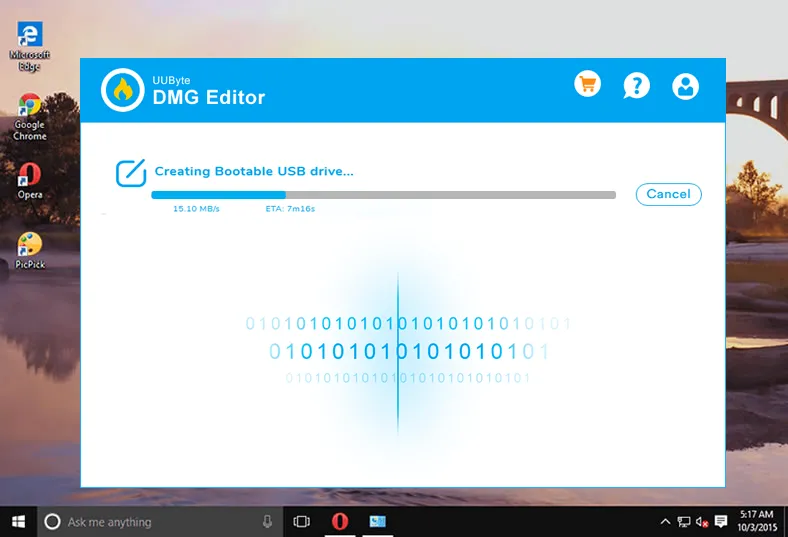 When you see the success message, close UUByte DMG Editor and eject the drive. It is now ready for you to use in the macOS Catalina installation process described in the next section.
5. Install macOS Catalina on Unsupported Mac
Now, follow the steps shown below carefully to load the installer, erase your local disk, and install macOS Catalina from USB drive you created in above step.
Step 1:

Boot Mac from USB Installer

To do this, insert the installer and hold down the Option key as you restart your Mac. In the Startup Manager, choose the drive name that you used in the installer creation process. You won't be able to use the mouse here so use the arrow key to select your drive and hit Enter.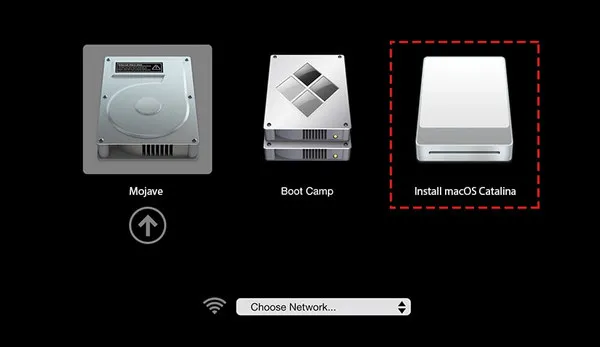 Step 2:

Wait Catalina Installer to Be Loaded

This could take a few minutes so be patient. Don't worry if the screen goes blank or if the progress bar looks like it's frozen. Don't do anything at this point.
Step 3:

Erase Local Hard Drive

When macOS Catalina installation wizard is loaded, you'll be able to see macOS Utilities window with several options. Choose Disk Utility option and then Continue. In Disk Utility, choose your hard drive (usually Macintosh HD) and hit Erase, which you will see in the top menu bar.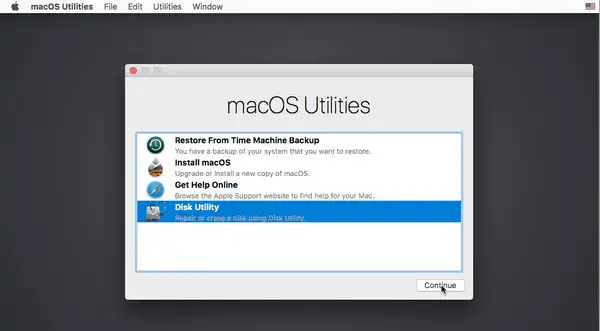 In the popup window, make sure the Format is set to APFS and hit Erase, leaving everything else as it is. You may want to change the name of the local HDD but you can leave it as Macintosh HD. Exit Disk Utility, which will take you back to the macOS Utilities window.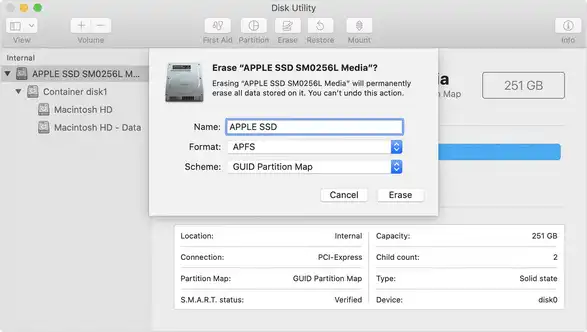 Step 4:

Start Installing Catalina on Unsupported Mac

This time, in macOS Utilities, please choose Install macOS and then hit Continue. Hit Continue again to confirm the operation. When you see the license terms, hit the Agree option. You may need to do this twice for confirmation. Choose Macintosh HD (or however you renamed your local hard drive) and hit Install.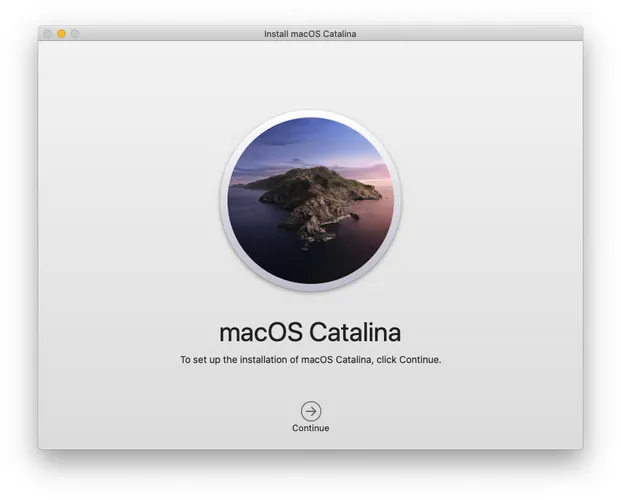 Wait for the installation to complete. This may take up to an hour or more depending on your system configuration and other factors.
Frequently Ask Questions
There are several known issues when installing macOS Catalina on ansupported Mac. However, it has less impact on daily usage.
No Tab for All Photos in Photos App. You will find this minor issue when using Photos app on Catalina. To fix this, you should right click any photo in Photos app and select 'Show in All Photos' from pop-up menu.
GPU acceleration not available. You will see a performance downgrade when playing games because the full video accleration is not available in Radeon HD 5xxx or 6xxx series video card.
WiFi not working. If you could not join any WiFi network, then you should use this command to fix it manually: sudo networksetup -setairportnetwork en1 SSID PASSWORD
Summary
Definitely, it is not a simple task to install macOS Catalina on an unsupported Mac. You have to complete the task manually, which is more challenging than a direct update being pushed by Apple official. However, the above tutorial proves to be fine on most of unsupported Macs we listed in Section 3. Now, enjoy using macOS Catalina on an officially unsupported device!