Installing Windows 10 on Intel Mac is totally possible and it is a hassle free experience with the native Bootcamp app. You can also dual boot Mac and Windows 10 without using Bootcamp. Unfortunately, you might came across issues and failed to install Windows 10 on your Mac.  Here are a few solutions you can try out to fix the issue on an Intel Mac.
Notice: Installing Windows 10 on Apple Silicon Mac is also possible but it is a different story. If you are interested in it, please refer to this post instead.
Why is Boot Camp Assistant Failing?
Bootcamp is our first choice when you want to install Windows 10 on Mac. It is the official app developed by Mac and proven to be working for this purpose. However, there could be several reasons why Boot Camp Assistant is failing to install Windows 10 on your Mac, including
Insufficient storage space: Boot Camp Assistant requires a certain amount of free storage space to create a new partition for Windows. If your Mac does not have enough free space, Boot Camp Assistant may fail.
Corrupted Windows 10 installation media: If the Windows installation media that you are using is corrupted or damaged, Boot Camp Assistant may fail to install Windows.
Security software: Some security software or firewall settings on your Mac may interfere with the Boot Camp Assistant installation process, causing it to fail.
Outdated firmware: If your Mac's firmware is outdated, Boot Camp Assistant may fail to install Windows.
Incompatible hardware: In some cases, certain hardware components on your Mac may be incompatible with Windows, causing Boot Camp Assistant to fail.
Fix 1.  Download Windows 10 ISO from Microsoft Website
No matter which method you are using to install Windows 10 on a Mac, the first thing you should check out is to use the official Windows 10 ISO downloaded from Microsoft.com. Third-party ISO files may have a lot of issues, especially on a Mac.
To download the Windows 10 ISO file from Microsoft's website, open a web browser on your Mac and navigate to the Microsoft Windows 10 download page:
https://www.microsoft.com/en-us/software-download/windows10ISO
On the download page, select the desired language and edition, and then click on the "Confirm" button.
Finally, you will be presented with two download links. One is for 32 bit and the other is for 64 bit.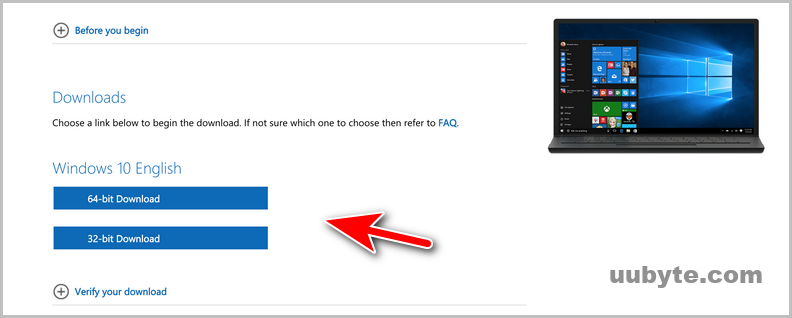 Once the download is complete, you can use the ISO file to create a bootable USB drive or DVD, or you can mount it as a virtual drive and run it directly on your computer.
Fix 2. Turn off FileVault on Your Mac
It is not necessary to turn off FileVault on your Mac before using Boot Camp to install Windows 10, but it is recommended to avoid any potential issues.
FileVault is a built-in encryption feature on macOS that encrypts your entire system drive, including the Boot Camp partition where Windows is installed. If FileVault is enabled, you may experience slower performance and longer startup times when using Windows on your Mac.
To turn off FileVault, open System Preferences app and click on Security & Privacy.
Move to the "FileVault" tab. and click on the lock icon in the bottom left corner of the window to make changes.
Now, enter the login password to grant the permission. After that, click on the "Turn Off FileVault" button to disable FileVault on Mac.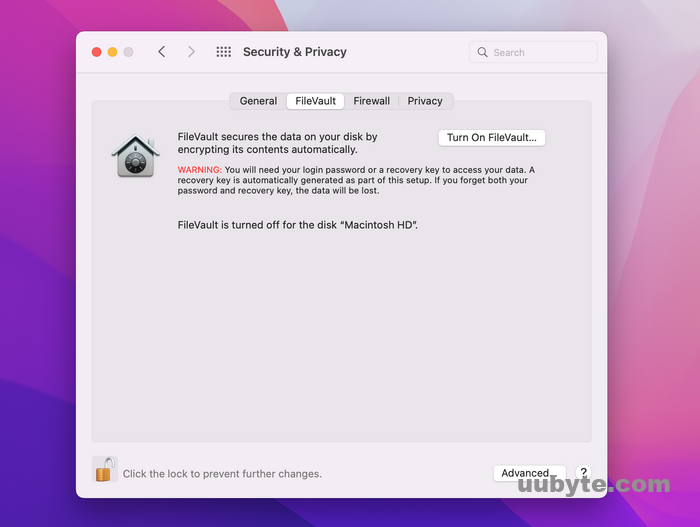 Once FileVault is turned off, you can use Boot Camp to install Windows 10 on your Mac. After the installation is completed successfully, you can turn FileVault on for security reason.
Fix 3. Upgrade macOS to Monterey or Ventura
It is reported the old macOS such as Bit Sur and early versions have potential issues to run Windows 10 on Mac. So it is recommended to upgrade macOS to Ventura or Monterey if you ran into problems when installing Windows 10 on Intel Mac.
When the macOS is updated to the latest version, you will get the latest security updates, bug fixes, and new features that may help improve your Boot Camp experience. Also, the latest version of Boot Camp is often optimized for the latest version of macOS, so you may get better performance and stability.
To update your macOS to Monterey, launch System Preferences utility and navigate to Software Update.
If an update is available, click on the "Update Now" button. Next, Follow the on-screen instructions to download and install the update. Once the update is finished, restart your Mac to apply the changes.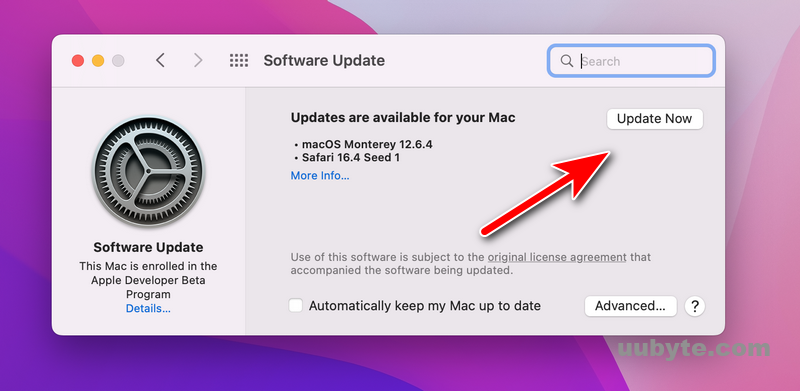 Fix 4. Install Windows 10 on Mac without BootCamp
Bootcamp is the native solution to run Windows 10 along with Mac but it is not the only solution. If Bootcamp failed to work, then UUByte ISO Editor is an alternative choice to help you create a Windows 10 bootable USB on Mac and you can use it to install Windows 10 on Mac manually.
Note: It is important to backup your important data before installing Windows 10 on your Mac using any third-party software.
First, download Windows 10 ISO and UUByte ISO Editor on your Mac.
Next, launch UUByte ISO Editor and click on the Burn button, where you can import the Windows 10 ISO file.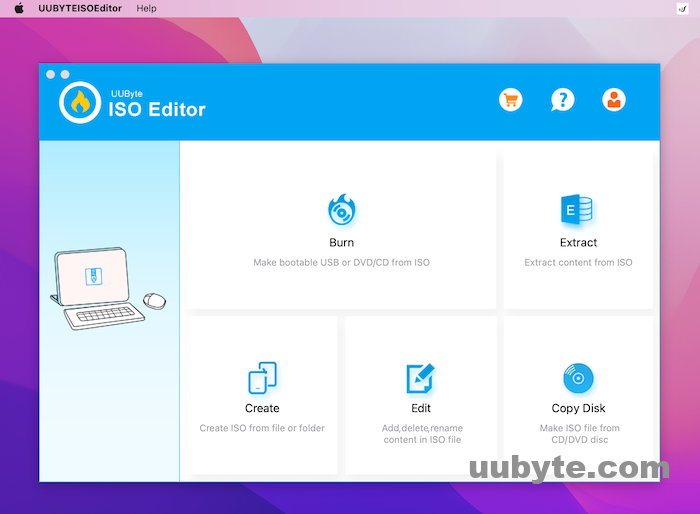 Then, Insert a USB flash drive with at least 8 GB of storage capacity into your Mac and click on the "Burn" button in UUByte ISO Editor.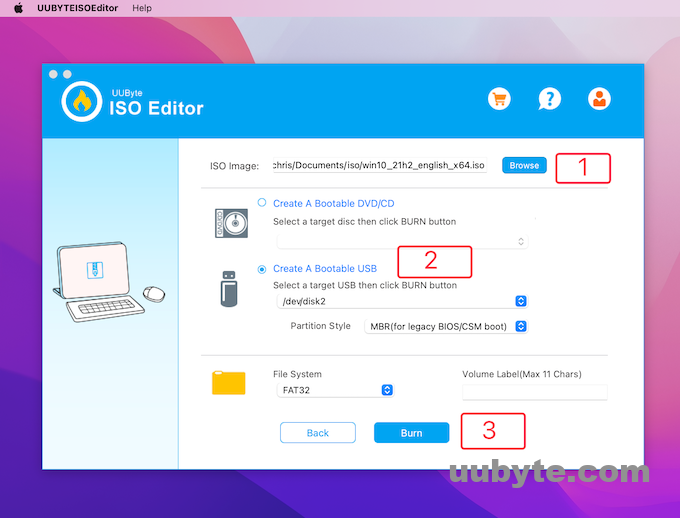 Now, choose the USB flash drive as the destination drive, and then click on the "Burn" button again to start creating Windows 10 bootable USB drive.
Once the burning process is complete, restart your Mac and hold down the Option key to enter the boot menu. Select the Windows 10 installation media (EFI Boot) from the list of bootable device.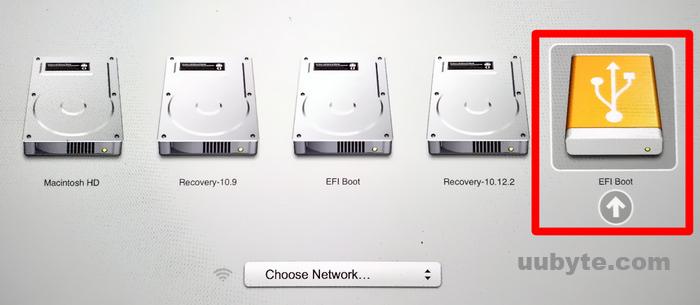 Now, follow the on-screen instructions to complete the Windows 10 installation process.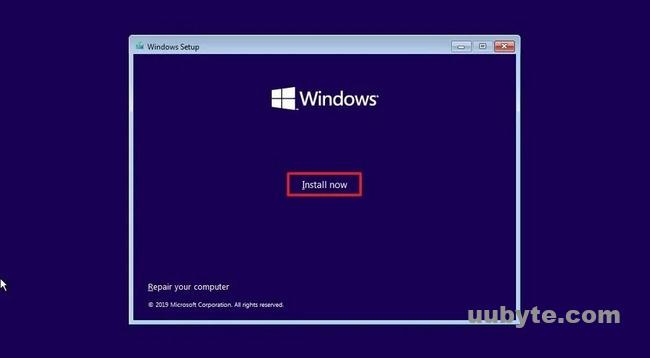 Video Tutorial: How to Install Windows 11 on Mac Without Boot Camp
Frequently Asked Questions
Is Boot Camp still available for Mac?
Yes. Bootcamp is still working on Intel Mac. However, it is removed from Apple Silicon Mac.
Can Boot Camp mess up my Mac?
Yes, using Boot Camp can potentially mess up your Mac if you don't follow the instructions carefully or if something goes wrong during the installation process. However, if you follow the instructions carefully and take precautions such as backing up your data and creating a Windows installation media, the risk of serious damage is minimal.
Can I install Windows 10 on Mac without Boot Camp?
Yes, you can install Windows 10 on a Mac without using Boot Camp by using third-party software such as UUByte ISO Editor or virtualization software such as Parallels or VMWare Fusion.
Summary
These are quite effective tricks to fix Windows 10 installation failure on Intel Mac. The first three are applied to Bootcamp app. The last suggestion is to install Windows 10 on Mac without Bootcamp. Please read the steps carefully in order to solve the problem with success.