Whether it's a mac or Windows computer, the error occurs sometimes and if you are a Mac user, then definitely you should create a bootable macOS USB installer when the Mac failed to work at that point. The solution is to use the macOS bootable USB to install a fresh OS on your Mac. So the question is how to create such a bootable disk on a Windows PC? Honestly, TransMac is a great tool for this but sometimes brings up several issues such as the USB failed to boot. In here, you will get to know about TransMac, the reasons behind the major issues, and the best alternative of TransMac for creating bootable USB from DMG file.
About TransMac
TransMac is a very popular application to access DMG volume and make bootable USB from macOS DMG file on Windows. Through this application, the users can easily create a macOS bootable USB on Windows by burning the dmg file to USB. In the past, it is the only application for thoese types of tasks and that's why it is a big name in this industry.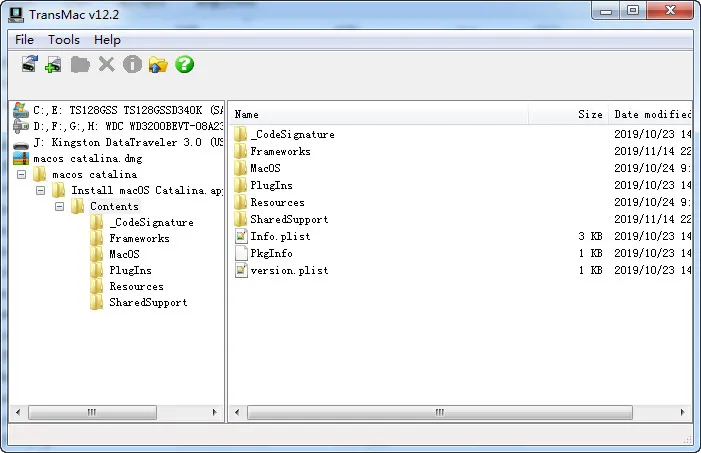 Bootable USB Not Working Created by TransMac?
Like we said above, TransMac is a great Windows tools and helped a lot of Mac users to repair their device by a clean reinstall. However, you might come across issues by your own especially on latest Windows 10 because the software has no update for a long time. The most noticable one is that the USB drive created by TransMac not bootable!
Usually, you will see the USB drive name in startup manager on Mac listed as a bootable device when trying to boot Mac from external drives. Below is an example. The volume labe "Install macOS Catalina" is the name of USB drive burned from Catalina DMG file. If the USB drive name not showing up, it means the USB drive is not working or bootable.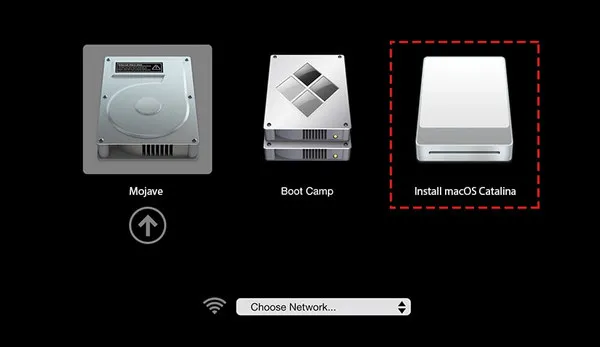 How to fix 'TransMacBootable USB Not Working' issue? First, make sure the macOS dmg file is downloaded from legal sources. Usually, the dmg file wrapped in a torrent file is not safe and the file is broken sometimes. Here is the detailed tutorial for downloading macOS Big Sur, Catalina or Mojave from legit website.
Secondly, make sure the USB drive is large than 16GB. If not, then the storage is not enough to hold all the installation files from a macOS dmg file.
Thirdly, TransMac is not trial mode. You should purchase a license ($59.95) after the free-to-try period.
From our observation, the issue should be fixed after trying out the above suggestions. If the error pops up again, then it has something wrong with the current OS or potential bugs in TransMac software.And the developers are still working on these issues to fix it asap, but till then you can't stop your work. So, there is a powerful alternative tool that can easily create macOS bootable USB on Windows, called UUByte DMG Editor.
TransMac Not Working? Give a Try on UUByte DMG Editor
UUByte DMG Editor is a great replacement of TransMac when it comes to create a macOS bootable USB. It has a much better user interface and the burning speed is faster than TransMac according to our test. Moreover, through this application, you can extract content from DMG file on Windows OS. The developers have done a great job and made the interface so simple that even a mere novice can easily perform the bootable task. Now, you must be more curious to know about the steps to make macOS bootable USB from dmg file. Here is the details.


Step 1:

Prepare for Software Installation

Download and Install UUByte DMG Editor on your Windows computer and for your convenience, the official link is listed above that will help you to get the install file effectively.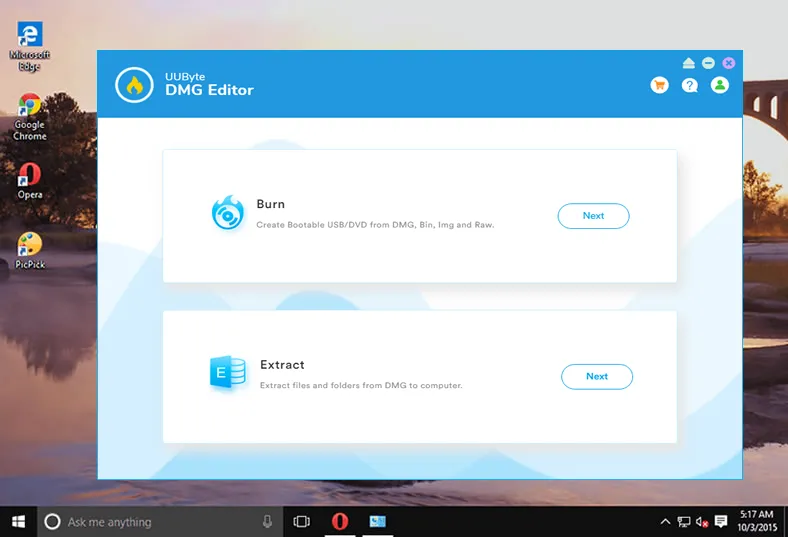 Step 2:

Connect USB and Import DMG File

Once the installation has been done, launch the application and insert an USB drive into the same computer. On the home page of UUByte DMG Editor, you will get the 'Burn' button, click on it.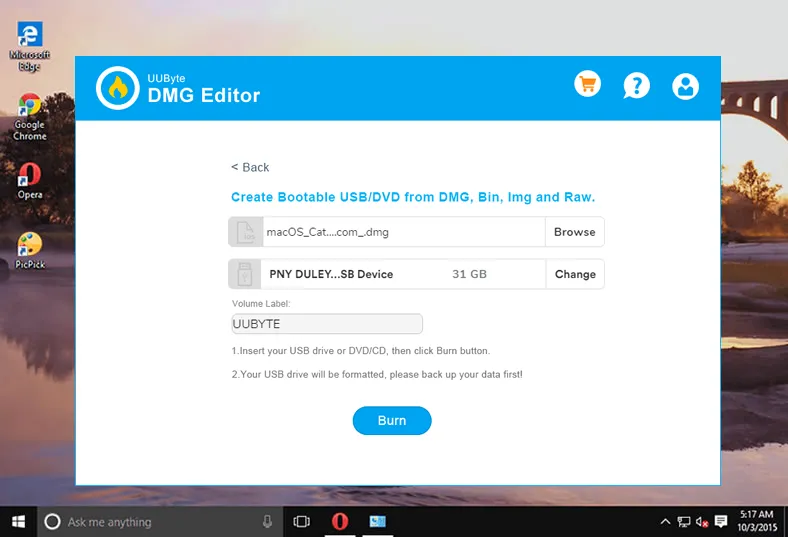 Step 3:

Settings

Soon, a new window will open and click on the 'Browse' button to load the DMG file stored on this computer. Next to the Browse button, you will find your USB drive and the respected volume label where your USB drive is located.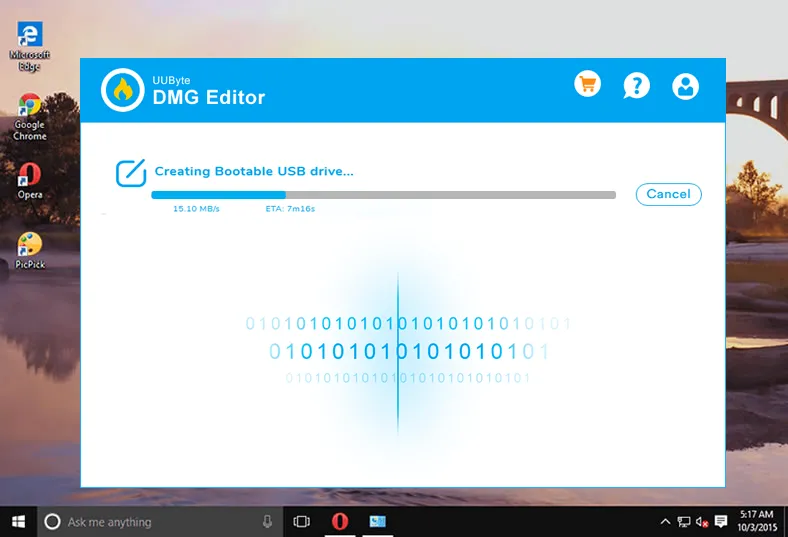 Step 4:

Use Bootable USB Drive

Ensure that the dmg file path is correct and further click on the 'Burn; button. Thereafter, the burning process will start and the progress bar will show the status of the process. The burning process will take a few minutes and once it is completed, you will get a successful message on your computer screen. Now, eject the USB and insert it on your Mac to install the OS from USB drive created by UUByte DMG Editor.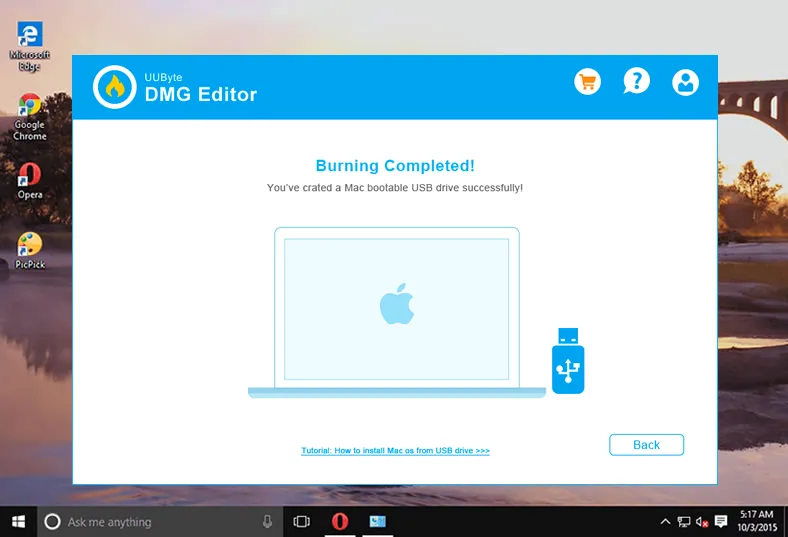 As you can see the steps are so simple and most of the task is performed by UUByte DMG Editor and the only tricky part is to download the DMG file in advance. This application reduces the human effort and stress and gives the utmost result in a short period.


Summary
TransMac is a nice tool to make bootable USB from macOS DMG file on Windows PC. But there are many flaws in TransMac as mentioned above. If the bootable USB not working and this issue could not be fixed, then you can go with UUByte DMG Editor as it has higher success rate and much easy to use. Through this tool, you can save your time and energy.