macOS Ventura (macOS 13) is the nineteenth of Apple's desktop operating system designed for all Mac devices. It has gone through the beta and finally to the first stable release of macOS Ventura (13.0) on October 24, 2022. A lot of compatible devices received the notification for upgrade. If you decide to clean install macOS Ventura on your Mac, don't forget to check out the method we shared in this tutorial.
Before diving into the steps, there are a couple of questions that needs to be clarified as a lot of users have doubts for them. If you don't care about it and want to get started immediately, please move to the tutorial sections now.
Direct Upgrade vs Clean Install
Generally, there are different ways to install macOS Ventura on a Mac. The most popular one is direct upgrade, which needs to download macOS Ventura Install app from Mac App Store and follow the instructions to upgrade macOS to the latest Ventura. This is the safest and easiest way for macOS installation. However, you could encounter the error like the following, even the device meets the system requirements of macOS Ventura: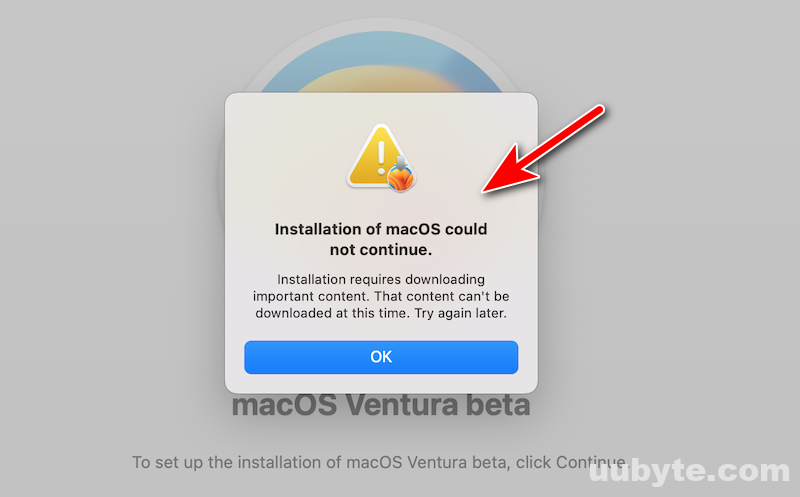 The second way is for clean install. It completes erase the current disk and install a new copy of macOS from a bootable USB drive. If the direct upgrade failed, then a clean install is more preferable to try out.
Benefits of Clean Install:
100% clean install
Fix potential system issues and bugs
Higher success rate if the device is supported by Ventura
Much faster than direct upgrade
Ventura Compatible Mac Models
Simply put, not all Macs are eligible to run macOS Ventura. Your Mac should meet the minimal system requirements of Ventura, the latest version of macOS. Before clean installing macOS Ventura on your Mac, make sure your device is among the support list.
MacBook Air (2018 and later)
MacBook (2017 and later)
MacBook Pro (2017 and later)
Mac Mini (2018 and later)
Mac Pro (2019 and later)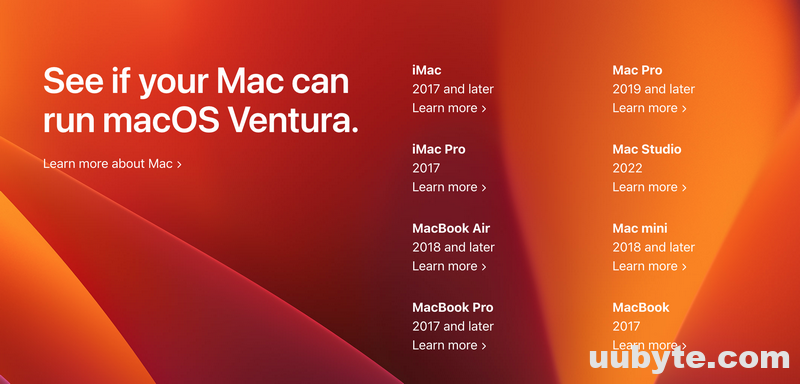 P.S. If your Mac is not compatible with Ventura and you still want to run macOS Ventura on it, please follow this guide to install Ventura on unsupported Mac.
How to identify your Mac model? Click the apple icon at the upper-left corner. And select the About This Mac menu. From the pop-up screen, you can see the current running macOS and the device mode.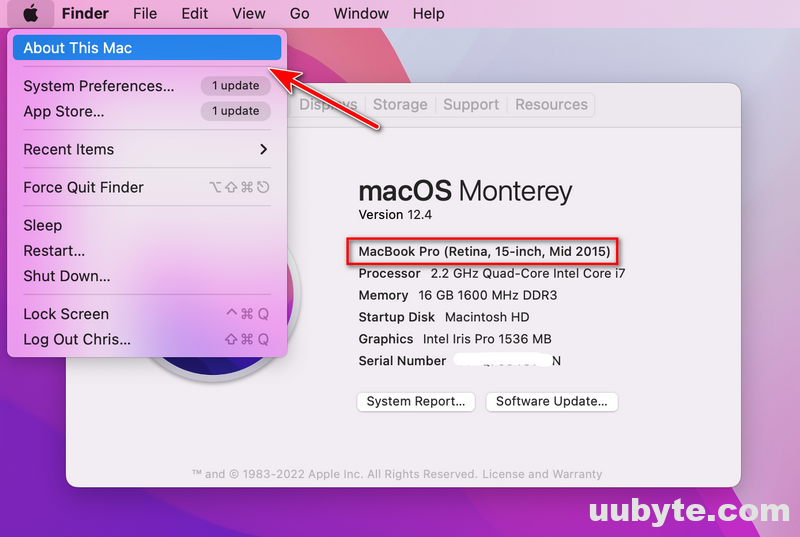 Can I Clean Install macOS Ventura from Internet (Recovery Mode)?
macOS Recovery (formerly macOS Internet Recovery) is the built-in system recovery environment on any Mac. It provides a couple of helpful features to troubleshoot your Mac, including:
Restore from Time Machine
Reinstall macOS for installing a new copy of macOS
Safari for web browsing
Disk Utility for repairing or erase a disk
The Reinstall macOS feature is intended to download macOS from Internet and install it on your Mac without erasing the drive and personal data. This sounds great, right? The problem is that it only reinstalls a macOS version when this Mac is shipped.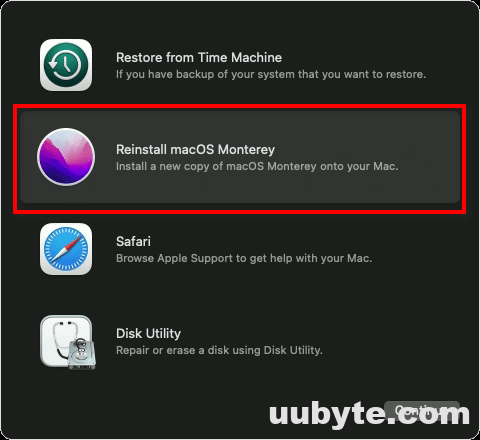 For example, your Mac comes with Monterey when you get the device. Reinstall macOS will only download and install the latest version of Monterey on this Mac! Do you understand how it works now?
Now go back to the original question. Yes, you can install macOS Ventura from Internet only if your Mac is currently running macOS Ventura or Ventura Beta.
Can I Use "Erase all Content and Settings" to Clean Install macOS Ventura?
No. Erase All Content and Settings is a similar feature in iOS, which is available all Apple Silicon Macs running Monterey or later. It deletes all user data and settings on your Mac but it doesn't touch the OS layer. It is more like a factory reset. After erasing, it will run the current macOS instead of reinstalling a new one.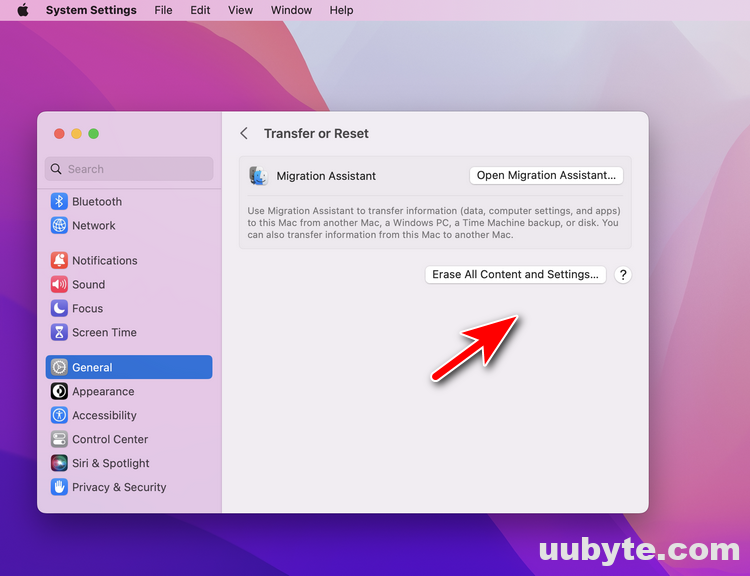 The Only Way to Clean Install macOS Ventura on Mac
After trying out all the possible methods (easy one first), we found out the only possible way to clean install macOS Ventura is via a bootable USB drive. It will be more complex than direct upgrade or Internet reinstall. But this is the only way left.
Step 1: Backup your Mac
Clean install will remove all contents and settings on this Mac. It is a very dangerous activity so back up all important data on your Mac. You can do this with the help of iCloud, Time Machine or third-party backup software. This is the vital step you should never missing.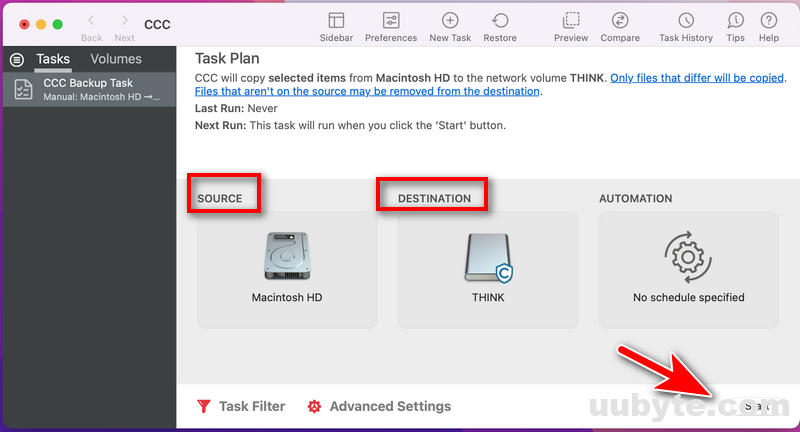 Step 2: Create a bootable USB installer for Ventura
One you have a backup of your Mac, the next step is to make a bootable USB for Ventura installation. You can do with text commands, which is totally free but you have to get involved with commands. The other way is using a GUI app such as DMG Editor.
Method 1: Text Command (Terminal)
To create a bootable Ventura USB with commands, the first step is download macOS Ventura install app from Mac App Store:
https://apps.apple.com/us/app/macos-ventura/id1638787999?mt=12
Once the download is completed, Install macOS Ventura app will be shown in the Application folder.

Now, connect a USB to Mac and get the volume name with the following command:
ls /Volumes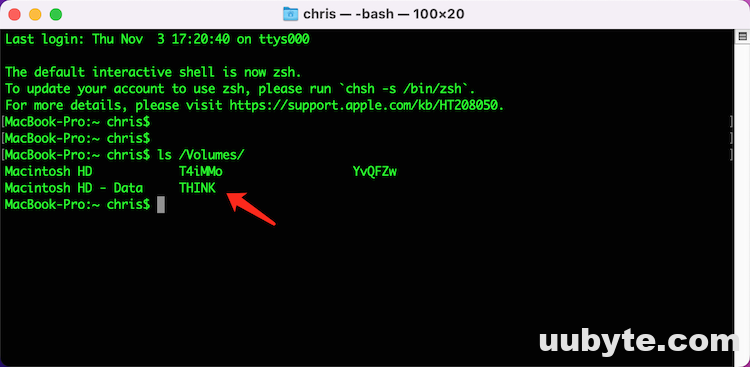 In my example, the volume name of my USB drive is THINK.
Finally, input the following command to create a bootable installer for Ventura.
sudo /Applications/Install\ macOS\ Ventura.app/Contents/Resources/createinstallmedia –volume /Volumes/THINK/
Input the login password to grant the permission to createinstallmedia command. After that, it starts to make this disk bootable for Ventura installation.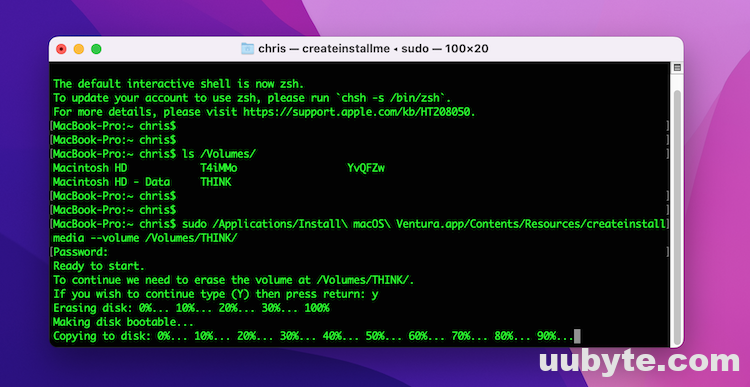 It took approximately 3 minutes to create a bootable macOS Ventura bootable USB.

Method 2: GUI APP (DMG Editor)
Text commands are not friendly for most of the users. The second method is using a GUI app that is more comfortable to work with.
First, download macOS Ventura DMG file from this page:
https://www.uubyte.com/download-macos-ventura-dmg-file.html
Second, download UUByte DMG Editor and connect a USB to Mac.
Finally, import dmg file and start burning dmg to USB. After that, you will get a bootable Ventura USB for installation.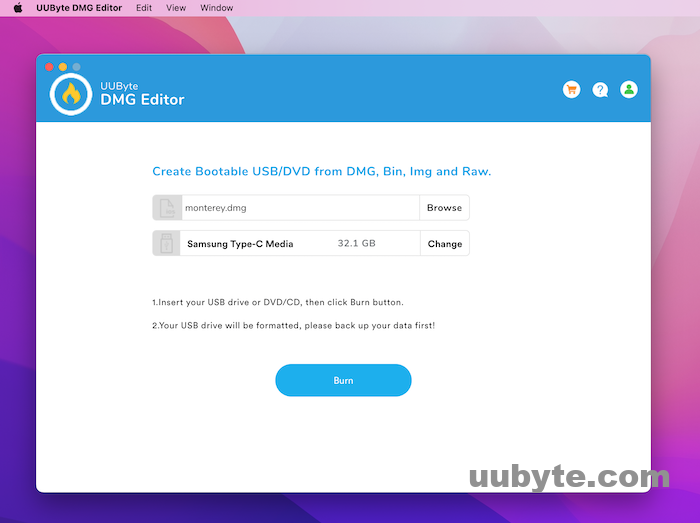 Step 3: Erase Current Disk in Recovery Mode (Optional)
This step is not mandatory. However, it does help when the installation failed due to unknown error. Please boot your Mac into macOS recovery and erase the drive with APFS with GUID Partition Map by using the Disk Utility. After that, boot your Mac from USB and start the installation again.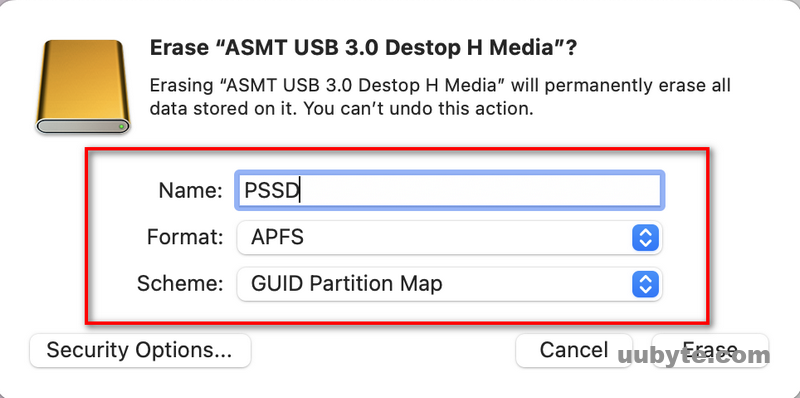 Step 4: Boot Mac from USB
Connect the bootable USB to Mac and try to boot from it. For Intel powered Macs, please reboot your Mac and hold the Option key until you see the drive name of Install macOS Ventura.
For Apple Silicon Macs, you need to power off the Mac. Then long press the Power key to load the startup Options menu. After that, select the bootable drive (Install macOS Ventura) to start installing macOS Ventura.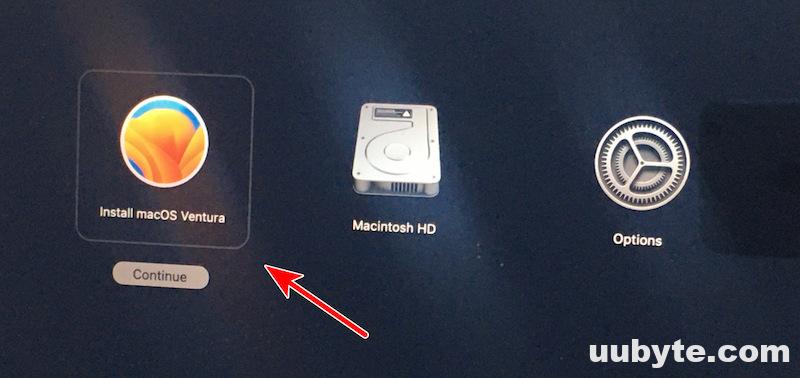 Step 5: Clean Install Ventura from bootable USB
Wait a couple of minutes to let the Ventura installation wizard check the hardware and download all necessary software. When it completes, pick up the internal hard drive (Macintosh HD) as the destination to install macOS Ventura.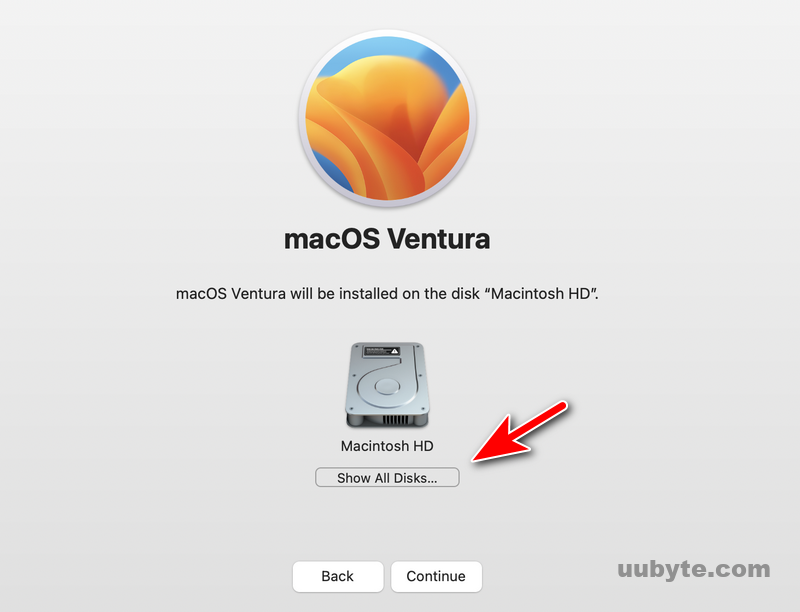 After that, you have to wait for the task to be done by checking the progress bar. Once the installation is done, your Mac will reboot. Next, follow the instructions to finish the setup. Now, your Mac is running macOS Ventura.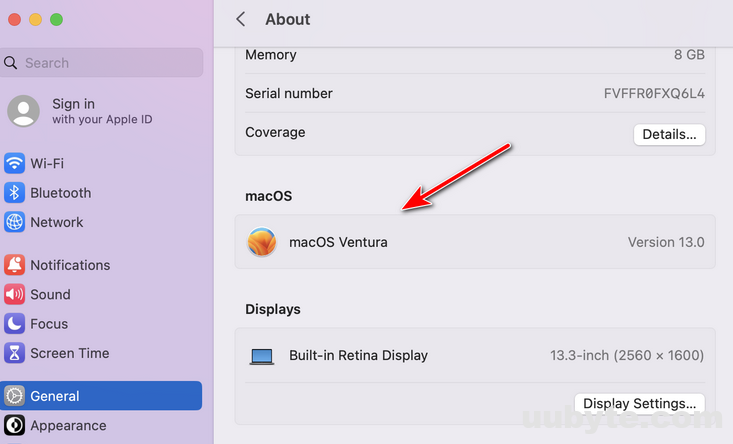 Video Step-By-Step: How to Clean Install macOS Ventura on your Mac
Frequently Asked Question about Ventura Clean Install
What is the latest version of macOS Ventura?
From the time we are writing this post (November 3, 2022), the latest version of macOS Ventura is 13.1 Beta. The stable version is 13.0.
Does clean install delete user data?
Yes. Clean install will wipe the drive and delete user data & apps as well.
Can I Install macOS Ventura on a USB Drive?
No. USB drive is not eligible to run macOS Ventura. You should go with a portable SSD or HDD instead.
Where to download macOS Install app?
The first place you can get is Mac App Store. If not, you can use third-party app to download macOS Ventura, such as MDS, Mist or gibMacOS
Summary
Clean install could very helpful to run a brand new macOS on your Mac, especially the latest macOS Ventura. However,  clean install macOS Ventura might not be an easy task as you might think. You should be very careful with each step and most importantly take a backup of your Mac before the installation starts.