At the WWDC 2022 event, Apple introduced the new iOS 16, Watch OS 9, iPadOS 16, and macOS Ventura. This year, the company focused on improving connectivity and integration of activities between iPhone, Mac and iPad after introducing the Universal Control feature for macOS 12.
Exciting New Features of macOS Ventura
With the update of the Handoff feature and if the iPhone or iPad is close to the Mac, users can transfer the existing call from the iPhone or iPad to their MacBook with just one click.
Another big change in this new version of macOS was that users can turn their iPhone into a webcam for MacBook. The way this feature works is wireless, and most importantly, it supports all programs such as ZOOM. And is not only limited to the FaceTime; In addition, it has portrait mode and Studio Light effects too.
The Safari browser has benefited from Tab Shared Groups and other updates that allow Mac users to watch videos on the web with minimal energy consumption. Users can even create a shared start page so everyone can access their list of favorite websites.
In the macOS Ventura update, Apple's Mail software comes with the biggest changes of the last few years. Currently, Apple's email program has options such as canceling email sending or scheduling emails and such features.
Spotlight (Mac search engine) can now search for images using Live Text, location, and even people or objects! Also, in the new macOS, there is a "Stage Manager" so that users who have many windows open on their screen can easily focus on any tab they want and click to search among those windows.
Other new features of macOS Ventura include new built-in apps such as clock, weather, system settings, and more privacy and security improvements.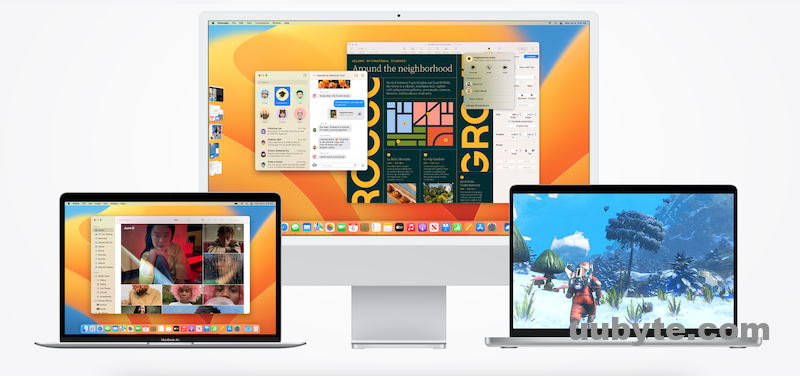 Benefits for Upgrading to Ventura
If you are tired of using the same interface of Apple for over a decade, perhaps you might consider right now to upgrade to macOS Ventura. I admit that from outside there are little bit changes to the operating system but apparently the whole interface of the macOS Ventura has been changed. The system preferences have entirely a new settings and new look to it. The important new features are also included into the new operating system which many users hoped for many times earlier.
Some of the new features can increase the productivity on your Mac, for example is stage manager, the continuity application which can work around the iPhone and turns your iPhone into a webcam.
Official Supported List of Mac Ventura
iMac 2017 and later.
iMac Pro 2017
MacBook Air 2018 and later
MacBook Pro 2017 and later
Mac Pro 2019 and Later
Mac Studio 2022
Mac Mini 2018 and later
MacBook 2017 and later
Unsupported Macs That Able to Run Ventura
According to forums.macrumors.com, currently these are the unofficial macs that can support macOS Ventura.
Note: The below lists are the model of the macs that are listed in the OpenCore and available on Apple's website. For instance, MacMini4,1 is the Mac mini (Mid 2010). And I found it on Apple's website.
iMac 14,1 (21.5″)
iMac 14,3 (21.5″)
MacPro3,1
MacPro5,1
MacPro4,1
MacMini4,1
MacMini5,1
MacBookAir4,2 (13″)
MacBookAir7,x
MacBook6,1
MacBook7,1
MacBook8,1 (12″)
MacBookPro5,1 (15″)
MacBookPro6,1 (17″)
MacBookPro7,1 (13″)
MacBookPro8,2 (15″)
MacBookPro8,3 (17″)
MacBookPro9,2
MacBookPro11,x
How to Install Ventura on Unsupported Macs
There are many workarounds for installing macOS Ventura on unsupported Macs. Using OpenCore Boot Manager, you can easily install Mac OS Ventura on some older Mac models. In this step, you will learn the step-by-step to Install macOS Ventura on unsupported mac.
Step 1. Download macOS Ventura
The first step is to get the installation file of macOS Ventura. There are a couple of methods that you can use to download macOS Ventura's latest version.
If you signed in with Apple Developer Program, then you can download the latest developer beta from Apple Developer website.
If you did not have an Apple Developer account, then you can get Ventura beta download links directly from Mr. Macintosh. The file is around 11 GB so it takes sometime to download it.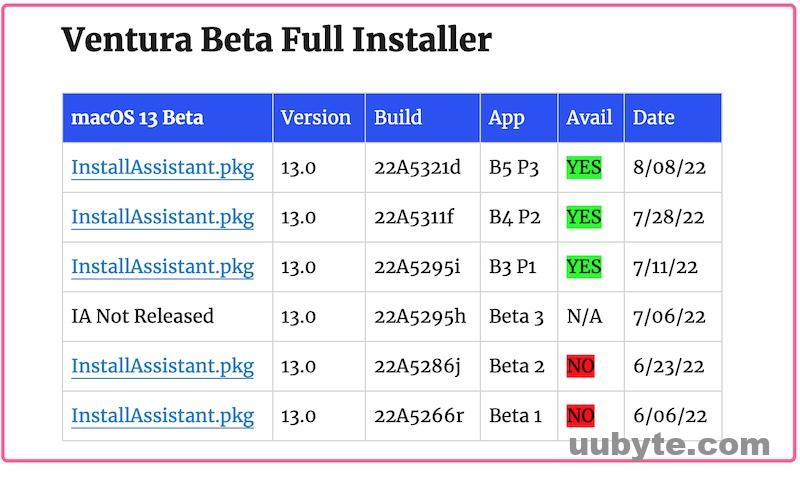 The last way you can try out is using gibMacOS download tool, a python powered script to download various macOS versions on your Mac a PC. Simple download the project from Github and unpack the zip file. From here, run the .command or .bat script to open the program. After that, change the default option to developer and you will see macOS Ventura download option on the main screen.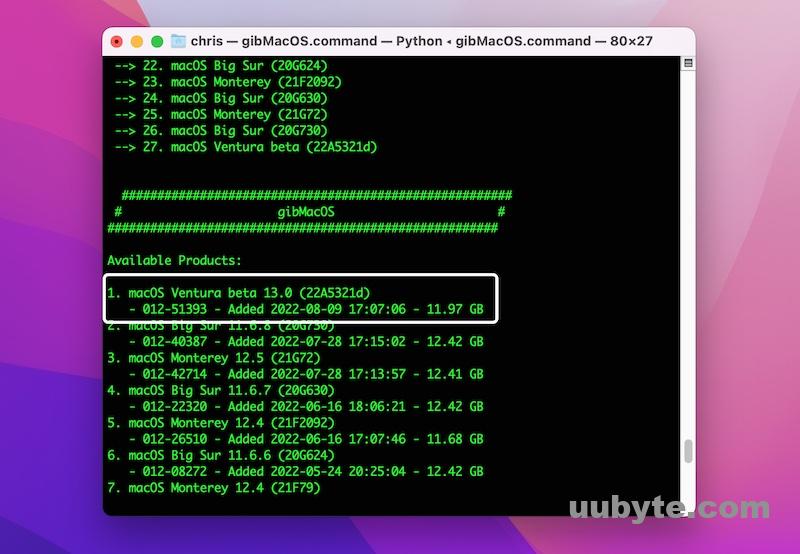 Step 2. Create a macOS Ventura bootable USB
Get the opencore legacy patcher from Github right now.
On the Mac that you want to install macOS Ventura, click on the apple logo click about this Mac. Then note down your system model (Just in case we need it).
Attach the USB to the computer.
Launch the opencore.
Click Create macOS Installer.
Choose Use an Existing macOS Installer.
Choose Install macOS 13 Beta.
Select the USB. Right now, it is going to format the USB, then it will copy the macOS Ventura installer into it. (It will take up to 30 minutes)
After creating the macOS Ventura Bootable Installer, return to the main menu to configure the EFI Disk.
Step 3. Install OpenCore EFI Disk
On the main menu of OpenCore, click on the Settings.
Under the SMBIOS Spoof model, select a MacBook which can support the macOS Ventura.
After configuring the model, click on Generate S/N.
Go back to the main menu again and it is time to build and install opencore on USB. Click on the Build and Install opencore.
Click on Build Opencore.
Click on Install to Disk.
Select the USB to Install it there.
You may have to enter your password, and then reboot your system.
Step 4. Boot macOS Ventura and Install
Once the mac restarts, hold the option key on the keyboard.
Select the EFI boot.
Choose macOS 13.
Select a user that you know it's password.
Then choose Install macOS 13 Beta.
Click continue, agree to the terms and finally select the drive and wait until the installation is complete.
Frequently Asked Questions:
Can Intel mac run macOS Ventura?
There is a certain list that can run macOS Ventura even if your processor is Intel. Apple has officially provided those lists but in General Macs from 2017 forward can support it.
Can Legacy macs run macOS Ventura?
The answer is no because the of the motherboard. In simple terms machines without AVX2 can't run macOS Ventura.
Can I upgrade my unsupported mac to macOS Ventura?
Officially, you can not upgrade unless you use the opencore and learn which settings to configure that can bypass that limitation.
Can I download macOS Ventura on Unsupported Mac?
Obviously yes, you can use the public beta since it is not released, you can use the open-source community tools such GibmacOS, Opencore and finally you can get it from Mrmacintosh.com.
Can Windows Machines run macOS Ventura?
Directly no, unless your make a Hackintosh which is compatible to run macOS Ventura. Even the opencore community has a separate created guides that can be used to run macOS Ventura.