macOS 10.15, code name for Catalina, is the latest operating system shipped for Mac desktop and laptops. And it is the right time to create a bootable USB install USB based on Catalina becasue the signing certificates for old version of macOS and OS X are expired soon. It means only macOS Catalina is available for future macOS install. So before the Mac goes into trouble or just want to install a fresh copy of Catalina, it is highly recommend making a bootable USB installer right now!
Looking for make a bootable USB installer for macOS Catalina for your Mac device but don't know how? Well, this article will guide you straight away with all the preparatory tips and steps to create a bootable macOS Catalina USB install drive in minutes.
Part 1: Preparation for Making a Bootable macOS Catalina Install USB
Before we get started for creating bootable macOS Catalina install USB, there are a few things we should pay attention to. This will avaoid the portential issue within the installation process.
1. An accessible Mac computer where you can download and make the bootable installation drive.
2. An USB drive with a minimum storage capacity of 16 GB. Also, it should be formatted to APFS.
3. Make sure there are enough free space on Mac. The Installer file is over 8G.
Part 2: Download a Copy of Bootable macOS Catalina Installer
There are two ways to download macOS Catalina 10.15. The most common way is via Mac App Store or you can use the third-party apps, which is a good alternative if the operation could not completed successful in App store. This happens a lot at least on my MacBook Pro.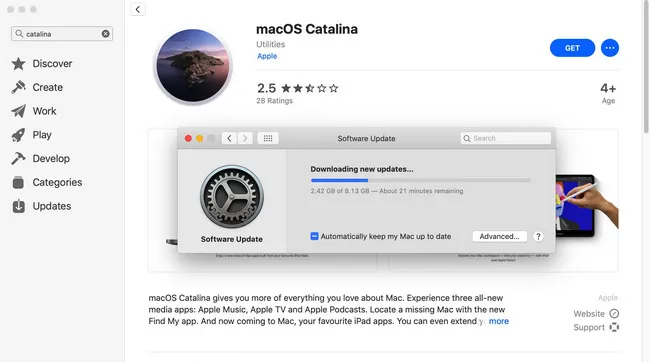 Step 1: Open App Store on Mac and type "Catalina" in search bar.
Step 2: The macOS Catalina install app appears in search result and click "Get" button. Now the Software Update interface shows up, asking if you want to download macOS Catalina.
Step 3: Confirm the operation and the system starts to download macOS Catalina Installer. Now wait for the task to be completed. You will find the an app named Install macOS Catalina in Application folder. That's the file for OS installation.
Part 3: Create Bootable macOS Catalina USB Using DMG Editor
If you have download macOS Catalina DMG file, then UUByte DMG Editor is the only tool you can find to make a macOS bootable USB from DMG disk image. However, if you downlaoded the Catalina install app from App store, please skip this part and read the following recommendations.


Step 1: Click above button to download a copy of UUByte DMG Editor.
Step 2: Install the app on a Windows PC or Mac and insert an USB drive into the computer.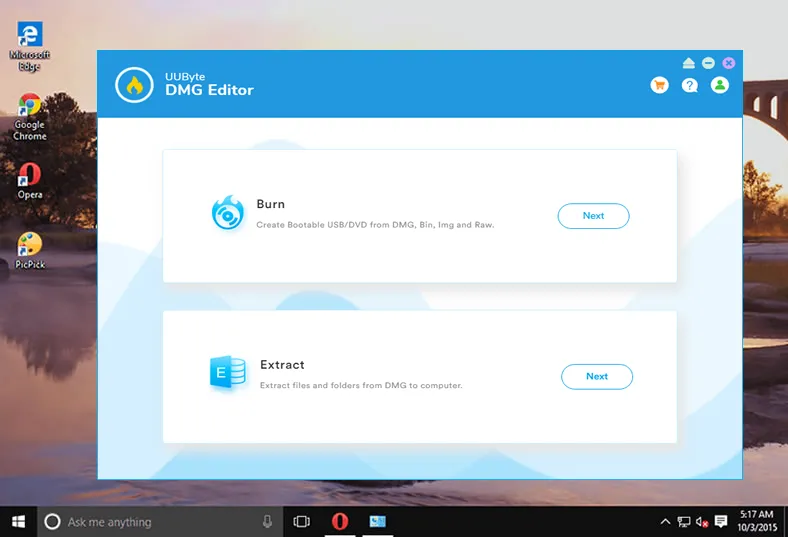 Step 3: There are three options you can see from the main window. Click 'Burn' button in this step for creating bootable USB.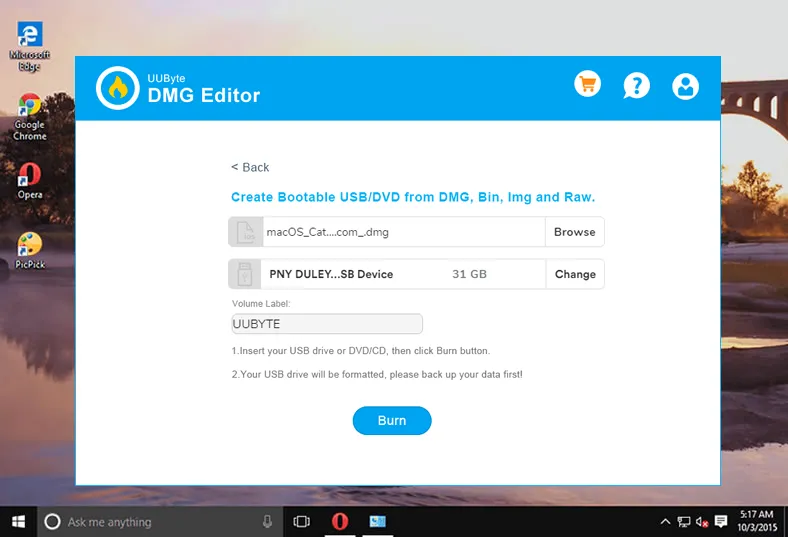 Step 4: Click 'Browse' button to import the macOS Catalina dmg file into DMG Editor and select the correct USB drive, where the dmg file will be copied to. Now, click 'Burn' button to initial the task.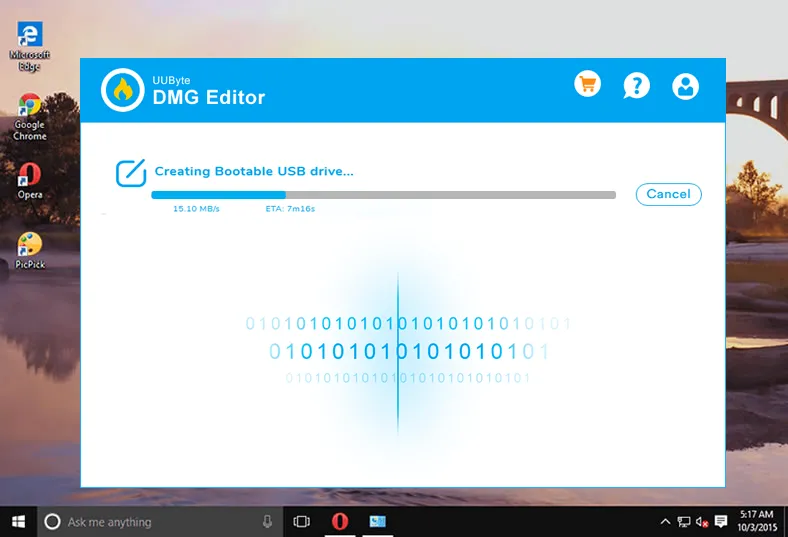 Step 5: There is a progress bard associated to this process and you can see the estimated time. Wait untile you get 'burning completely' message. This means the burning process is finished successfully and the USB is now bootable!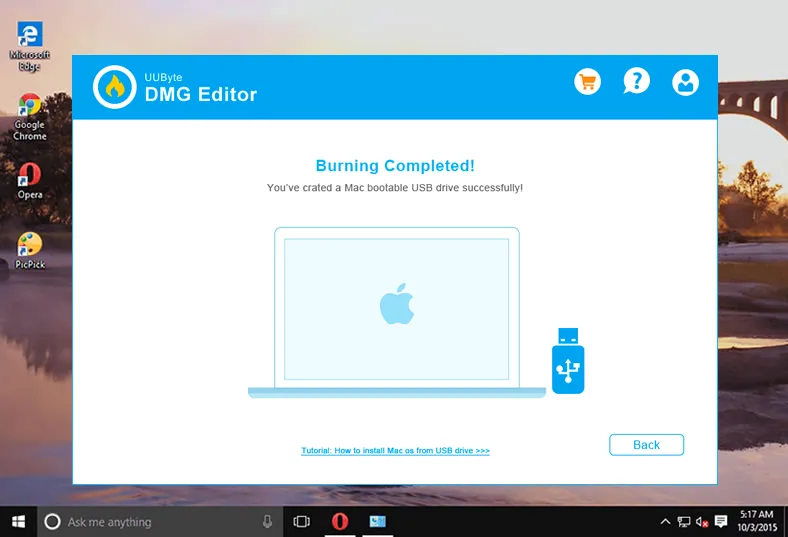 Eject the USB drive from Mac and insert it to the device where macOS needs to be installed. And follow the instructions to install macOS when the installation wizard is loaded.


Part 4: Create Bootable macOS Catalina USB Using Install Disk Creator
When you get the macOS 10.15 Catalina install file, the next move is to burn the file to USB. However, it is not a single copy-paste. The bootable information should be written to USB at the same time. So you must use third-party apps to get it done. At here, we are using Install Disk Creator, one of the best GUI programs to make a bootable USB from macOS.
Step 1: Click this link to download Install Disk Creator.
Step 2: Unzip the file on Mac and drag the app icon to Application folder. Open the app from Launchpad and insert an USB drive into Mac.
Step 3: From the app interface, click the USB drive name you just installed and add macOS Catalina Install App file in Application folder. Then click "Create Installer" to write boot information and copy installation files to USB.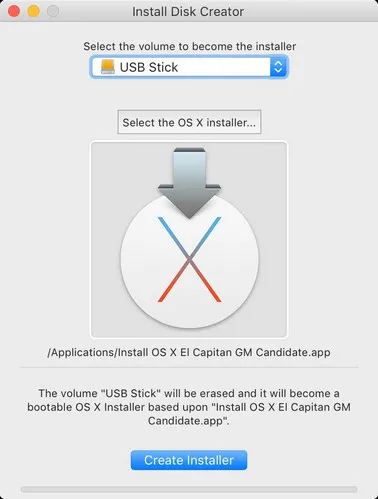 Part 5: Create Bootable macOS Catalina Install USB via Patcher App
You might get this error when trying to download macOS Catalina from App Store. And that's why we need to use third-party apps to replace Mac App Store.

macOS Catalina Patcher is a great utility for creating USB flash drive installer for Mac devices that don't support macOS Catalina. The Patcher tool is available with several new updates and features. However, these updates are not applicable for all the Mac users to upgrade their devices to the latest desktop iOS version. This tool is used for the unofficial installation of macOS Catalina on Macs that wouldn't normally support an upgrade to Catalina.
Step 1: Connect the USB to Mac and format it to OS X Extended with Disk Utility app.
Step 2: Download the latest version of macOS Catalina Patcher. Go to Tools and click 'Download a Copy' to download the installer app.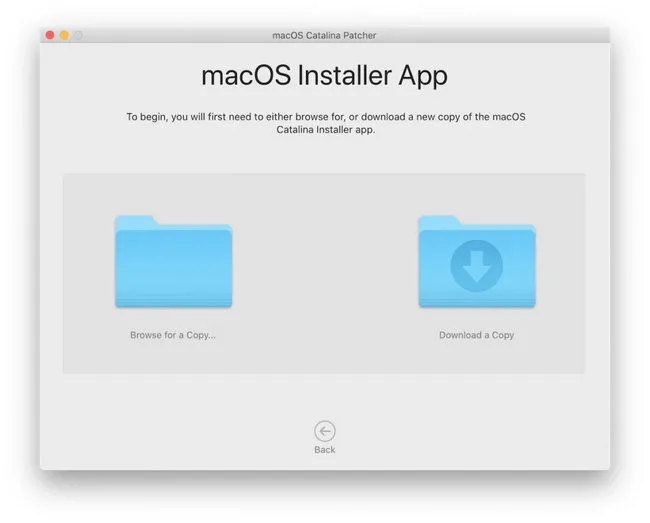 Step 3: It will take some while to complete the download as its size is around 8GB. When the download is finished, open macOS Catalina Patcher app and click "Browse a copy" option to add the downloaded installer file (Install macOS Catalina) in Application folder. Then choose the target USB drive and start the copying installation files to USB.
Step 4: Reboot Mac and hold on to the Option button. Startup Manager will appear on the screen. Nowm use the arrow keys to choose the bootable USB flash drive and click on Return.
Step 5: Open Disk Utility app and format the hard drive to APFS. From the Install macOS screen, select the hard drive on Mac to install the OS.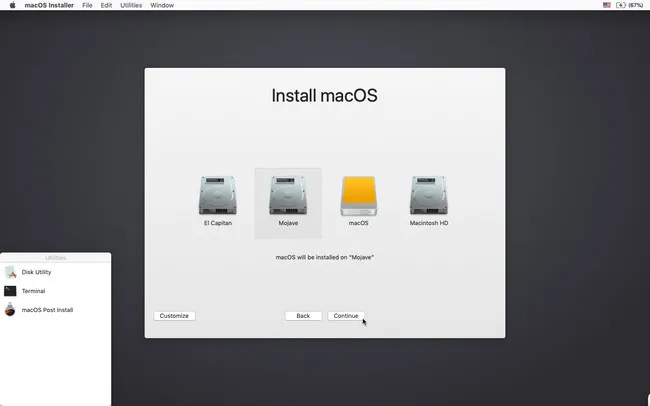 Step 6: As the installation process is done, shut down the Mac, and reboot back to the install USB drive. This is to ensure post-install patches on that device so that Catalina supports the system.

Step 7: Returning to macOS Recovery environment, hit 'macOS Post Install'. The installer will automatically choose all the accurate patches needed for your device, by default. Then hit Apply Patches and let the process complete. and allow the process to complete. After applying the patches, choose 'Force Cache Rebuild' and hit Restart. Now your device will reboot, where you can easily start the macOS Catalina installation.
Part 6: Make Bootable macOS Catalina Install USB Using Terminal
Another choice to create a bootable macOS USB is through Terminal app. It is completely free and there is no need to install addition apps. However, it takes more time to figure out how it works.
Step 1: Download a copy of macOS Catalina according to the above section.
Step 2: Head to Applications folder. Then right-click on the macOS Catalina Install app icon and pick Show Package Contents. Access Contents and go to Resources folder.
Step 3: Open Terminal app and enter "sudo" command.
Step 4: Drag the createinstallmedia to Terminal window through the Finder location as shown in Step 4.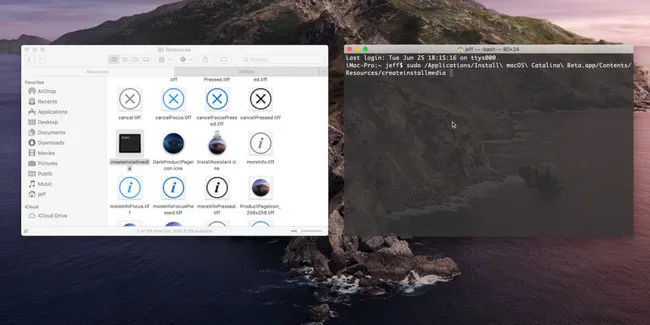 Step 5: Type "volume" and put a space. Head over to Finder -> Go -> Go to Folder, enter "/Volumes" and hit Go.
Step 6: Insert the USB drive to the Mac device, which will then be displayed in Finder window.
Step 7: Fetch the volume of the flash drive to Terminal with a drag-and-drop. Hit Return from keyboard to give in the entire command. Then type your password when notified.
Step 8: When prompted, enter 'y' to proceed followed by hitting return from the keyboard. Now the installation erases all content on USB and the installer files will then be copied to the drive. The process will only take a little while to complete.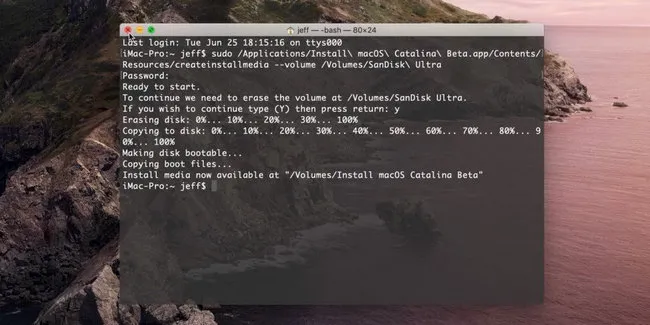 Summary
Hopefully, both the tips were helpful in guiding you on how to make bootable macOS Catalina on Mac. However, it is best to go with macOS Catalina Patcher app if your Mac device is compatible with Catalina 101.15 version and only needs a bootable USB drive to install the OS.