Office software is one of the important apps if you were using a computer. Office suite is ideally included Word Processor, Spreadsheet and PowerPoint, which are an essential part of personal amd professional environment. Currently, Microsoft Office is most popular but ih becomes more expensive in recent years. You have to pay at least $69.99 per year for a single license on Mac. And a lot of people can not afford. Is there any free Microsoft Office alternative on Mac?
The Office software can be very expensive depending on what type of package you opt for. Thankfully, Mac users have a lot of free options, as do Windows users. This article talks about different kinds of free office software that you can get for your Mac.
G Suite - Free Online Collaborating Office Suite for Docs/Sheets/Slides
G Suite is an online collaborating service developed by Google for business people . It includes Gmail, Drive, Docs, Sheets and much more. This online service works almost the same as using Office on Mac. The layout and navigation are similiar to Microsoft Office so there is no trouble at all when moving from Office to G Suite. In addition, you can easily import Microsoft Office file into G Suite and edit them free. After editing, it is also easy to export the file into Office compatible formats. If you were a heavy use of Google service, then G Suite is the best Office suite if you are working on a Mac.
Most importantly, the first 15GB of storage is free, which should be good enough to handle your needs if you have a relatively small set up. Moreover, if you need space and you're running out, you can simply get rid of the old stuff or archive it in a different platform by exporting the data. If you want admin control over the users, you can upgrade to a business account and manage things from there.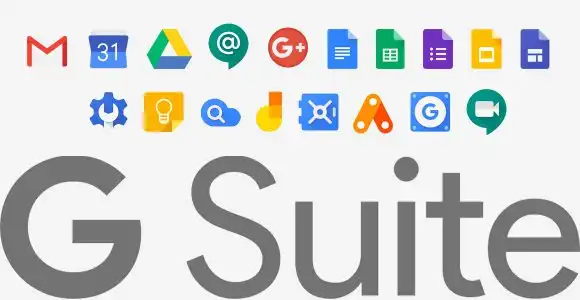 One big advantage is that Google doesn't count certain types of data towards your limit. Only files and folders that you directly upload to Drive are counted. Unfortunately, your Gmail attachments are also included in the quota reckoning, but you can easily bypass this by archiving older emails that you don't need anymore. Be warned, though, that even trashed items count towards your limit until they're purged after 30 days, so make sure you empty your trash regularly to get the most free space possible.
Another advantage of using Google software is that it works great with Office files like Word, Excel and PowerPoint. When you upload these file types to a Drive location, you can open them by converting them into the equivalent format for Google's products. When you're done working on them, just export them back as their original format and you're good to go. You may occasionally run across glitches with images, alignment and so on, but that's quite rare.
iWork - The Default Office Suite Brought by Apple
What you need is already in your hands. Apple has developed a robust suite of office tools that come included in every Mac, and it's called iWork, including Pages (Word), Numbers (Excel) and Keynote (Powerpoint). Even if you don't have something you need, you can quickly download it from the Mac App Store and install it on your Mac free of cost. There are replacements for everything from Outlook to PowerPoint and even OneDrive. You can store your data on iCloud, use the Mail app for emails, do presentations on Keynote, and so on.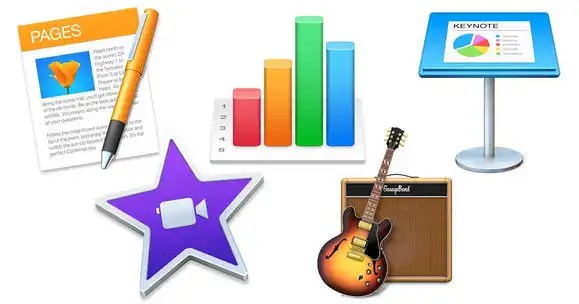 The only challenge - and this is only if you're a regular Windows user - is that the layout and navigation are quite different from MS Office products. However, once you get the hang of it, it's really easy to use these tools because they're so well-integrated with the macOS environment and across Apple's software line-up.
Another major advantage of using native Mac apps for office productivity is that there are equivalent apps on iOS and iPadOS. That means you can create something in iCloud and then access it on the same apps across different devices like iPhone, iPad and even iPod Touch. This cross-device integration is one of the most attractive features of this suite of office apps from Apple.
WPS for Mac - Office App Built-with Modern UI
WPS is one of the best free alternatives to Microsoft Office on Windows platform. I have been using it for years and feel quite good about it. Recently, WPS for Mac was released in 2019 and quickly become the hottest Office app on Mac. Most importantly, this app is totally free and built with modern UI. After installation, you will find out it is all-in-one office app that includes Document, Spreedsheets, Presentation, Flow Chart and Mind Map. As you can see, it is more than an Office app now. For previous Microsoft Office user, there is no hurdle to swithc to WPS as the UI and layout are almost the same.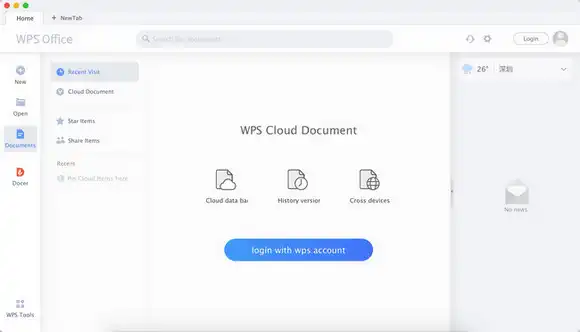 However, there are two things I am not satisfied with WPS for Mac. First, there are some Chinese text appearing on the interface as Internation version is still in development. This will not impact the operation but it doesn't look good (mixed English with Chinese). Another things is that it consistantly asks uses to sign in WPS account. However, you have to either use cell phone or wechat account to open a WPS account. Despite the two worries, the rest are quite impressive as an free Mac app.
LibreOffice - Totally Free and Cross-Platform Office Suite
LibreOffice is a great open source utility that gives you a lot of the functionality that MS Office tools offer. Currently, it works on Windows, Mac and Linux. As a matter of fact, it is considered by many to be the de facto alternative to Microsoft Office. Although used primarily by Linux users and those looking for free alternatives to Windows applications, LibreOffice is a great addition to your Mac apps portfolio.
LibreOffice comes with a powerful suite containing a word processor, a spreadsheet, presentation and database applications, and even formula-editing and drawing tools. It is fully compatible with Office file formats like .doc and .xls, but it also supports the more modern ODF, or Open Document Format. The best part is that you can export everything as PDF just like you can do in Office.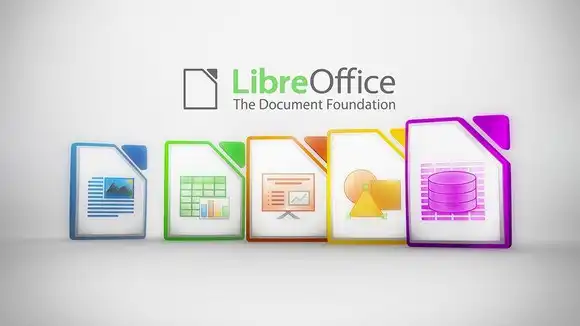 LibreOffice for Mac is currently available as version 6.2.4, and can be downloaded as an entire package of applications. Installation is super-easy, and once you're up and running it'll take you very little time to get used to the intuitive layout and controls. In fact, it's very similar to the older Windows design so if you've used Windows 7 and older versions before, the interface will definitely appeal to you.
Polaris Office - Great Free Microsoft Office for Mac
Polaris Office is another popular office utilities suite that is used by huge companies like Samsung and Amazon. The data is hosted on the cloud through an account that you need to set up, but the advantage of that is that once it is synced across devices, you can pick up whereever you left off without having to worry about things like versioning or your edits not appearing on a different device. What makes the product even more appealing is that there are versions for Android, iOS and even Windows.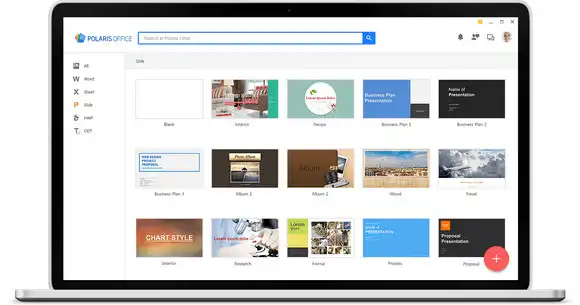 Polaris Office does have a paid business version, but the truth is that most of the bases have been covered in the free version. The latest iteration also has the ability to open and edit PDF files, which can be very useful.
Calligra Office - The Best Office Suite for Old Macs
Originally released as part of KOffice in 2000, Calligra is another great alternative to expensive Office software. It's fully compatible with formats like .doc and .xls, but in certain cases it's more of a reader than an editing tool. For example, if you want to work with a .doc file, you can only read them, not do any kind of editing. However, it works really well with other open source formats like ODT (Open Document Text.)
One thing that makes Calligra Suite stand out is the fact that it offers mind-mapping as well as project-management tools, which aren't usually a part of free office utilities. That makes it ideal for smaller startups that don't have budgets for expensive project management tools and so on.
Calligra technically can't be considered a full replacement for MS office, but if you're primarily working with open source formats, this is a great utility to consider using. It's ideal for graphic designers and other creative jobs, and users will appreciate the fact that there's more vertical screen space because most of the toolbars will appear on the right instead of at the top like it does in Office and most other applications.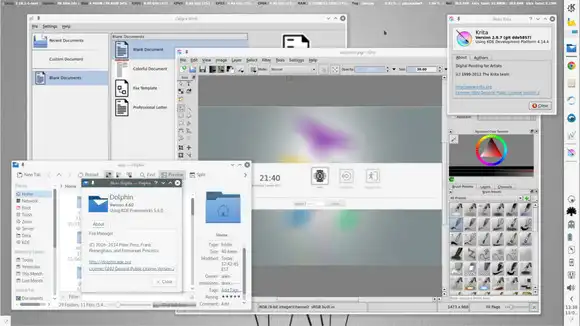 Summary
As an alternative to MS Office, you'd be hard-pressed to find something that works as well as Polaris Office. The product is actively updated on a periodic basis, and each iteration always has useful neggests of functionality, like the addition for PDF editing support in the latest version.
All of these are great alternatives to Office for Mac. Even though they're free, it's clear that they're not slackers by any means. Each of them offers a robust solution to your office requirements, whether it's a small home business or a large corporation looking for more affordable replacements to expensive licenses and subscriptions.