It is now 2021 and macOS Monterey 12 is in public beta. It seems weird to talk about an old OS like macOS High Sierra (10.13) being released in 2017. In fact, we recommend installing a high version of macOS on your Mac if the hardware is fully compatible. However, High Sierra is a decent option for old MacBook Pro, iMac and Mac Mini. In addition, High Sierra has good support for NVidia graphics card, making it an ideal solution for running macOS on a Hackintosh.
In the following section, we will share all the steps for creating macOS High Sierra bootable USB. Before getting started with actual steps, make sure the PC or Mac meets the minimal system requirements of High Sierra:

Preparation: Download macOS High Sierra DMG File
To create a macOS High Sierra bootable USB, you should first download the installation image. It can be a system installation app (Install macOS High Sierra) from App Store or simply a dmg file. Unfortunately, the installation app for macOS High Sierra is not available when I was trying to download it from Mac App store. Hence, we have to download a High Sierra DMG file in advance.
Below is a list of valid sources that provide direct download of macOS High Sierra DMG file. Please check them out:
https://www.mediafire.com/folder/5dvx88
https://mactorrents.io/macos-high-sierra-10-13-6-build-17g65/
Part 1: Create macOS High Sierra Bootable USB on Windows PC
There are few choices available when it comes to create macOS bootable USB on a PC as Windows is unable to handle .dmg file by default. To do this, you need to burn this dmg file to USB in order to make it a bootable device for OS installation. Currently, the most adorable solution is UUByte DMG Editor, a powerful but easy-to-use dmg burning tool that works smoothly on both Windows and Mac.
We are going to use this incredible software for making macOS High Sierra bootable USB. Please stay tuned! The whole process is done on a Windows 10 PC.
Step 1: Connect a USB drive to Windows 10 PC and make sure the drive letter appears in Windows Explorer. Also, take a full backup of the entire USB.
Step 2: Download a copy of DMG Editor and follow the guidance to install this app on Windows 10. You will see the following screen once the installation is completed.
Step 3: Please click the Browse button located at the top to import macOS High Sierra dmg file into the program. After that, pick up the right USB drive from the drop-down list. We recommend ejecting other unnecessary USB devices from the PC during this procedure.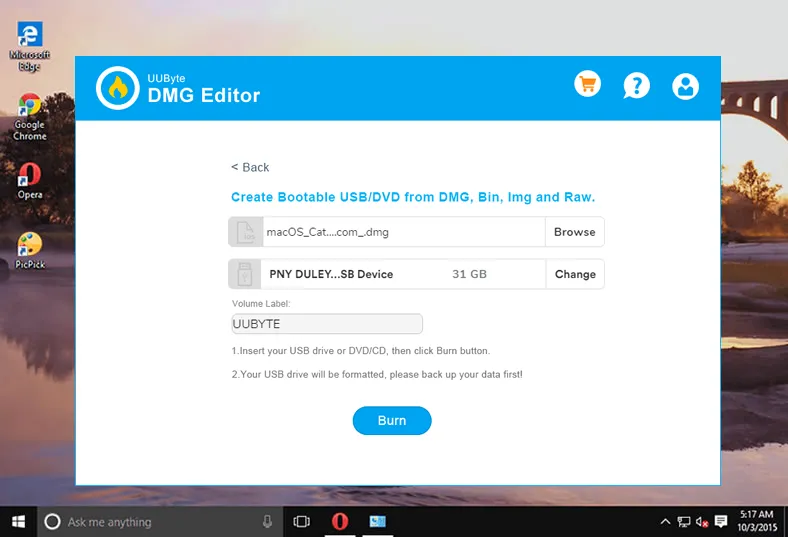 Step 4: From this stage, the preparation is completed. Now, click the blue Burn icon to start burning High Sierra dmg file to target USB device. Usually, it will be done in less than 15 minutes.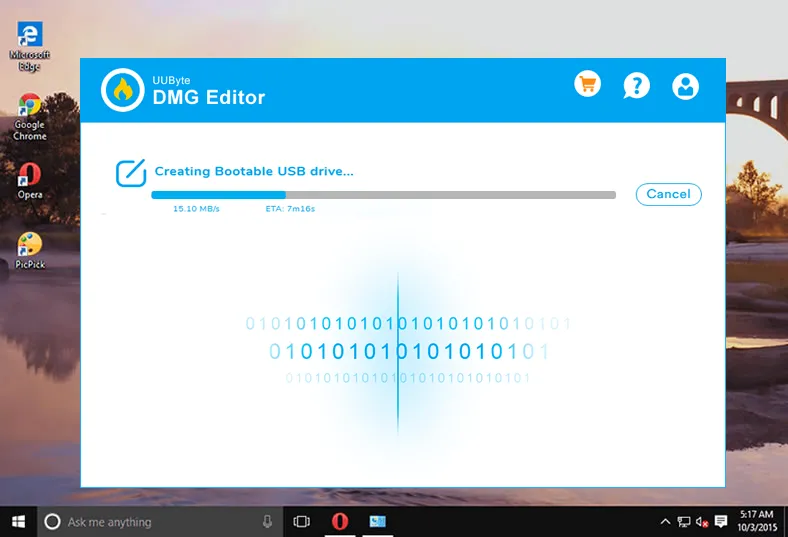 When the above steps are finished, you will get a Mac bootable USB that can be used for macOS High Sierra installation.
Part 2: Create Mac OS High Sierra Bootable USB on Mac
It is a lot of easier to make mac OS High Sierra bootable USB from macOS even DMG Editor is quite nice software for this task. Why? Apple ships a free built-in utility that comes with each OS X and macOS. This means you don't have to download extra apps in order to complete this job. In addition, there are also a couple of well-known third-party apps that can be used to create a bootable macOS USB in a simple way. You will be lucky when you are on a Mac.
Reminder: Please unpack High Sierra dmg file you downloaded earlier to get the Install macOS High Sierra app and move it to Application folder.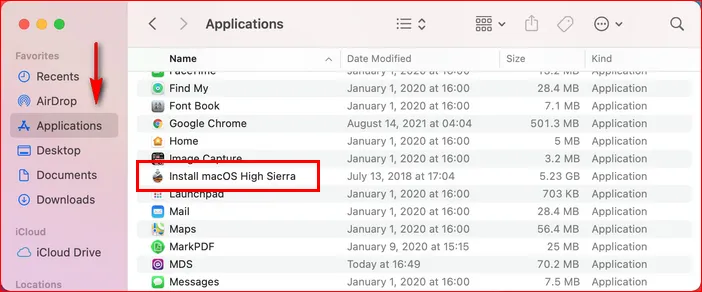 Method 1: Terminal (creatinstallmedia)
Creatinstallmedia is a command line utility for creating bootable USB on Mac and it is developed and maintained by Apple. This is the most popular way to create Mac bootable USB on Mac as the whole process can be done within Terminal app, another advanced system app shipped with macOS and OS X. It means this trick works on all Macs no matter it is old or new. However, it takes some time to figure out how command works.
To get started, please first insert a USB drive and format it in Disk Utility app with Mac OS Extended (Journaled) format. Now, the disk will be shown up as a new volume name (SanDisk).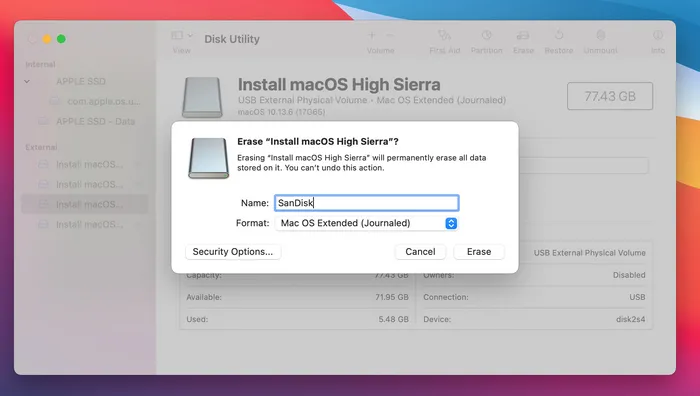 Now, input a single command in Terminal to make a High Sierra bootable USB:
sudo /Applications/Install\ macOS\ High\ Sierra.app/Contents/Resources/createinstallmedia --volume /Volumes/SanDisk
Sandisk is the drive letter of USB drive you plugged in. You should replace it with the right name accordingly.
Finally, enter the Mac login password and type Y to start creating Mac OS High Sierra bootable USb from Terminal app. This will first erase the disk and copy installer files to target volume. Once it is done, you will see a message, saying 'Copy completed. done.'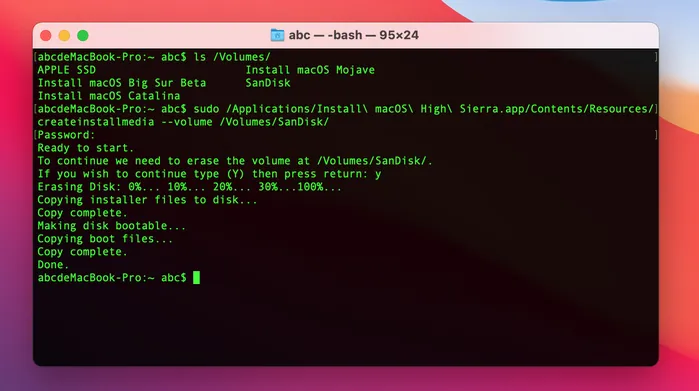 Cons
Only command line interface available.
Has to type the exact command without any input error.
Easy to format a wrong disk or volume and cause data loss.
Method 2: Disk Maker X
Disk Maker X is a free third-party app dedicated to building a bootable media from macOS installer app. It is a GUI based tool so there is no need to interact with text commands. This is great news for non tech savvy users.
Go to Diskmakerx official download page and download DiskMaker 7.0.1 (9.3 MB) for creating Mac OS High Sierra bootable install disk.
Next, open the app and it will locate the Install macOS High Sierra app in Application by default.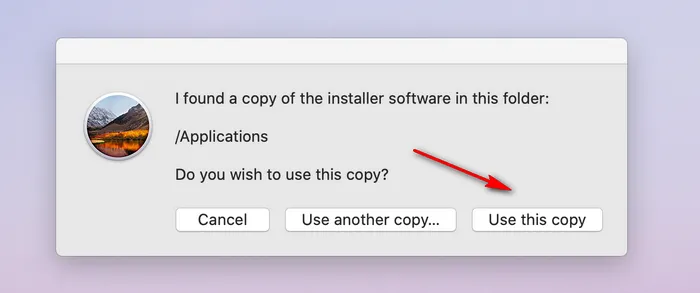 Now, you should select a USB. Please click on Another kind of disk (erase only partition).

After that, a small window pops up and display all external USB devices. Please choose the right one to proceed. This will erase the whole disk.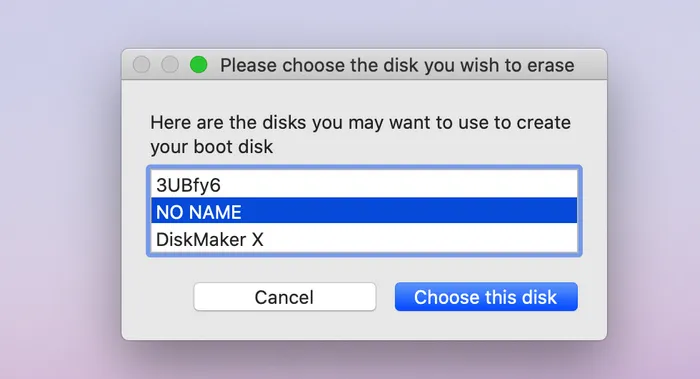 Now, type the computer login password and let the app erase the disk and start making bootable USB from High Sierra installer app.
Cons
Invalid warning message even macOS install app is valid.
Pop up meesage for upgrade each time this app opens.
Only notification available and no progress bar.
Bad user experience with too many pop-ups.
Some of the USB drive not bootable.
Method 3: MDS
MDS (Mac Deploy Disk) is an attractive system utility for managing and deploying Mac in a simple and quick way. It includes an useful feature for creating macOS bootable installer. And the process is super easy.
First, install MDS app on your Mac and open it up. Then plug in a USB flash drive into Mac. After that, import High Sierra installer app that is located at Application folder and the USB drive from Target Volume.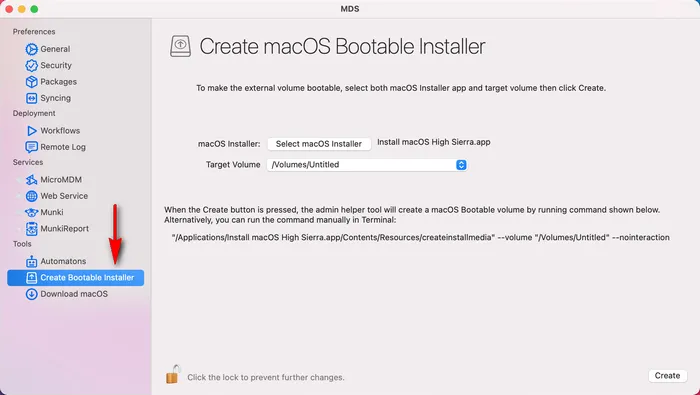 Next, click lock icon and enter login password to grant the permission to MDS app. Finally, tick the Create button at the bottom to start creating a bootable Mac volume from High Sierra installer app.

Cons
Only work on macOS Catalina and Big Sur.
Get stuck on copying process and never proceed.
Slow file copying speed.
Part 3: Boot Mac from High Sierra Install Disk
How to check if the USB is recognized a valid macOS install disk by your Mac? From our researching, some of the USB drive is not bootable even there is no error during the creation process and it is easy to check that.
Please connect the Mac OS High Sierra bootable USB to the Mac you want to get High Sierra installed. Restart the Mac and hold the option key during startup. Wait about 20 seconds and you will see macOS Startup Manager utility showing up on the screen. If everything is correct, then you will see a booting drive called Install macOS High Sierra. Click on that drive name and you can start installing High Sierra on this Mac. If not, this means the burning process failed, you need to burn dmg file again with the same or another app.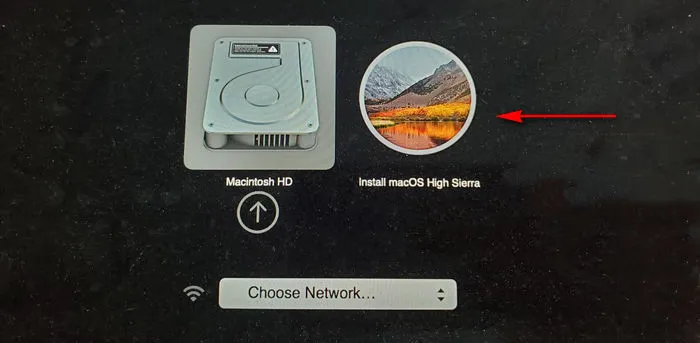 The Bottom Line
Creating High Sierra Bootable USB on Mac is much simpler than on a PC because it is backed by Apple. In addition, there are more third-party apps available based on the createinstallmedia command. If you are using Windows PC, then UUByte DMG Editor is currently the best solution for making Mac bootable USB.