Ventura is the latest version of Apple's down desktop operating system. Currently, it is in developer beta. This means it is not stable and has more bugs than stable release. My Mac is running smoothly with the stock Monterey but things start to get worse after upgrading to Ventura Beta.
The most annoying thing is that some of my frequently used apps crash or don't work normally, including Parallels Desktop, Bitdefender. So I made up my mind and decided to downgrade from Ventura to Monterey.
Apps Not Working on Ventura
Below is a list of Mac apps that don't fully work on macOS Ventura. If you are a heavy user of those apps, we highly recommend going back to Monterey and revert back to Ventura when the bugs are fixed.
Partially Working Apps in Ventura
Bitdefender
Crossover
Microsoft OneDrive
Parallels Desktop 17
Oracle Virtualbox
Microsoft Excel 16
iTerm
Fully Broken Apps in Ventura
Dropbox
Malwarebytes Anti-virus
Onyx
Adobe Photoshop
Cyberghost
NordVPN
VLC Media Player
We will update the above list from time to time when the potential bugs are solved.
Backup Your Mac before Downgrade
OS downgrade is a dangerous task you should be very careful. So the first thing we need to do to backup important data on your Mac. You can do this with the stock Time Machine app or third-party app like Carbon Copy Cloner, which offers more flexible options and much faster than Time Machine.
Backup Your Mac with Time Machine
Backing up your Mac with Time Machine is simple and straightforward. Once you have your backup drive set up, all you need to do is open Time Machine in System Preferences and select your backup drive. Time Machine will automatically back up your Mac every hour, and you can also manually back up your Mac at any time by clicking the "Back Up Now" button.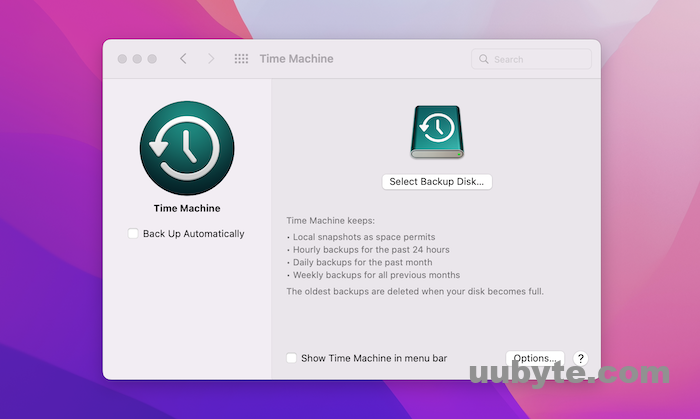 If you ever need to restore your Mac from a Time Machine backup, you can do so by booting into Recovery Mode (hold down Command+R while your Mac is booting up) and selecting "Restore from a Time Machine Backup" from the Utilities menu.
Backup Your Mac with Carbon Copy Cloner
Another popular backup option is Carbon Copy Cloner. It is a very powerful backup utility for Mac. It can create a bootable backup of current macOS system, which can be used to restore your system in case of a failure. Carbon Copy Cloner can also be used to clone your hard drive to another drive.
Carbon Copy Cloner is a great choice for backing up your Mac. It is very easy to use and has a lot of features that make it a great choice for backing up your Mac.
1. Download and install Carbon Copy Cloner.
2. Connect the hard drive that you want to use for your clone. This can be an external hard drive or a USB flash drive.
3. Launch Carbon Copy Cloner and select the source and destination for your clone. The source should be your Mac's hard drive and the destination should be the hard drive or USB flash drive that you connected in step 2.
4. Click the Clone button to start the cloning process.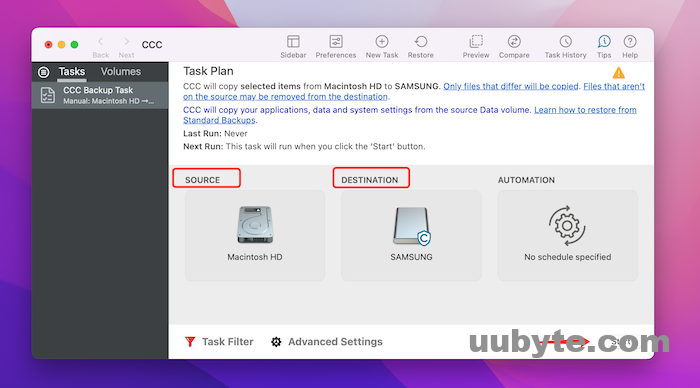 Once the cloning process is complete, you can boot from your clone by holding down the Option key while your Mac is starting up. Select the clone as your boot volume and your Mac will start up from the clone.
Method 1: Downgrade from Ventura to Monterey via macOS Recovery (Intel Mac)
When your Mac is having problems, one of the first things you can do is try to use macOS Recovery to fix the issue. macOS Recovery is a built-in tool that comes with your Mac that allows you to troubleshoot and fix certain issues.
If you Mac comes with Monterey, then the best method to downgrade from Ventura to Monterey is booting into macOS Recovery and reinstall macOS. This will erase your hard drive and install a fresh copy of macOS.
1. Restart your Mac and hold down the Command-R keys while it boots up.
2. This will take you to the macOS Recovery utility.
3. From here, you can choose to reinstall macOS or use the Disk Utility to repair your hard drive.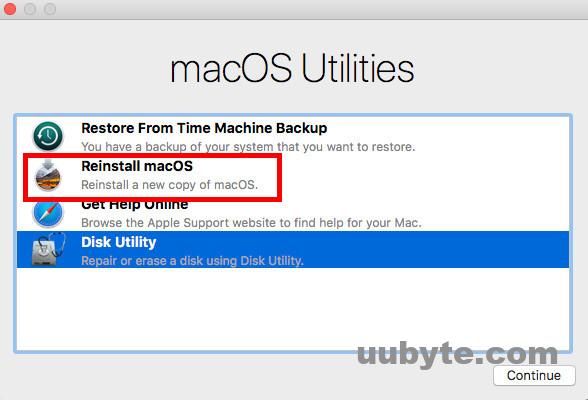 4. If you choose to reinstall macOS, all of your data will be erased, so make sure you have a backup before proceeding.
5. Once you've chosen to reinstall macOS, the process is pretty straightforward. Just follow the prompts and you'll have a fresh copy of macOS in no time.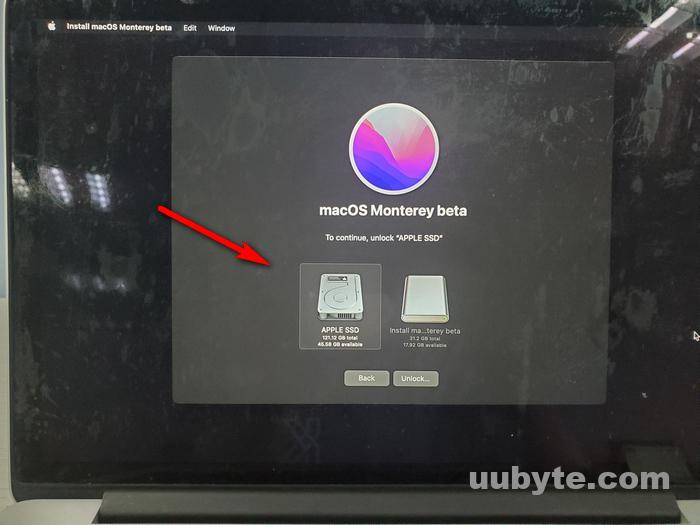 Method 2: Downgrade from Ventura to Monterey via Bootable USB Drive (M1 & M2 Mac)
macOS Recovery is not available on Apple Silicon Mac. If you want to downgrade Ventura to Monterey on a M1 or M2 Mac, you have to create a bootable USB drive and clean install macOS Monterey from it.
Step 1: Download Monterey DMG File
Go to this page and download a copy of Monterey dmg file, which will be used to create a bootable USB installer.
Step 2: Make a Bootable USB Drive from DMG File
Download and install UUByte DMG Editor on your Mac. Open the app after the installation is completed. From the welcome screen, click on the Burn button. This will lead to a new page.
Now, plug in a USB drive and import the Monterey DMG file you just downloaded earlier into DMG Editor app. Once those settings are done, click the Burn button to start making a bootable Monterey installer.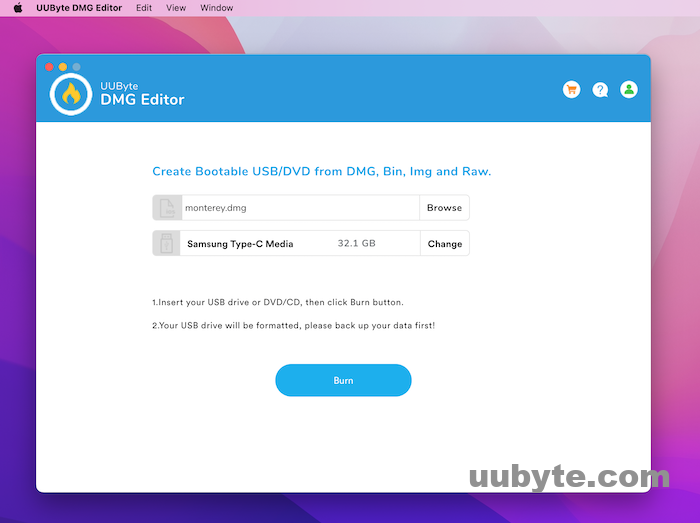 Step 3: Boot Your Mac from USB Drive
Connect this USB to your Mac and shutdown your Mac. Wait 5-10 seconds and keep pressing the Power button to  bring up the Startup options, which will list all bootable volumes on current Mac.

Step 4: Delete Ventura and Start to Install Monterey
At this time, click the volume named Reinstall Monterey. After that, Monterey installer will be loaded on the screen. Now, follow the prompts to install Monterey on this Mac.
Step 5: Install Apps and Restore Personal Data on Your Mac
Once Monterey is installed on your Mac. You need to re-download the apps and restore lost data from previous backup.
YouTube Tutorial: How to Downgrade Ventura to Monterey
Frequently Asked Questions
Can you uninstall Ventura on Mac?
Yes. You can remove Ventura from your Mac and install other macOS version.
Does downgrading macOS delete everything?
It depends on the method you used for downgrade. Reinstalling macOS in Recovery Environment don't delete user data. But a clean install from USB drive will delete everything on your Mac.
How do I get macOS Monterey installer?
You can either download the installer from Mac App Store or from uubyte website (packed with a dmg file).
Should I downgrade Ventura to Monterey?
Sure if your heavily used apps don't work on Ventura or you just dislike the new design.
Well, it will not be an easy task for downgrading Ventura to Monterey. You should be very caution about the entire process. Make sure you have read the steps carefully and backup your Mac before the downgrade get started.