Google has launched a trial phase for its innovative Google Play Games on PC platform. This service transforms your Windows 10 or Windows 11 PC into a hub for Android gaming. Enjoy complimentary access to a variety of games, now playable on a larger display with the convenience of a keyboard and mouse. Google's seamless synchronization ensures your game progress is updated across all devices, allowing for a smooth transition from mobile gaming to desktop adventures and back.
What Is Google Play Games on PC?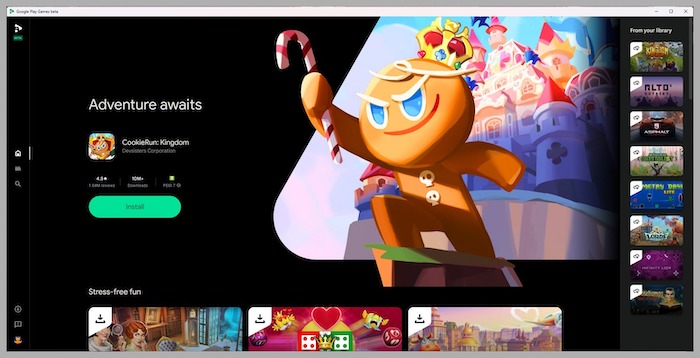 Google Play Games on PC, a groundbreaking PC emulator from Google, bridges the gaming experience between Android mobile games and PC. As of November 2023, this beta service supports approximately 100 top Android games from the Google Play store.
The beauty of Google Play Games lies in its seamless transition capability. You can effortlessly switch from mobile gaming to your PC, preserving your game progress. Leveraging the superior hardware of your PC, it elevates your favorite Android games with a grander display and enhanced graphic quality, transforming your gaming experience.
Minimal Requirements to Run Google Play Games on PC
Google Play Games on PC offers a cutting-edge gaming experience by seamlessly integrating the extensive library of Google Play. This innovative platform allows gamers to enjoy an immersive cross-platform gaming journey, bridging the gap between mobile and desktop play. However, it's important to note that not all Windows devices are compatible with Google Play Games. To ensure a smooth and optimal gaming experience, there are certain minimum system requirements that need to be met.
CPU: 4-Core
Memory: 8GB or more
Storage: 10 GB+ free space
Graphics: Intel UHD Graphics 630 GPU or comparable
OS: Windows 10 (2004) or later with Hardware virtualization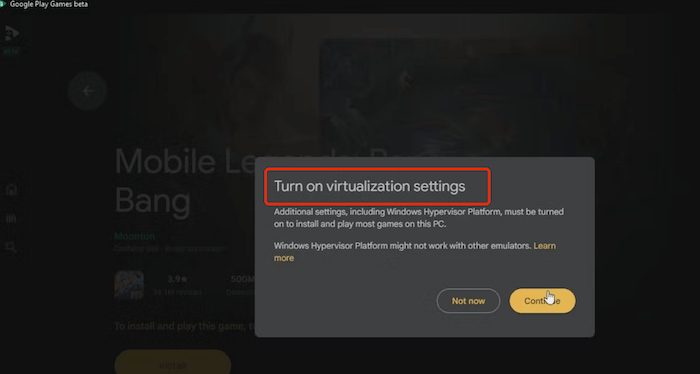 How to Install Google Play Games on Windows 10 or Windows 11 PC
Google Play Games on PC's beta version is now available for download on its dedicated website. With Google's recent expansion of the beta across more regions, chances are high that it's available in your area.
The beta currently offers around 100 games, including fan favorites like Mobile Legends, Asphalt 9, Free Fire MAX, and Genshin Impact. While some major titles like PUBG, Call of Duty: Mobile, and Wild Rift are not yet part of the beta, Google plans to continually expand this selection. Stay tuned for more exciting additions to the Google Play Games on PC experience.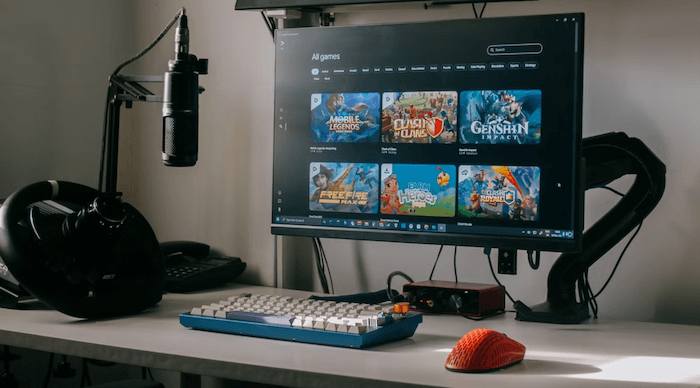 Notice: In its current beta form, the download location is fixed and cannot be modified. This means that even if you install the Google Play Games application on a different drive, the actual game downloads will automatically be directed to a specific folder on your C: drive, typically located at:
AppData/Local/Google/Play Games/userdata_xxxxx.xxx/avd/userdata.img
This folder contains a virtual 512GB drive, essential for the emulator's operation. As of now, there's no option to alter this default setting. So, ensuring adequate space on your C: drive is key to smoothly enjoying the vast array of games available through this groundbreaking service.
Best Google Play Games to Run on a PC

Although the selection of Android games on Google Play Games for PC is currently limited (with our count at around 250 titles), it includes several noteworthy games. By signing in with the same Google account you use on your Android device, you can easily access compatible games. These will be conveniently listed on the right-hand side of the game hub, allowing for quick and easy navigation.
Looking for something specific or interested in exploring different genres? Utilize the search function, accessible through the magnifying glass icon on the left, to filter your options. To kickstart your gaming adventure, here are a few handpicked recommendations:
Asphalt 9: Legends
Awaken: Chaos Era
Kingdom Rush
Mobile Legends: Bang Bang
OTR – Offroad Car Driving Game
Hungry Shark Evolution
the Bear Pizza Maker
Beasts & Puzzles: Awakening
Fallout Shelter
Alto's Odyssey
Badland
Infinity Loop
Cut the Rope 2
Summoners War
We're optimistic about the future expansion of the game library on Google Play Games for PC. With the hope that Google will soon integrate more titles, the platform is poised to offer an even richer gaming experience. For developers eager to make their Android games available on this exciting platform, the journey begins at the official Android developer's website.
Useful Tips for Enjoying Google Play Games on PC
Enhancing its appeal, the Google Play Games for PC service is fully integrated with Google Play Points. This means you'll earn points for every purchase you make, including subscriptions and in-app transactions, just like you would on an Android device. Accumulated points can be redeemed for a variety of rewards, such as vouchers and special offers in the Play Store, enriching your gaming experience.
Once you're in a game, a simple press of Shift and Tab brings up the menu. This is where you can fine-tune your gameplay experience by adjusting the screen resolution, modifying the volume, and remapping game controls. While simple one-click games might not support remapping, most games do. It's important to note that, currently, gameplay is limited to keyboard and mouse interactions. The option for mobile controller support isn't available yet, but we're hopeful for its inclusion in future updates.
Not All Google Play Games Have Good Experience on a PC
While Google Play Games for PC marks a significant stride in gaming technology, it's crucial to remember that it's fundamentally an emulator. This means the transition from touch-based controls to keyboard and mouse isn't always seamless. Mobile games are inherently designed for touch interaction, so adapting to keyboard and mouse inputs can occasionally lead to an awkward experience.
Google Play Games for PC excels on machines with robust CPUs, ensuring smooth gameplay. However, the primary challenge lies in the control scheme. Since these games were originally conceived for touchscreens, adapting to traditional PC controls can sometimes feel less intuitive. This is an important consideration for gamers who are accustomed to the precision and responsiveness of native PC gaming.
In fact, games like Mobile Legends present a unique challenge on the Google Play Games for PC platform. Unlike traditional MOBAs such as DOTA or League of Legends, where right-clicking on the map is the norm, these games require you to use the WASD keys for character movement. This setup can be a bit cumbersome, as it forces your fingers to juggle between movement and skill activation simultaneously.
On the flip side, shooters like Knives Out or Free Fire MAX thrive in this new environment. The precision of mouse controls offers a significant advantage over touch screen controls, making aiming and shooting more efficient and potentially giving PC players an edge in gameplay.
Our Final Words
An interesting aspect of Google Play Games for PC is that all the Android games currently offered are free to play. However, many include ads or offer in-app purchases as part of their monetization strategy. As a Google Play Pass subscriber, you might be looking forward to seeing some of those exclusive titles on PC, but as of now, they haven't made their way to the platform. The good news is that new games are being added each month, continually enhancing the service's offerings.
Google values player feedback highly. After each gaming session, you'll have the opportunity to share your thoughts and experiences with Google, helping shape the future of the service. One minor hiccup we've noticed is that ads in some games fail to load. While all games have been optimized for PC in some way, it's worth noting that certain titles, originally designed for handheld screens, can feel a bit out of place when played on an ultrawide monitor with keyboard and mouse controls.